Artists & Fleas at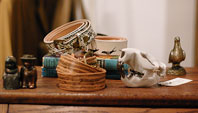 Beats by Dr. Dre
67 Greene St., nr. Spring St.; 646-454-1961; beatsbydre.com
Check out an array of snazzy speakers and headphones from the hip-hop impresario at their Soho pop-up, which also features a professional sound room where you can test out products..
• Date: Through Jan. 15; Tue–Sun, noon–8p.m.
Bust Magazine Craftacular and Food Fair
82 Mercer St., nr. Spring St.; bust.com
Two hundred vendors will get together for the seventh year to sell handmade gifts, including jewelry, cards, bags, and clothing. There will also be food, demos, and live music, all part of Bust magazine's support of the handmade. Admission is $3; get there early to receive a goodie bag.
• Date: Dec. 10–11; Sat 11 a.m.–8 p.m.; Sun 11 a.m.–7 p.m.
Dylan's Candy Bar
1095 Sixth Ave., nr. 42nd St.; dylanscandybar.com
The candy mecca will expand its digs over the holidays with a 7,000-square-foot pop-up shop featuring a life-size gingerbread house, floor-to-ceiling candy, and specialty items like Sprinkles cupcakes.
• Date: Nov. 21 through Jan. 8; Mon–Thu, 10a.m.–10 p.m.; Fri–Sat, 10a.m.–11p.m.; Sun 10 a.m.–9 p.m.
Ernest Alexander
9 Clinton St., nr. E. Houston St.; 800-770-6658; ernestalexander.com
Shop for the men in your life at this luxury store, where you can find unique, heritage-style items like handsome brown leather overnight bags and wax canvas hunting jackets.
• Date: Through Dec. 24; Tue–Sat, 11a.m.–7p.m.; Sun, noon–6p.m.
Gaga's Workshop at Barneys New York
660 Madison Ave., nr. 61st St.; 212-826-8900; gagasworkshop.com
Lady Gaga takes over the entire men's fifth floor of Barneys New York. Little monsters and gawkers can alight on eight separate stores, including the Toy Shop, Candy Shop, and Boudoir. Barneys will donate 25 percent of sales proceeds to Gaga's Born This Way foundation.
• Date: Nov. 22–Jan. 2; Mon–Wed, 10 a.m.–8 p.m.; Thu, 10 a.m.–9 p.m.; Fri–Sat, 10 a.m.–8 p.m.; Sun 11 a.m.–7 p.m.
iAdventure Holiday Gift Show at Hudson Terrace
621 W. 46th St.; 212-315-9400; iadventure.com
Peruse an assortment of jewelry, clothing, accessories, and more, while sipping on cocktails and taking in panoramic Hudson views. Tickets are $15.
• Date: Dec. 11; noon–4:30 p.m.
JF & Son
112 Ludlow St., nr. Rivington St.;jfandson.com
Head over to vintage boutique Ellen to check out the latest designs from JF & Son, a local brand for both men and women known for its eye-catching prints.
• Date: Through Dec. 31; Tue–Sun, 1p.m.–7p.m
Jingle: A Holiday Pop-up Store
Chelsea Market, 75 Ninth Ave., nr. 16th St.; 413-644-9994; facebook.com/jingle
For the fifth year, Jill Schwartz is curating this unique design collection, which will showcase jewelry, home goods, men's accessories, kitchenware, and more. The eclectic mix of vendors ranges from Ayala Naphtali Jewelry to Fine & Raw chocolate.
• Date: Dec. 14–23, Mon–Sat 10:30 a.m.–7 p.m.; Sun 10:30 a.m.–6 p.m.
The Makeup Show Holiday Pop Up
Metropolitan Pavilion, 125 W. 18th St., nr. Sixth Ave., fourth fl.; themakeupshow.com
Rub shoulders with the pros when the Makeup Show opens its doors to the public for the first time. Browse products by top beauty brands at discount prices and get tips from celebrity makeup artists. Tickets ($20/day) can be purchased at cvent.com.
• Date:Dec. 2–3; Fri 5 p.m.–10 p.m.; Sat 10 a.m.–6 p.m.
MoMA Design Store
Grand Central Terminal; momastore.org
MoMA debuts at the Grand Central Holiday Fair, showcasing many customer favorites from its midtown and Soho stores.
• Date: Through Dec. 24; Mon–Sat, 10 a.m.–8 p.m.; Sun, 11 a.m.–7 p.m.
The Monocle Order
220 Bowery, nr. Rivington St.; 202-302-4235; monocleorder.com
Dream of exotic, sun-soaked vacations as you shop for sunglasses from hard-to-find brands like Thierry Lasry and Contego at this pop-up that also moonlights as an art gallery and party space.
• Date: Through December; noon–9 p.m.
NMAI Art Market
1 Bowling Green; 212-514-3700; americanindian.si.edu
Smithsonian's National Museum of the American Indian hosts its sixth annual Art Market, with beadwork, sculpture, paintings, jewelry, and more, from some 35 Native American artists. Grammy-winning composer Joanne Shenandoah will also perform.
• Date:Dec. 3–4; 10 a.m.–5 p.m.
Ohne Titel & Easton + Combs
57 Walker St., nr. Broadway; boffo-ny.org
The designer and architect duo of Ohne Titel and Easton + Combs are the latest to move into the Walker Street space that formerly housed Irene Neuwirth's jewelry collection. It's safe to say both the clothing and the store itself will be a must-see.
• Date: Dec. 1–14; Mon–Sat, noon–7 p.m.; Sun, noon–6 p.m.
Pet Socialite's Holiday Pet Pop-up Shop
Openhouse Gallery, 19 Kenmare St., nr. Elizabeth St.; 212-966-5225; petpopupshop.com
With gifts for both pets and their owners, neither your four-legged best friend nor your canine-loving family member will go overlooked this year. Stuff their tiny stockings with merchandise from Hip Doggie, Animal Wrappers, Oscar Newman, and more.
• Date: Dec. 10–11; Sat–Sun, 11 a.m.–6 p.m.
Real Simple
Bryant Park, 42nd St. at Sixth Ave.; realsimple.com
You can find items from the magazine's December issue and enjoy food tastings at Real Simple's second annual pop-up shop.
• Date: Dec. 8–Dec. 13; 11 a.m.–10 p.m.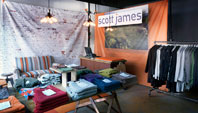 Scott James
20 E. 1st St., nr. Bowery; 1-212-777-1601; scottjamesonline.com
The menswear brand opens its first New York retail store (albeit a temporary one) right off the Bowery. Find warm winter threads among the assortment of tailored shirts, pants, sweaters, jackets and outerwear.
• Date: Through Jan. 31; Mon-Fri, 11 a.m.–7 p.m.; Sat, noon–6 p.m.; Sun, noon–5 p.m.
The Shiny Squirrel
Smith + Butler, 225 Smith St., nr. Butler St.; 718-855-4295; shinysquirrel.typepad.com
Showroom owner Jessica Goldfond takes her mobile collection to Smith + Butler, where she's featuring designs by Species by the Thousands, vintage home goods from Bklyn Dry Goods, jewelry collaborations between Dirty Librarian Chains and blogger White Lightening, and more.
• Date: Through Jan. 4; Mon–Sat, noon–8 p.m.; Sun, noon–6 p.m.
Wired Store
42nd St. at Broadway St.; wiredstore.net
Playing with the grown-up toys is encouraged at the hip tech magazine's seventh annual holiday pop-up shop, where you can test out everything from headphones and household items to the latest gadgets and electronics.
• Date: Nov. 18–Dec. 24; Wed–Sun, noon–7 p.m.; closed on Thanksgiving