1D World
1D World, 2 Penn Plaza, W. 33rd St., nr. Seventh Ave.; 1dworld.co.uk
The British boy band is taking New York by storm. One Direction's pop-up store will stock everything from T-shirts, beanies, varsity jackets, and onesies to iPhone cases and nail stickers emblazoned with the band members' pretty faces. An interactive photo booth and karaoke studio will be available for fans to sing along to their latest album, Take Me Home. Those devoted enough to brave the crowds at the grand opening event will be eligible for giveaways of free concert tickets and autographed goods.
• Dates: Nov. 17 to Dec. 30; Mon–Thurs 10 a.m.–8 p.m.; Fri 10 a.m.–midnight; Sat 10 a.m.–8 p.m.; Sun 10 a.m–6 p.m.; closed on Christmas
3DEA
Eventi Hotel, 851 Sixth Ave., nr. 29th St.; 212-564-4567; 3dea.openhouse.me
Ambitious and futuristic, 3DEA's pop-up sells the first Ultimaker 3-D printers to become available in New York. Tutorials throughout the month will demonstrate their uses, from jewelry-making to animation and design. iPhone cases, tech gear, cuff links, and sex toys made by the printers are also on sale.
• Dates: Nov. 29 to Dec. 27, Tues–Sat, 11 a.m.–7 p.m., Sun 11 a.m.–6 p.m.
Artists & Fleas at Chelsea Market
88 Tenth Ave., nr. 15th St.; artistsandfleas.com
The best of Brooklyn is coming to the meatpacking district, with more than 50 independent designers, vintage dealers, artists, and sellers of all things Americana, ephemera, and more participating in this year's Artists & Fleas pop-up. There will be art, jewelry, home accessories, clothing, and an assortment of "all things funky."
• Dates: Open daily through Dec. 31, closed Nov. 22 and Christmas; 10:30 a.m.–7 p.m.
Brooklyn Holiday Bazaar at Artists & Fleas
70 N. 7th St.; artistsandfleas.com
The Brooklyn Holiday Bazaar will feature a rotating cast of more than 200 independent designers, vintage collectors, makers, artists, and more. Among the many treasures, expect classic ties, bow ties, cards, and jewelry.
• Dates:Weekends from Nov. 24 to 25, Dec. 1 to 2, Dec. 8 to 9, Dec. 15 to 16, and Dec. 22 to 23 10 a.m.–7 p.m.
BUST Magazine Craftacular and Food Fair
82 Mercer St., nr. Spring St.; bust.com/craftacular
BUST helms a smorgasbord of 200 craft and food vendors, including Jessy's Pastries and ClareBare lingerie. Other draws include all-day D.J.'s, a beer garden, and loom-weaving demos by Loop of the Loom. Admission is $3, and the first 300 shoppers get free goodie bags.
• Dates: Dec. 1 and Dec. 2, 11 a.m.–7 p.m.
C. Wonder
155 Fifth Ave., nr. 21st St.; cwonder.com
C. Wonder's preppy brights can be found at its Flatiron pop-up, but the location will also offer gift-friendly items like mugs and jewelry boxes, and have a wrapping-paper station. You can't regift something monogrammed.
• Dates: Oct. 20 to early 2013, Mon–Sat, 10 a.m.–9 p.m., Sun 11 a.m.–8 p.m.
DANNIJO
27 Prince St., nr. Mott St.; dannijo.com
The brand's statement jewelry, accessories (including a chandelier made up of the iconic bib necklace), and iPhone cases, some offered in exclusive colors and styles, will be housed in a 600-square-foot space. For even more one-of-a-kind finds, there will be a selection of vintage jewelry and a section of Parisian clothing lines. Check out the "DANNI + JO Holiday Picks" section for the season's prime gift ideas.
• Dates: Nov.16 through Dec. 31; Mon–Sat 11 a.m.–7p.m.; Sun 11a.m.–6p.m.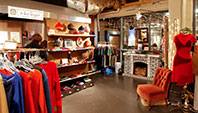 Jingle: a Holiday Pop-Up at Chelsea Market
75 Ninth Ave., nr. 15th St.; facebook.com/Jingle
Created by jewelry and accessories designer Jill Schwartz, the holiday pop-up extravaganza Jingle is now in its sixth year. Chelsea Market's 6,000-square-foot space will be filled with twenty companies that will sell everything from glass objects, housewares, upcycled cashmere sweaters, terrariums, and jewelry.
• Dates:Dec. 13 through 23; Mon–Sat 10:30 a.m.–7:30 p.m.; Sun 10:30 a.m.–6:30 p.m.
Krochet Kids International
Rudy's Barbershop, 14 W. 29th St., nr. Broadway; 212-532-7200; krochetkids.org/nycpopup
The fair-wage producer of colorful hats and scarves knitted by women in Uganda and Peru is partnering with Rudy's Barbershop for a month-long pop-up showcase.
• Dates: Nov. 15 to Dec. 15, Mon–Fri, 11 a.m.–7 p.m.
Land of Nod
136 Prince St., nr. W. Broadway; 917-880-0809; landofnod.com
The cutesy and lively retailer for baby and kids furniture, bedding, accessories and toys is ringing in the holidays with a temporary brick-and-mortar shop. Enter Land of Nod's Holiday Toy Shop (complete with a Christmas tree and "enchanted forest" theme) to browse over 3,200 square feet of exclusive children's toys and holiday décor ($1.95-$349). Be sure to keep an eye on the calendar for book readings and special craft days.
• Dates: Nov. 9 through the holidays; Mon-Sat, 10a.m.-8p.m.; Sun 11a.m.-7p.m.
Lion'esque Style Holiday Experience
The Corner, Roger Smith Hotel, 501 Lexington Ave., nr. 47th St.; 212.755.1400; lionesquestyle.com
Lion'esque Style, an online curator of emerging designers, takes over the retail space of the Roger Smith Hotel in a multi-room pop-up featuring brands they've worked with throughout the year, including Bombom Jewelry and the One Dress Project.
• Dates: Nov. 26 – Dec. 22, Mon – Fri, 11 a.m. – 7 p.m.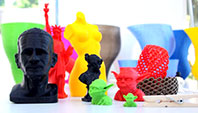 Little Brooklyn in Union Square Holiday Market
Union Square, 14th St., at Broadway
The Market's nineteenth year brings with it the new addition of Little Brooklyn, a section devoted to foodstuffs and crafts handmade in the borough. It could be a lazy Manhattanite's Brooklyn Flea.
• Dates: Nov. 16 to Dec. 24, Mon–Fri, 11 a.m.–8 p.m., Sat 10 a.m.–8 p.m., Sun 11 a.m.–7 p.m.
Microsoft
1540 Broadway; 855-270-6581; at Time Warner Center 10 Columbus Circle; 855-270-6581; microsoftstore.com
The tech giant has sprouted pop-up shops all over the nation, including this one in Columbus Circle. Get your hands on the Surface, play around with Windows 8, or purchase the Xbox360.
• Dates: Oct. 26 through the holidays, Mon–Sat 10 a.m.–9 p.m.; Sun 11 a.m.–7p.m.
The Monocle Order
221 W. 17 St., fourth fl., nr. ; 646-723-4665; monocleorder.com
The membership-based sunglass shop will use a Chelsea showroom to sell shades by chic independent designers like Illestava, Thierry Lasry, and Aframes.
• Dates: Nov. 26 to 30, Dec. 11 to 24, Mon–Fri 12 p.m.–6 p.m., or by appointment. Weekends by appointment only.
NMAI Art Market
1 Bowling Green; 212-514-3700; nmai.si.edu
The seventh annual art market by the Smithsonian National Museum of the American Indian offers jewelry, pottery, sculpture, and paintings by Native American artists. Classical guitarist Gabriel Ayala will perform, and a ticketed preview event lets shoppers taste native fish and game from western America.
• Dates: Dec. 1 to 2, 10 a.m.–5 p.m.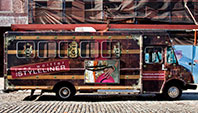 The PF Flyers POP SHOP
258 Bergen St., nr. Third Ave.; thebkcircus.com
The PF Flyers varsity pop-up shop located across the street from the Brooklyn Circus NYC will feature re-created sportswear (think varsity jackets, high-tops, and hats) from the Brooklyn Circus, Black Ivy, and Stack Aly. Stock up on the classic kicks—as a holiday bonus, each customer that purchases $75 or more will be rewarded with a free gift.
• Dates: Nov. 15 through Jan. 15 ; Thurs–Sun, noon–7 p.m.
The Pop-Up Flea by a Continuous Goldberg
Drive In Studios, 443 W. 18th St., nr. Tenth Ave.; 212-645-2244; thepopupflea.com
The much-buzzed-about fifth annual flea by a Continuous Lean's Michael Williams and Randy Goldberg will feature high-end and vintage menswear such as Schoolhouse Electric, L.L.Bean, and the Hill-Side. In addition, Levi's Vintage Clothing will hold an exhibit on painted leather biker jackets in an upstairs gallery.
• Dates: Nov. 30, Dec. 1 to 2, Fri. 3 p.m.–9 p.m., Sat. 11 a.m.–7 p.m., Sun. 11 a.m.–6 p.m.
Styleliner Truck
Outside of Eataly, 200 Fifth Ave., nr. 23rd St. on Wed and Thurs; Outside of the Standard Hotel, 848 Washington St., nr. 13th St., on Fri, Sat, and Sun; thestyleliner.com
Joey Wolffer's paper chip truck turned mobile boutique offers jewelry and bags with a unique earthy glamour. All items were handpicked by Wolffer during her various worldwide travels.
• Dates: Sept. 26 to Dec. 24, Wed–Sat, 11:30 a.m.–7 p.m., Sun 11:30 a.m.–6 p.m.