Seating: If you've got a shortage of chairs, Jung Lee of Fête suggests picking up a few inexpensive, low coffee tables. Run them together and have guests sit on pillows for an Asian-inspired experience.
Dinnerware: Disposable dinnerware can be a major money-saver. Ellen Kostman of Sidekick Events recommends Bambu, a line of biodegradable, organic bamboo plates ($9.99 for an eight-pack at goodmans.net).
Centerpiece: Instead of flowers for the table, try a simple arrangement of fruits or vegetables (pears work especially well), accent it with candles, and let the meal be the center of attention. Bridget Vizoso of the Designer's Co-op suggests piling gourds from the Union Square Greenmarket into a white porcelain bowl and setting it atop an orange crêpe-paper table runner.
Meal:Make sure you know the size of your oven. Many New York apartments have smaller ones that won't fit a huge bird, and the last thing you want is to have to buy a last-minute replacement. Potatoes, green beans, and most other traditional holiday sides are already relatively inexpensive. But save the vegetable scraps to make your own stock— it cuts costs and makes last-minute preparations easier.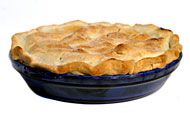 Desserts: This can be one of the most expensive parts of the meal; if not homemade, a good pie can run $40-plus. So prepare your own—after making sure one of your guests doesn't already have it covered. Keep to simple, seasonal pies: fresh fall pears or apples require relatively few ingredients. Bread puddings and pecan pies taste a little better if prepared a few days ahead of time.
Wine: Thanksgiving is a daylong affair, so make sure you're fully stocked with affordable options in advance. Wallet-friendly favorites include Punkt Genau's Sparkling Grüner Veltliner ($16.99 at Astor Center) and Trimbach's Pinot Gris ($21.99 at Astor Center).
Additional reporting by Lauren Salazar