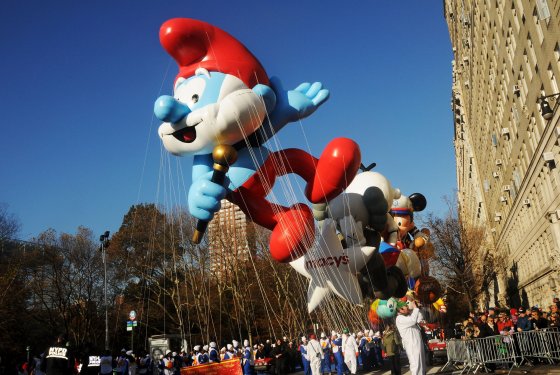 The Timing
The parade draws a crowd of more than 3.5 million people every year, so if you're hoping to snag a prime viewing spot, plan to claim it no later than 6:30 a.m. (the parade kicks off at 9 a.m.). The south side of 34th Street between Broadway and Seventh Avenue is highly sought-after territory every year, but there are plenty of better options. The long stretch of Sixth Avenue between Central Park South and 38th Street provides ample viewing room; you'll want to avoid any spot between 34th and 38th Streets, as the view is limited by broadcasting equipment.

The best bet is to situate yourself on Central Park West between Columbus Circle and 77th Street, where the parade kicks off. (Though if you show up after 8 a.m., you'll need to go a little further south on CPW for a decent view.) But the nearer you are to the start of the parade, the less time you'll have to stand, since the parade's duration can be anywhere from 90 minutes to three hours, depending on your position. Keep in mind that folding chairs aren't permitted anywhere along the route, and if you're set on 34th Street, note that there's no access for the general public as bleachers are reserved for Macy's employees only.
The Balloons
The lineup for the 90th annual parade features Hello Kitty, Thomas the Tank Engine, Pikachu, SpongeBob SquarePants, Paddington Bear, and many more. This year's parade will also feature the debut of some new balloons, including Dreamworks' Trolls and Charlie Brown. And for a real throwback, Felix the Cat, the parade's first-ever character balloon, has been re-created using 1927 methods and will be carried along the route on poles, as was done in the 1920s. For a less-crowded look at the balloons, see them at the Wednesday-night inflation: The day before Thanksgiving, from 3 to 10 p.m., head to 79th Street and Columbus Avenue to get a sneak peek.
The Entertainment
This year's parade will feature performances by De La Soul, Tony Bennett, Maddie & Tae, Regina Spektor, Sarah McLachlan, Chloe x Halle, Daya, Diamante Eléctrico, Ben Rector, Johnnyswim, Kelsea Ballerini, Jacob Whitesides, Fitz and the Tantrums, and more. Additionally, the cast and Muppets of Sesame Street will be joined by the usual assortment of 1,100 cheerleaders, 12 marching bands, and 1,000 clowns.