Laura Wills, Screaming Mimi's
382 Lafayette St., nr. 4th St.; 212-677-6464
The gift: Vintage sunglasses
"We consider sunglasses a perfect year-round gift, and at the store we've got everything from vintage deadstock to handmade shades from Europe. This pair is made in France in the late 1970s; we like the chic, oversize design which gives things a totally modern look ($125)."
Erin Faulman, The Clothing Warehouse
8 Prince St., nr. Elizabeth St.; 212-343-1697
The gift: Baubles from Erica Weiner
"Erica Weiner is a great local jeweler in New York City, known for her original and creative pieces that beckon to eras past. The most popular designs at our store have been her handcuff lariat ($68), which has great sheen and an adjustable length, and vintage harmonica necklaces ($68). They may be small, but they produce real harmonica sounds!"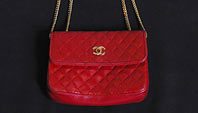 Lexi Sacchi, Frock
170 Elizabeth St., nr. Kenmare St.; 212-594-5380
The gift: Tiny, cross-body purses
"Just about the smallest and most darling Chanel bag we have ever come across, a red leather super-mini from the eighties ($695). The long chain can be worn as a single strap or doubled up. It fits a lipstick, credit card, and BlackBerry, but not an iPhone, unfortunately. We've also got others from Furst & Mooney at the store."
Christina Kornilakis
The gift: Leather and denim vintage jackets
"Broken-in vintage jackets — denim for those who want to gift in the lower price point (around $150) and vintage leather motorcycle jackets, higher price point ($300-$600), are the easiest gifts for me because there's never a sizing issue — you can wear it close-fit or oversize — and they're unisex. I'm stocking both at 143, a new shop that just opened on the Lower East Side (143 Ludlow St., nr. Stanton St.; 212-780-0900).
Dora Hiller, Shareen Vintage
13 W. 17th St., nr. Fifth Ave., second fl.;212-206-1644
The gift: Recycled-leather belt
"There is not a woman who has bought this Bob Harrington-designed belt who has not considered it her new favorite go-to accessory. The double wrap belts made with recycled leather ($40) are not only affordable, but endlessly useful."
Mary Brockman, Kill Devil Hill
170 Franklin St., nr. Java St., Brooklyn;347-534-3088
The gift: Hand-made wooden dice
"Anyone can enjoy dice, and these are handmade in the store and come with instructions for playing street craps that are very useful for someone who's looking to start a gambling ring at a moment's notice. They are hand-painted and stained in-house ($12).
Greg Armas, Assembly New York
170 Ludlow St., nr. Stanton St.;212-253-5393
The gift: Vintage kimonos
"A deadstock eighties woven kimono coat ($418) is a rare, unworn find, perfect for traveling. The beige and black handwoven tapestry-like fabric looks like a beautiful old rug or regal nomadic outerwear. At the store, we also have our house line made in the basement from found quilts and blankets…"