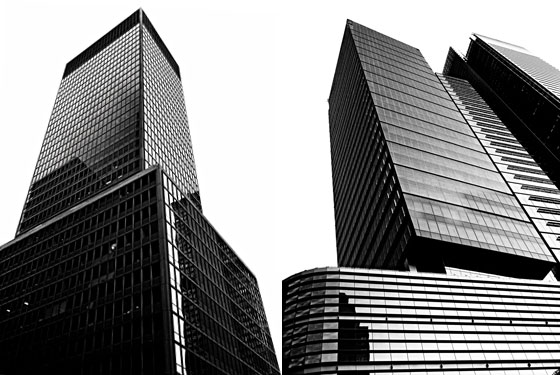 On a sweltering day at the tag end of summer, M. Myers Mermel, a 47-year-old former Morgan Stanley banker turned real-estate vulture investor, stands in his pin-striped suit outside an elegant white 23-story building at Madison Avenue and 61st Street. The place brings back fond memories.
Mermel had the pleasure of flipping the tower above Barneys twice in the last six years as Manhattan property values soared. First, he bought it for $160 million in 2003 with the help of a wealthy Los Angeles family. Mermel filled the upper floors with hedge funds whose managers loved gazing at Central Park from their desks. "The hedge-fund guys were fairly price-insensitive," he chuckles.
Rents soared. Three years later, Mermel and his backers sold the building for $220 million to Broadway Partners. Mermel was certain that there was more money to be made here. So he kept a minority interest in the property. Sure enough, Mermel and Broadway Partners sold 660 Madison Avenue to Risanamento, an Italian real-estate firm, for $375 million in 2007. He got out just before the credit crunch hit. Since then, he has raised $50 million for a vulture fund. Now he plans to prey on competitors who weren't so lucky.
One of the properties that Mermel is circling is 660 Madison Avenue. Since the economy collapsed, Manhattan office-building prices have fallen as much as 50 percent. Mermel estimates that this one is now worth $143 million—considerably less than Risanamento's $175 million mortgage. He is heartened by news that the Milan-based company is trying to unload the tower to stave off bankruptcy. It only improves his chances of picking it up again cheaply.
One of the building's engineers, a guy with a shaved head and an outer-borough accent, is leaving for lunch and notices Mermel on the sidewalk. "Hey, you coming back?" he asks.
Mermel grins.
"Seriously, you in the market?"
"I'm always in the market."
"Call me," the engineer yells over his shoulder as he disappears into the crowd.
How bad is the Manhattan skyscraper market? Not as bad as in the seventies, when New York nearly declared bankruptcy, nor as troubled as in the nineties, when the skyline was full of empty towers from the Reagan boom. But according to Mermel's firm Tenantwise, which tracks 12,800 commercial buildings, the midtown office-vacancy rate, including sublease space, reached 17 percent at the end of July—a 38 percent increase compared with the beginning of the year. The firm says midtown rents fell 28 percent, to $58 a square foot. In other words, "if you bought within the last two years on a two-year note with the expectation that you could rent to hedge funds at $225 a square foot, you are screwed," says Tom Fink of Trepp, a firm that tracks office-building debt.
The city has already witnessed some spectacular flameouts, like when Harry Macklowe defaulted on $7 billion worth of short-term debt that he had borrowed from Deutsche Bank and the hedge fund Fortress Investment Group to buy seven midtown office towers and was forced to relinquish his prized GM Building to Mort Zuckerman's Boston Properties. And there are undoubtedly more to come. According to Trepp, $80 billion worth of securitized commercial-real-estate loans come due in 2010 across the country—$7.6 billion on New York City buildings. Some real-estate moguls will find new lenders to refinance their debt. But many won't. No wonder vultures are hoping to pick up buildings at half off their 2007 prices. If investment banks start clamoring for office space again, their profits could be enormous. "We are just waiting for things to ripen," says David W. Levinson, chairman of L&L Holding, a real-estate company that has started a vulture fund with Prudential Financial kicking in up to $500 million. "Then I think we are going to see the opportunity of a lifetime."
That's certainly the way Mermel sees it. Accompanied by his driver Ruben, he's agreed to give a tour of "distressed" midtown office buildings, and he has a woeful tale for each one. It's almost as if he were polishing his arguments for future negotiations with their beleaguered owners. Even now, of course, there is only so much a vulture can buy with $50 million in Manhattan, although he hopes to raise a lot more than that. Mermel thinks the biggest distressed skyscrapers on his list will be devoured by companies like Boston Properties. "I hope to make a nice living on the smaller ones," he says.
A Vulture's-Eye View of Midtown
1. 777 Third Avenue
There are still some ad-agency types hanging out here, but not for much longer. Grey Group, the primary tenant, is moving farther downtown in December. According to Tenantwise, this will leave the property almost entirely empty. Mermel doubts the owners, the William Kaufman Organization and Travelers, will be able to fill the void anytime soon, and so they may have difficulty servicing a $102 million mortgage stemming from a 2007 refinancing. Maybe, he adds, it might to wiser to sell. Mermel thinks they could get $98 million in this market. Jennifer Wislocki, a Travelers spokeswoman, vigorously disputed his analysis of the building's occupancy and its financial performance. She said the owners are talking to a number of prospective tenants.
2. 11 Times Square
A lot of developers missed the market in Manhattan, but few blew past it like Steven Pozycki, founder of SJP Properties of Parsippany, New Jersey. In June 2007, SJP broke ground on a $1.1 billion skyscraper on the corner of 42nd Street and Eighth Avenue. SJP and its partner, Prudential Real Estate Investors, financed the project with a $660 million mortgage from a banking consortium led by Pittsburgh's PNC. Mermel says the owners still don't have a single tenant: "This always happens in a boom. These out-of-towners come in, borrow a ton of money, and get hammered." Prudential has acknowledged that the financial performance of 11 Times Square "will not be what we expected." SJP declined to comment.
3. 1330 Sixth Avenue
The Macklowe family bought this building in 2006 for $498 million. Otéra Capital, a Canadian real-estate investor, ended up with the $130 million mezzanine loan on it. The family defaulted in January, and Otéra used its position to seize control. "We step in basically to protect our investment," Otéra CEO Jean Lamothe said at the time. Mermel says the Canadians will have a tough time. He argues that the building is worth $202 million—less than the $240 million mortgage on it. The tower is also 30 percent vacant, according to Tenantwise, and he doubts it can be filled at the kind of rents the Macklowes themselves were once hoping to see. He predicts the Canadians will sell instead. "This is a zombie building," he says. Otéra declined to comment.
4. 510 Madison Avenue
The Macklowe family was still in their glory when they started building this sleek $400 million tower in 2007 at the corner of 53rd Street. Harry's son, William "Billy" Macklowe, boasted to the New York Times that it would have a health club and a twenty-yard swimming pool—even a golf simulator. Presumably, hedge-fund managers could have used it to hone their swings when they weren't counting their profits. They clung to this property after losing several others. But how much longer can they afford to keep it? In late August, 510 Madison was still surrounded by a cocoon of scaffolding. The owners are battling in court with some prospective tenants who are trying to get out of their leases. Mermel thinks the property is a "likely foreclosure candidate," estimating its worth at only $100 million. A spokesman for the Macklowes downplayed the building's leasing situation, saying some tenants were in place.
5. 545 Madison Avenue
Last November, the developer LCOR invited 150 brokers to lunch at this refurbished seventeen-story building on the corner of 55th Street in the hopes that they would return with prospective tenants. Some visitors departed with $500 gift cards to Alfred Dunhill, one of the property's few occupants. It looks like LCOR got smoked. LCOR and its partner, BlackRock, boasted in January 2008 that they had borrowed $61 million to transform this 1955 building into a spiffy new tower with "an environment comparable to a five-star hotel." However, Tenantwise says 545 Madison Avenue is still 88 percent vacant. Mermel believes it is worth a mere $42 million. David Sigman, senior vice-president of LCOR, says LCOR and BlackRock haven't missed any loan payments and have actually put more of their own money into the building.
6. 1414 Sixth Avenue
In May, Norman Sturner, CEO of Murray Hill Properties, told the New York Post he had struck a deal with Ian Schrager to convert this dowdy building at the corner of 58th Street into a "six-star" hotel. Sturner said almost all the leases at 1414 could expire next year and then Schrager could "do his magic." But first, Sturner may have to perform a miracle himself. He and his partner, David Werner, purchased the building in 2007 for $120 million. Mermel says its current value is closer to $57 million—and that the partners financed the acquisition with a $65 million securitized loan due next May. Even if Werner and Sturner succeed at refinancing, Mermel doubts they could raise money with Schrager to convert the building to a superluxury hotel—given that the hotel industry is hurting, too. And as the Post noted, there is no such thing as a six-star hotel. Neither Sturner nor Schrager returned calls.
7. 229 West 43rd Street
The New York Times Company arguably made one of the worst real-estate deals in recent New York history when it sold the paper's old headquarters to Tishman Speyer in 2004 for $175 million. Tishman flipped it three years later for $525 million to Israeli billionaire Lev Leviev's Africa Israel USA. However, that deal may be an even bigger debacle. Leviev's company financed it with $711 million in debt. After a $150 million renovation, 299 West 43rd is 96 percent vacant, according to Tenantwise. Plus, one of Africa Israel's mezzanine lenders has sued, accusing it of triggering a technical default to escape some debt. Meanwhile, guess who snapped up the first mortgage? Carlos Slim Helú's Banco Inbursa. (Slim, of course, is the guy who lent the Times $250 million this year, at a staggering 14 percent interest rate.) Africa Israel didn't return calls. Slim's organization wouldn't comment.
8. 142 West 57th Street
David W. Levinson, chairman of L&L Holding, was once one of the city's top commercial-real-estate brokers, with clients like Bear Stearns and News Corp. During the boom, he and his partner, Robert Lapidus, became aggressive buyers of office buildings. Now they too are vultures. But they have some distress in their own portfolio. Mermel says L&L and BlackRock face a November repayment deadline for $81 million in securitized debt on this black tower near Seventh Avenue that they bought for $170 million in 2006. Levinson admits that L&L Holding has some troubled properties. But this, he says, isn't one of them. He adds that his firm has an extension on the loan and that he is signing leases for the property left and right. He even invited Mermel to come pay a visit. "David is a creative guy," Mermel concedes. But he's still keeping his eye on this place.
9. 660 Madison Avenue
Mermel has his sights on the tower above Barneys, yet again.
10. 125 West 55th Street
Few people are smarter about real estate than Mort Zuckerman. But even the chairman of Boston Properties has his missteps. Last year, his company led an investor group that picked up this tower (and two other buildings) as part of its $3.95 billion deal to buy the GM Building from Harry Macklowe. GM was a coup. The other buildings, maybe not so much. The investors paid $444 million for this one, which Mermel estimates is now worth $264 million. That's a problem, because Zuckerman's company and its partners have virtually the same amount of debt coming due on the building in March. Arista Joyner, a Boston Properties spokeswoman, said the company would have no problem arranging refinancing. Mermel tends to agree. Then again, they have a similar deadline in July for a $190 million loan on a second building from the Macklowe sell-off. Joyner declined to comment on that one.
11. 475 Fifth Avenue
Joseph Moinian, a 55-year-old Iranian-born developer, scooped up trophies like the old Sears Tower in Chicago during the boom. He had big plans for this building across from the New York Public Library when he bought it in 2007 for $162 million with Westbrook Partners. The new owners emptied the building—except for the Sean John store—and began renovating. However, in June, instead of refinancing, Moinian and Westbrook handed the keys to Barclays, their lender. Barclays has gotten numerous vulture calls. "I went in and talked to them with a residential developer," Mermel scoffs. "It's only worth $30 million. This place needs a lot of work." Barclays has hired L&L Holding to complete the fix-up and bring in tenants. L&L's David Levinson said his firm had also negotiated an option to buy the place. Barclays wouldn't comment.