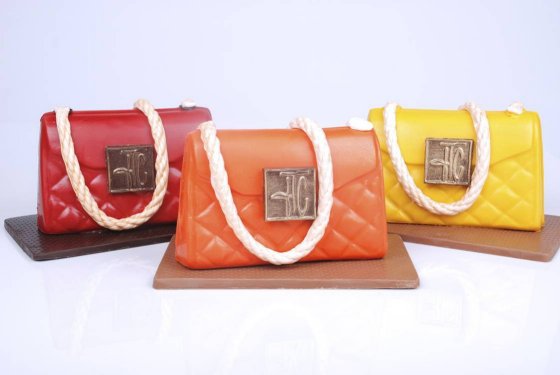 Jacques Torres
350 Hudson St., at King St.; 212-414-2462 (see other locations)
Is Mom a hoarder? Rather than get her yet another purse to add to her collection, visit Jacques Torres, where they're making chocolate versions of the accessories. Colorful handbags ($32) come in both milk and dark chocolate, and she won't have to find space in her closet to fit them. (Just her stomach.)
La Maison du Chocolat
30 Rockefeller Plz., at 49th St.; 212-265-9404
La Maison du Chocolat is taking advantage of spring cherry blossoms, tinging its candy with the seasonal bloom. The Mother's Day Box ($31) features an assortment of goodies, while high-rollers can spring for the Mother's Day Hat Box ($155), which includes the Mother's Day Box and adds chocolate truffles, orangettes, almond corollas, and a Monsera milk-chocolate bar.
Sugar & Plumm
377 Amsterdam Ave., at W. 78th St; 212-787-8778
Stilettos are so hard to walk in, aren't they? Luckily with Sugar & Plumm's Mother's Day chocolate stilettos, the hardest thing Mom will have to do is figure out which part to eat first. They're $25, with none of the achy feet to deal with after.
Tumbador Chocolate
34 34th St., nr. Second Ave., Brooklyn; 718-788-0200
Buy her a string of pearls or get her these delicate "Pearls for Mom" ($42), a box of artisanal truffles in dark-chocolate sea salt, blueberry Champagne, yuzu ganache, and salted caramel, which will melt in her mouth.
MarieBelle New York
484 Broome St., nr. Wooster St.; 212-925-6999
MarieBelle's Mother's Day–themed ganaches come in sizes from 4 ($14) to 25 ($60), printed with colorful scenes and a special "Thank You" on center chocolate. Just in case you forgot to actually say it.
Fine & Raw
288 Siegel St., nr. Bogart St., Brooklyn; 718-366-3633
Indulge Mom's inner cowgirl with the whimsical Bushwick chocolate factory's cowgirl collection. They launch seven tasty new flavors—habanero salt, almond milk, sea salt, espresso, white candy, ginger, and alderwood smoked salt—on May 8, just in time for the big day. Four cowgirl-decorated bars will run you $35, and they'll no doubt compel mom to say Yee-haw! (Especially that habanero salt one.)
FP Patisserie
1293 Third Ave., nr. 74th St.; 212-717-5252 (see other locations)
Spring for chef François Payard's signature macarons: a Mother's Day–themed assortment of 12 ($29), featuring cherry, dark chocolate, vanilla bean, and salted caramel. Or go for the chocolate collection, filled with vanilla rum, chocolate caramel, and Earl Grey tea. A box of 9 is $25, and the best part: the box transforms into a picture frame.