Tom Demsker has been a broker for nearly eight years. Under the not particularly secret identity "the Un-Broker," and through his website, nbpny.com, he works with buyers and sellers. Some have brokers; others are owner-sellers who want a little extra guidance for a modest fee. We asked Demsker to go through the April 19 Sunday Times classifieds with a red pencil (and its digital equivalent) to pick out the best deals he could find. After a lot of calculation and cross-checking with sales records, he chose these seven properties.
The Property The Details Why it's a Deal

A building with "a huge following." $1.495 million252 Seventh Avenue, Apt. 11E A two-bedroom, two-bath loft in the Chelsea Mercantile condo.
Broker: William Costigan, Prudential Douglas Elliman. It's a showy building that's in demand, he says, so resales won't be a problem. The apartment's priced just $45,000 more than one a few floors lower that sold in July 2004. Common charges are just over $1 per square foot—quite low for a "fully loaded" building.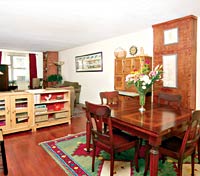 "Good financials, great layout." $550,000 200 East 24th Street, Apt. 1009 An 800-square-foot one-bedroom, one-bath in Gramercy. Broker: Florence Sommer, Coldwell Banker Previews International. The building has no pending projects or future work that could add assessments to your maintenance, he says. The kitchen needs some touching up, but that's already factored into the price. A unit four floors below sold for more back in August 2005, and the apartment above, asking $699,500, just went into contract.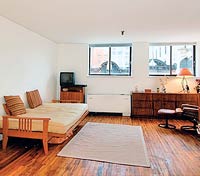 "There's not many here in the low $300,000s." $350,00067 East 11th Street, Apt. 624 A 525-square-foot co-op in a cast-iron building in the heart of the Village. Brokers: Perry Roth and Marissa Saporta, Prudential Douglas Elliman. "It was way overpriced before," says Demsker—the asking was $520,000 last year—but now it's just right. (A unit on a lower floor sold for $30,000 more in 2005.) It's in a pretty building, and "you don't need twenty years' liquidity," which helps when it's time to sell. It also needs updating, as the price reflects.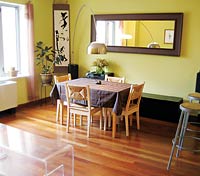 "Fully loaded, And it's on a high floor." $689,000 53 Boerum Place, Brooklyn A two-bedroom, two-bath, 970-square-foot condo. For sale by owner. Full disclosure: Demsker has consulted with the owner. But he says he genuinely thinks it's a good buy at this price, and we agree: Common charges are low for how large it is, and then there's a fifteen-year tax abatement. It was bought from the developer pre-construction back in 2004, and custom hardwood floors and moldings have since been added.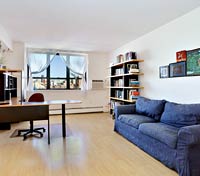 "A value play with a great location." $415,000 301 West 110th Street, No. 17A A 599-square-foot one-bedroom, one-bath condo.Broker: Michael Weiss, the Corcoran Group. It's a high-floor apartment with Morningside Park views, right off Central Park West. An apartment two floors up sold for nearly $500,000 in June 2005. "It's a value play with a great location," he says. Simple as that.

"A wow-type apartment in one of the nicest buildings in the area." $4.995 million 304 Spring Street, Penthouse A three-bedroom, three-bath 2,900-square-foot duplex condo atop a new development. Broker: Richard Orenstein, Halstead Property The price has nearly been halved; its asking was $9.25 million in 2007. "I'd make a play for $4.25 million, though I'd take it near asking," he says. "It's got a lot of style but it's functional." Plus there's that wow factor, which used to command a much higher premium.

"The layout's real flexible." $665,000400 East 85th Street, Apt. 3E A two-bedroom, one-bath co-op. Broker: Andy Fink and Nancy Teague, the Corcoran Group. Your classic Upper East Side postwar two-bedroom. The current owners bought it for $662,500 in 2005, so they've really cut the price close to the bone.