If You a Seek a Bona Fide Irish Experience…
Failte Irish Whiskey Bar
Failte, pronounced "FALL-cha," means "welcome" in Irish. Try to remember that after you've "sampled" your fourth whiskey. And please don't attempt to try them all — the bar has over 30 different kinds imported from the motherland.
Kennedy's
A central fireplace, familial barkeeps, and shepherd's pie draws Irish natives and brogue-lovers alike. Lydia Hearst-Shaw told Grub Street it was one of her favorite places. "I'm a good little Irish girl. My dad goes there almost every day."
Irish New York Walking Tour
Did you know the Puck Building has a distasteful connection to Irish history? Find out why on the Irish Heritage Walking Tour, an on-foot recounting of immigrant struggles with stops at Foley Square, St. Paul's Chapel, and the city's first slums (in what is now Nolita).
If the Parade Shall Be Your Epicenter…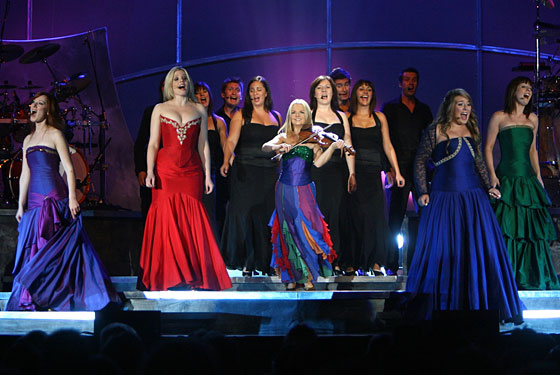 P.J. Moran's
Midtown revelers may have found their pot of gold: a corner of Fifth Avenue where it's possible to drink Powers and, better still, eat whiskey—by ordering Gaelic steak in a creamy Irish-whiskey peppercorn sauce.
Langan's
Yes, it's a couple avenues away from the parade, and, sure, the Times Square pubs will be in a frenzy, but at least corned beef and cabbage is on the menu, along with other alcohol-sponging staples like bangers and mash.
Celtic Women at Radio City
These Gaelic damsels sing divinity-drenched, Charlotte Church–esque octaves while twirling and stepping across the stage. Simple folk songs are whipped into forceful, stirring symphonies.
Ladies & Gents
Looking for a loo after the parade? Paul Walker's site-specific noir thriller, Ladies & Gents, over from Dublin, opens on St. Patrick's Day — literally inside the Bethesda Fountain public restrooms in Central Park.
If You Want to Trek to an Irish Neighborhood…
Cuckoo's Nest
Some two hundred years after Manhattan saw the initial influx of Emerald Islers, Woodside is still a proud holdover of old Irish America. And the understated Cuckoo's Nest — a kitsch-free pub with dark-wood walls and exposed beams — is quintessentially Woodside.
An Beal Bocht Café
With newspaper clippings and weathered photographs plastered on the walls, An Beal Bocht has stood as a living testament to Riverdale's Irish heritage since 1991.
Donovan's Pub
The charbroiled, fried-onion-topped burger flipped at this brogue-luring Roosevelt Avenue mainstay is Cheap Eats–approved, and the fat patty only tastes better when paired with a pint (or three) of Guinness.
If Drinking Is Your Priority…
Peter McManus Café
Most nights, the charmingly shabby McManus serves as an after-hours spot for UCB performers. On St. Patrick's, a hard-drinking contingent of comedy hangers-on and hard-boiled regulars should spark an epic early-morning booze session — for one annual day only, the bar opens at 8 a.m.
St. Paddy's Luck of the Irish Pub Crawl
This barhop covers two days, 30 bars, and five miles of prime drinking territory in the East Village, Gramercy, Murray Hill, and the Upper East Side. If you don't feel green afterwards, consider rehab.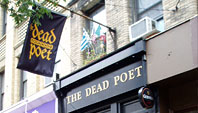 The Dead Poet
This packed, narrow pub offers a touch of literary sophistication with its selection of nine Irish whiskeys. Framed verses deck the walls, and there's a lending library in back, meaning you can study up on Dickens and Joyce while getting your buzz on.
If You Feel Like Dancing…
The Pogues
Irish folk-punk legends the Pogues are in town for their fantastically unruly annual shows at Roseland Ballroom. See them now — rousing front man Shane MacGowan has threatened to get his trademark toothless grille fixed later this year.
Bagpipers at P.D. O'Hurley's
There's something to be said for getting your jig on without getting soaked in Guinness in a sweaty concert hall. This Upper West Side restaurant and pub offers space for both dancing to the band of bagpipers and sitting down for a traditional meal of corned beef.
Black 47
Irish expats Black 47 marry pipes and a tin whistle with happy rock riffs and supercharged political lyrics. They'll introduce a new album at their St. Pat's show; its subject matter is the Iraq war.

THE GREEN GUIDE
• A Bona Fide Irish Experience
• What to Do Near the Parade
• Pubs in Irish Neighborhoods
• If Drinking Is Your Priority…
• Concerts for Celts

PLUS:
St. Pat's Parade Pointers

THE GREEN GUIDE
• A Bona Fide Irish Experience
• What to Do Near the Parade
• Pubs in Irish Neighborhoods
• If Drinking Is Your Priority…
• Concerts for Celts

PLUS:
St. Pat's Parade Pointers

THE GREEN GUIDE
• A Bona Fide Irish Experience
• What to Do Near the Parade
• Pubs in Irish Neighborhoods
• If Drinking Is Your Priority…
• Concerts for Celts

PLUS:
St. Pat's Parade Pointers

THE GREEN GUIDE
• A Bona Fide Irish Experience
• What to Do Near the Parade
• Pubs in Irish Neighborhoods
• If Drinking Is Your Priority…
• Concerts for Celts

PLUS:
St. Pat's Parade Pointers

THE GREEN GUIDE
• A Bona Fide Irish Experience
• What to Do Near the Parade
• Pubs in Irish Neighborhoods
• If Drinking Is Your Priority…
• Concerts for Celts

PLUS:
St. Pat's Parade Pointers