Woodside
There are an estimated 40 Irish pubs in Woodside and neighboring Sunnyside. Both communities are home to the Queens St. Patrick's Parade and Irish Fair—the alternative parade, which took place this year on March 5, allows gays and lesbians to march.
To get to Woodside, take the 7 train to 61st St.–Woodside or the LIRR to Woodside, and head to the intersection of Woodside and Roosevelt Avenues. Both are sure to be thick with revelers, but here are some suggestions to get you started.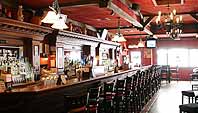 Located one block from the rumbling 7 and LIRR tracks, the cozy Cuckoo's Nest boasts exposed beams, dark paneled walls, and Guinness pints for a mere $5. (61-04 Woodside Ave.; 718-426-5684)





After you catch a buzz, check out the saucy Sean Og Tavern, where the young and the restless hook up—but not before partying down beneath pulsating disco lights. (60-02 Woodside Ave., at 60th St.; 718-899-3499)





After throwing back a few pints at Saints and Sinners, you'll probably identify with the latter. And no, slurring in the name of Saint Patrick will not redeem you. (59-21 Roosevelt Ave., at 60th St.; 718-396-3268)





Woodlawn
With almost a dozen pubs crammed in a five-block area, there'll be no shortage of alcohol-friendly options on Katonah Avenue, Woodlawn's main drag. For hipper alternatives, try the bars along Mclean Avenue, Woodlawn's northern boundary with Yonkers, a suds-soaked stretch where the smoking ban seemingly never happened.
To get there, take the 2 train to 238th St.–Nereid Ave. or the Metro-North Harlem line to Woodlawn and walk west.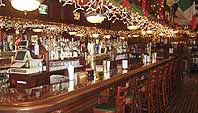 Start your crawl at Rory Dolan's, the mother of Woodlawn watering holes. It has a huge, rectangular bar that's perpetually packed with young partiers on the prowl. (890 McLean Ave., between Kimball and Harding Aves.; 914-776-2946)





When you get sick of standing like sardines at Rory's, head to loungey, candle-lit Frog. The Irish co-owner used to promote clubs in London, which guarantees the music's a cut or three above the competition. (817 McLean Ave., at Aqueduct Ave.; 914-237-8138)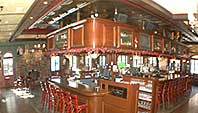 From the owners of the insanely popular Rory Dolan's comes the even bigger Rambling House. Inititally protested by residents because of its massive size, it's a solid bet for a Katonah kick-off. (4292 Katonah Ave., at 236th St.; 718-798-4510)





For smaller-scale schmoozing, any of the surrounding bars will do, but for something a little different, try Behan's, which veers from pub to club, depending on the night. (4299 Katonah Ave, between 236th and 237th Sts.; 718-652-9153)

• Parade Pointers
• Irish Pub Picks
• Pub Crawling through Woodside and Woodlawn
• Irish Concert Calendar