July
1 Kick off the month with South African megastars Angelique Kidjo and Vusi Mahlasela at Prospect Park as part of Celebrate Brooklyn. (And to the Canucks among us: Happy Canada Day! Sorry about the Oilers.)
2 Droog alert: A Clockwork Orange screens at the Museum of the Moving Image.


3 Take a drive to Pennsylvania, the nearest place to buy fireworks legally. But don't buy any. You can't bring them back to New York. Sorry!


4 Celebrate the birth of our nation by watching fireworks from a special vantage point: the Empire State Building, a Circle Line cruise, or at the Fireworks Festival in Long Island City.


5 Groove along with Finnish jazz guitarist Raoul Björkenheim as part of the Scandinavia House's totally not oxymoronic Jazz House Summer Nights series featuring Nordic musicians.


6 The Whitney unearths rarely seen screen tests featuring icons such as Susan Sontag and Taylor Mead as shot by Andy Warhol in the sixties.


7 Keanu, Johnny, Orlando, oh, my! Reeves stars in A Scanner Darkly, while Depp and Bloom reunite for Pirates of the Caribbean: Dead Man's Chest.


8 Egyptian pop superstar Hakim performs sha'bi, the homegrown pop of Egypt's working class, at Central Park SummerStage.


9 What was Dave Chappelle up to before he wigged out? Comedy Central unveils his third (radically abbreviated) season.


10 The Lincoln Center Festival opens with a sextet of plays by the Irish playwright John Millington Synge—including The Playboy of the Western World, which triggered riots in Dublin when it debuted 99 years ago.


11 Two promising albums drop today: the latest from Sufjan Stevens and a solo offering from Radiohead's Thom Yorke.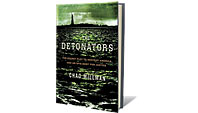 12 German spies! Ammo dumps! Explosions! Learn all about it in Chad Millman's new book, The Detonators: The Secret Plot to Destroy America and an Epic Hunt for Justice.





13 Enter nerd nirvana with Yo La Tengo as the band plays live at a screening of short documentaries by French filmmaker Jean Painlevé at Celebrate Brooklyn.


14 Join your fellow Americans in marking Bastille Day by watching Owen Wilson as a best man who moves in with his newlywed friends in You, Me and Dupree—or, as it should be titled, The Honeymoon Crasher.


15 Dance to outstanding bands—including the ultra-fabulous Scissor Sisters—at the free Siren Music Festival on Coney Island.


16 Chow down on éclairs and crêpes during belated Bastille Day celebrations on East 60th Street.


17 Pilobolus, the acrobatic dance troupe, brings its latest to the Joyce Theater.


18 Relax while the Washington Square Chamber Ensemble, a string quintet (plus a kazoo), plays Mozart at Washington Square Park.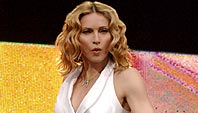 19 Beg, barter, and plead for tickets to Madonna at Madison Square Garden.



20 Bliss out among the flora at one of three evening classical-music concerts at the New York Botanical Garden.


21 Choose between Uma Thurman's My Super Ex-Girlfriend and M. Night Shyamalan's Lady in the Water. Uma! M. Night! Uma! M. Night!


22 Catch Alvin Ailey choreographer Ronald K. Brown's ensemble as it performs three modern dance works at the Prospect Park band shell.


23 Only one week left to see the works of Max Liebermann, the brilliant German who embraced French Impressionism, at the Jewish Museum.


24 Roots-rocker Melissa Etheridge hits the Garden for the first of three shows.


25 Chortle furiously as Amy Poehler and friends mark the tenth anniversary of the Upright Citizens Brigade with a live performance of Asssscat 3000 at Irving Plaza.


26 Alt-crooners Fiona Apple, Damien Rice, and David Garza swarm SummerStage in Central Park.


27 Enjoy soul in the sun with seventies funksters the Spinners, at Metrotech as part of the bam Rhythm & Blues Festival.


28 Guess who's back? Woody's back! Auteur Allen fulfills his one-movie-a-year mandate with Scoop.


29 Why should you go see Jon Bon Jovi at the Meadowlands? For starters, he's seen a million faces. And he's rocked them all.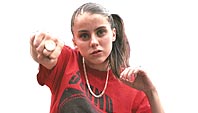 30 Run, don't walk, to Lady Sovereign at SummerStage—the U.K. rapper who looks like Sporty Spice but sounds like the Streets.







31 Enjoy Projected Realities: Video Art From East Asia at the Asia Society Museum, featuring works like the toothy treat pictured here.



August
1 Amp up your outrage—for Bush or for cheeky country stars—as Dixie Chicks play MSG.


2 Downtown swingers (no, not that kind) and a nine-piece band hit Rockefeller Park to re-create a 1972 live show by Neil Diamond.


3 Tweak your fantasy-football strategy, as stats whiz Aaron Schatz discusses Pro Football Prospectus 2006 at the 92nd Street Y.


4 Already wistful for July 4? Retreat to Coney Island for Friday-night fireworks, then catch the Brooklyn Cyclones battling the Tri-City ValleyCats.


5 The Puppeteers' Cooperative trots out its supersize creations—think Big Bird, not socks—at Lincoln Center's Josie Robertson Plaza.


6 Are you ready for nine and a half hours of delicious infidelity and juicy British accents? Then bunker down with a Footballers' Wives marathon on BBC America. Just be prepared to shower afterward.


7 It's a marvelous night for Van Morrison, playing at Jones Beach Theater.


8 Witness the anticipated premiere of Shakespeare in the Park's Mother Courage, Brecht's 1941 anti-Fascist play, newly adapted by Tony Kushner and starring Meryl Streep. Rest up—the ticket queue will likely start about 5 A.M.


9 How strong is your stomach? Find out as Film Forum premieres the gleeful gorefest Lunacy, Czech director Jan Svankmajer's twisted take on Edgar Allan Poe, the Marquis de Sade, and raw meat.


10 Join the New York Choral Society foran audience-inclusive sing-along of Haydn and Duruflé at the Liederkranz Club on the Upper East Side.


11 Admit it—you're a little bit curious about World Trade Center, Oliver Stone's allegedly conspiracy-free take on the last two survivors found after 9/11.


12 Make the trip to Flushing's Hong Kong Dragon Boat Festival. Added enticement: Shaolin Temple Warrior Monks will be doing kung fu.


13 The Noguchi Museum in Long Island City hosts a design geek's dream show: Best of Friends: R. Buckminster Fuller and Isamu Noguchi.






14 Alt-country fans and dance obsessives converge at the Joyce, where San Francisco's Smuin Ballet presents the New York premiere of Bluegrass/Slyde.


15 Hole away with the Criterion Collection's Six Moral Tales, by Eric Rohmer—sumptuous movies full of fetching ingenues and tortured bourgeois.


16 NBC premieres Tommy Lee Goes to College, dispatching the Mötley Crüe drummer to matriculate at the University of Nebraska. Yes, he tries out for the marching band.


17 Last chance to catch the Aperture Gallery's show on William Christenberry, the photographic troubadour of the sun-parched American South.


18 Embrace the Zeitgeist! Give in and see Samuel L. Jackson's hissploitation flick, Snakes on a Plane.


19 Zone out to Berlin trance-king D.J. Paul van Dyk, playing Central Park's Rumsey Playfield at 6:30 P.M.


20 Spike! The Brooklyn Open draws 150 pro beach-volleyball players to Coney Island—and plenty of spectators.


21 Stake out a bar stool as the Yankees close a four-game series against Boston. Apparently, there's a rivalry developing here.


22 Snag the new OutKast album, Idlewild, released just a few scant months after you finally got "Hey Ya!" out of your head.


23 Ingenue, crackpot, diva, comeback queen: Mariah Carey brings it all, plus that voice, to Madison Square Garden.


24 Slip out for a midday escape at the Museum of Television and Radio: a 1 P.M. screening of First of the International Clayboys, about Gumby creator Art Clokey.


25 Not in our house! Er, your house! The Giants and Jets duke it out on their shared home turf in a preseason NFL game.


26 Rock me, Amadeus: After 30 days and 42 performances, the Mostly Mozart Festival concludes at Avery Fisher Hall.


27 Don't miss Unknown Weegee, ICP's show of 120 never-been-seen prints by the city's definitive tabloid shutterbug.


28 It's the U.S. Open—make sure to slap on the sunscreen and book your tickets early. You won't be the only one eager to cheer on one last Andre Agassi run.


29 Pack away the beach reads and get back on a serious literary regimen—starting with Edward P. Jones's new collection of short stories, All Aunt Hagar's Children.


30 Go Dada at MoMA. Why? Cucumber!


31 Some 3,000 Tito Puente aficionados hit the New York Salsa Congress, a Latin-dance marathon kicking off at 3 P.M., and shimmy away until 5 A.M.—sweeping you right into a chock-full September.

Next: Amy Sedaris Gets Up in Your Grill