1. BBQ at the Zoo
Van Saun Park, Paramus, N.J.
Just fifteen minutes from the George Washington Bridge is a refreshingly retro zoo with lions, alligators, tortoises, tamarins, bison, and bobcats. Bring a cooler and have a picnic—barbecuing's allowed. And if all else fails to please, hop aboard the train that goes around the zoo's perimeter.
2. Historic Richmond Town
Staten Island
Dad gets Civil War reenactments, demonstrations on tinsmithing, and apple-butter making. Kids can romp in the hay bales, practice writing with a quill, or play with antique toys. And Mom can sneak off to see "Purses Plain and Fancy," a display of 50 vintage handbags dating back to the 1800s.
3. Liberty State Park
New Jersey
New Jersey's largest playground, with enough swings, monkey bars, and slides to keep kids of all ages happy, is accessible by Water Taxi from downtown. Plus, it's the temporary home of the Liberty Science Center, whose newest exhibit, "Eat and Be Eaten," features live vipers, chameleons, geckos, Gila monsters, and hissing cockroaches. And, of course, there's always the view of the Statue of Liberty. Impressive even still.
4. Seaside Heights
Jersey Shore
For something a little more honky-tonk, head to Exit 82 off the Garden State Parkway. The boardwalk's appropriately freaky—The World's Smallest Woman!—and there are enough sausage stands, cotton-candy carts, and penny arcades here to satisfy any craving for Coney Island kitsch. Plus, the beach is much, much nicer.
5. The KaleidOscraper
Mount Tremper, N.Y.
Off Route 28 in the Catskills lies the Emerson Resort and Spa: a dairy farm turned pampering spot that's also home to the world's largest kaleidoscope. A 65-foot grain silo was refashioned into a gigantic toy, outfitted with three 37-foot-long mirrors. There's a custom projection system that turns the whole caboodle into a light show.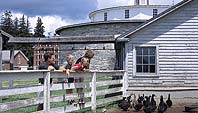 6. The Shaker Village
Hancock, Mass.
The fascinating thing is how contemporary the Shakers seem: They were masters of green building and sustainable-farming methods. Kids can learn all about it through activities that include feeding sheep and oxen and milking a fake cow equipped with the necessary "plumbing" to simulate the real thing, in the Discovery Room.



7. The Maritime Aquarium
Norwalk, Conn.
Sharks swim in the 110,000-gallon "Open Ocean," harbor seals can't wait to say hello, and a "touch tank" allows kids to get up close and personal with starfish and their ilk. Toddlers and preschoolers get the sprawling Ocean Playspace on the second floor, while older kids learn boat-building at a free workshop.



8. The Half-Pipe
Chelsea Piers
It's hardly a road trip, more like a cab ride, really, but it's worth visiting this skater paradise: There's a giant rink, a half-pipe, and a street course. It's your kids' last chance to experience the place, too, as it's scheduled to close this fall so the city can expand Hudson River Park.



9. Bear Mountain Park
Bear Mountain, N.Y.
Bike trails, playing fields, a zoo, a massive swimming pool, a bird refuge, and Hessian Lake, where paddleboats and canoes are available for rent: all just an hour north of Manhattan. Remember to wear hiking boots if you plan to take on the Appalachian Trail.
Summer Stuff for Kids, Tweens, Teens, and Parents
• Agendas for Grade Schoolers and Up
• Build a Six-Figure Tree House
• The City's Best, Kid-Tested Vanilla Cones
• Child-Friendly Destinations That Don't Suck for Parents
• Music You Won't Fight Over in the Car