Planning's for suckers, right? Meaning that July is nearly here and you have nowhere to go. But if you're not picky and married to one trophy area, quite a few houses and condos, small and large, are still up for grabs, especially in places like the Jersey shore where heavy inventory accommodates just about anyone. Every property on these pages is still available—or was, until your neighbor read this story. So get on the phone right now.
FIRE ISLAND
This season's hot for both sales and rentals, fueled by ex-Hamptonites seeking a quieter vibe, says local broker CJ Mingolelli. That it's mostly carless doesn't hurt either; nor does the beach, pristine as ever despite this year's storms.
Tarpon Walk, Fire Island Pines
Broker: CJ Mingolelli, Prudential Douglas Elliman (631-597-3030).
From Manhattan: Two hours.
Sleeps: Eight.
Price per week: $8,000.
A four-bedroom "upside-down cake" house—bedrooms below, living areas up top—with 360-degree views. The ocean's 200 feet away, and if that's just too far, there's a pool out back. Everything's included, linens and all. Mid-August brings the Ascension party to the Pines, which means revelry galore, so book your week accordingly.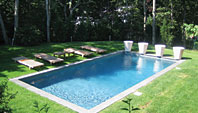 THE HAMPTONS
This year, the high end (above $3 million) has been selling well, whereas buyers who are "mortgage-dependent" have copped a wait-and-see attitude and are tending to lease. One-week rentals are rare, so you'll either have to overpay or take the dregs. One option: Accommodations Plus (at hamptonsvacations.com), which has a smattering of basic, well-equipped homes available for short-term stays. But the rental brokers aren't completely tapped out either.
16 Pond Lane, East Hampton
Broker: Cee Scott Brown, the Corcoran Group (631-899-0119).
From Manhattan: Three hours, God willing.
Sleeps: Seven.
Price per two weeks: $8,000.
This seventies-mod three-bedroom is rigged for entertaining, with a heated gunite pool, a landscaped yard, and outdoor speakers. There's only one bathroom—a hassle if you have guests. But the owners are open to short rental periods, and it's walking distance to quiet Lion's Head Beach.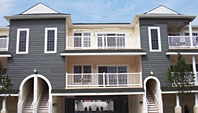 THE JERSEY SHORE
From Sandy Hook to Cape May, choices abound, even for August. Popular destinations like Long Beach Island and Lake Como, as well as family-friendly villages like Stone Harbor, may prove daunting, but Jersey is so big that there's always something still available. Start searching at Jerseycoastrentals.com and Shorevacations.com.
213 East Pine, Unit 205-A, Wildwood
Broker: Sara Jones, Cabrera Realty (609-729-8840).
From Manhattan: Three hours via the Garden State Parkway.
Sleeps: Eight.
Price per week: $1,400.
Who needs peace and quiet when you can have a carny summer? Wildwood has a boardwalk full of rides (Ferris wheel, roller coasters) and a buffet of junk food to keep you sugared up. This three-bedroom condo has two parking spaces of its own, and both beach and boardwalk are two blocks away. Pretty cheap, too, especially if you divvy it up with friends.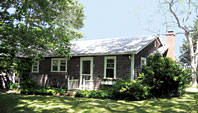 MARTHA'S VINEYARD
Business has picked up this year, says Tom Pallas, senior rental agent at Martha's Vineyard Seacoast Properties, "but it's not going to be a bang-up year" like it was six or seven summers ago. Translation: Lots of choices for latecomers, except in the historic center of ever-popular Edgartown.
Oak Bluffs
Broker: Tom Pallas, Martha's Vineyard Seacoast Properties (800-338-1855).
From Manhattan: Five hours to the Cape, then 45 minutes on the ferry from Woods Hole.
Sleeps: Eight.
Price per week: $2,700.
On the outskirts of lively Oak Bluffs, this four-bedroom, three-bath cottage has a screened-in porch and a deck, the better to take in the squint-and-you'll-see-it views of Nantucket Sound. Near Harthaven Beach, or a short bike ride from Edgartown for ice cream. Golfers can tee off at the nearby eighteen-hole Farm Neck Golf Course, where Bill Clinton roams free. Check in early with Islandferry.com, because getting a car pass is a little tricky.
NANTUCKET
Off to a slow start for July rentals, many of which are still available. (Early August is quite a bit tougher.) The farther away you go from the ocean, the more negotiating power you have. You'll have trouble getting a spot on the car ferry this late, though.
Codfish Park
Broker: Yvonne Breslin, Nantucket Real Estate (800-228-4070).
From Manhattan: Five hours to Hyannis, then a two- and-a-half-hour ferry ride.
Sleeps: Five.
Price per week: $3,500.
This shabby-chic three-bedroom cottage is relatively inexpensive, and it's across the street from the beach. It's usually booked by now, says rental agent Yvonne Breslin, but this year, the last two weeks of August are still up for grabs. No A/C, but it does come with Internet service and a lobster pot. The ferry situation is complicated this late: You may have to leave your ride in Hyannis and schlep everything on your own, whereupon the Steamship Authority will transport your vehicle as soon as space becomes available.
BLOCK ISLAND
August is all booked up, say locals, since most landlords take the prime weeks for themselves or have regular tenants who come back every year and book way ahead. Better to try for July.
Lathrop, Off Grace's Cove Road
Broker: Sandra Hopf, Sullivan Real Estate (401-466-5521).
From Manhattan: Three-hour drive to Point Judith, Rhode Island, and then an hour on the ferry.
Sleeps: Six.
Price per week: $3,000.
A one-bedroom main house plus a guest cottage that sleeps three. Grace Cove Beach—pretty and craggy, better for fishing or sitting than sunning—is a quarter-mile walk, and the more-typical beaches off Corn Neck Road are a ten-minute drive. (No passes or parking permits required.)
CONNECTICUT
Most brokers here will shoo you out the door if you ask for just a week, preferring to rent for a month or even longer, especially for prime lakefront. So try the owners themselves: Websites like Vrbo.com and Cyberrentals.com have dozens of listings for short-term stays.
Morris
Broker: Maria Taylor, Klemm Real Estate (860-868-7313, ext. 26).
From Manhattan: Two hours.
Sleeps: Six.
Price per week: $3,000 (but see caveat below).
More kitschy than chic, this three-bedroom colonial is somewhat rustic, with wood paneling in the common areas, but it has its own large dock on Bantam Lake for kayaking, boating, and swimming. The owners won't rent for just a week—they're charging $12,000 for the month—but they use it as a reunion spot for all their relatives, and you can, too. Have your extended brood split the month and the costs.