BÄR-BÕ-NÉ RESTAURANT AND WINE BAR
186 Ave. B, nr. 12th St.; 212-254-6047
Outdoor hours: Mon.–Sat. 6–11:30 p.m., Sun. 5:30–10:30 p.m.
This wine bar's small, hidden garden is a Lower East Side anomaly with its anti-grunge ambience and clientele. Wine enthusiasts will appreciate the creative list with ten wines served by the quartino for $10 to $12. Even during peak evening hours, it's possible to secure a wicker chair, kick back, and smell the ferns and the puttanesca sauce wafting from the kitchen.
TROUT
98½ Pacific St., nr. Smith St., Boerum Hill, Brooklyn; 718-935-1294
Outdoor hours: Mon.–Thurs. 4 p.m.–midnight, Fri. 4 p.m.–2 a.m., Sat. 3 p.m.–2 a.m., Sun. 3 p.m.–midnight
The redneck-chic fish-camp aesthetic of this outdoor-only bar attracts Brooklynites who don't mind the Raconteurs cranked on high, cocktails served in plastic cups, or picnic-table seating. Drink specials ($6) are determined by a wheel of fortune spun every hour. Plan your visit around the two peak periods—one at 7:30, and another at eleven (after the restaurants on Smith Street close). But you can often fit in a few friends as long as you don't mind sitting with strangers.
ZUM SCHNEIDER RESTAURANT & BIERGARTEN
107 Ave. C, at 7th St.; 212-598-1098
Outdoor hours: Nightly 5–11 p.m., Fri. opens at 4 p.m., Sat.–Sun. opens at 1 p.m.
Although the "biergarten" is actually situated on a sunny Alphabet City sidewalk, German drinking spirit translates to the cramped, cacophonous outdoor tables. Purists approve of the humongous one-liter-size beer mugs ($10 to $14) and pork-heavy menu. Reservations are not accepted for parties smaller than ten (and not at all on weekend nights), making for substantial waits during dinnertime as the crowd lazes away the evening drinking and eating.
HABANA OUTPOST
757 Fulton St., at S. Portland Ave., Fort Greene, Brooklyn; 718-858-9500
Outdoor hours: Daily noon to midnight, closed Tuesday
Here, $2.50 pints of locally brewed Six Point beer wash down Cuban sandwiches ($7.25) and sweet plantains ($3). The no-frills concrete drinking lot is powered by an array of solar panels, and the smoothie blender gets its energy from a stationary bike. All this draws a fun, kid-friendly crowd at lunch and dinner. The Saturday-afternoon flea market and Sunday-night movie screenings ensure there is no downtime.
GRAMERCY PARK HOTEL ROOF CLUB AND LANDSCAPED GARDEN
2 Lexington Ave., at 21st St.; 212-920-3300
Summer hours: Sun.–Tues. 6:30 a.m.–midnight; Wed.–Sat. 6:30 a.m.–2 a.m.
Strictly for guests (and virtuosic gate-crashers), the stunning rooftop facility wraps around three sides of Ian Schrager's latest painfully cool hotel. If the skyline view isn't enough, there's the lush garden and its fashionable creatures. When the weather turns, a roof unfurls. Those who want in, beware: The drinks ($15 for a cosmo), much like the hotel's rooms (from $545), will cost you.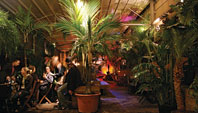 THE DELANCEY
168 Delancey St., nr. Clinton St.; 212-254-9920
Outdoor hours: 5 p.m.–4 a.m.
The roof deck of this Lower East Side club follows a jungle theme, with dramatic spotlights accenting bamboo stalks and palm trees. Bartenders dispense bottled beer and mixed drinks in plastic cups—it's up to you to source a table and chairs, which are scarce on weekend nights, despite the $10 cover charge and reservation policy. The good-looking crowd of singles dances when the music pumps, though they rarely notice the up-close view of the Williamsburg Bridge.
MAGGIE BROWN
455 Myrtle Ave., nr. Washington Ave. Clinton Hill, Brooklyn; 718-643-7001
Outdoor hours: Sun.–Thurs. 10 a.m.–11 p.m., Fri.–Sat. 10 a.m.–midnight.
This restaurant's adorable garden is like a North Carolina grandmother's backyard: There's comfort food on the menu and toddlers running about (as the swarm of strollers out front suggests). If you get there between 4:30 and 7:30 p.m. you can catch the two-for-one draft-beer and house-wine special. The tasty summer mixed drinks, including margaritas and spiked frozen lemonades, range from $4 to $9.
HOPE LOUNGE
10 Hope St., nr. Roebling St., Williamsburg, Brooklyn; 718-218-7191
Outdoor hours: Mon.–Fri. 3 p.m.–4 a.m., Sat.–Sun. 2 p.m.–4 a.m.
Bypass the Pottery Barn style of Hope Lounge for its large concrete outdoor space that's appointed with cushioned chairs and umbrella tables and is rarely oversubscribed. The bar has eight drafts on tap and cocktails so fruity they may actually be nutritious. Berries, apples, oranges, and grapes garnish the $7 pint of fresh sangria, while cocktails like the cherry margarita, and frozen piña colada (both $10) are equally fruit-forward. The bar occasionally rents the patio, so call in advance to make sure it's open.
WATER TAXI BEACH
Hunters Point, Long Island City, entrance on Borden Ave. at 2nd St.; no phone
Outdoor hours: Officially Wed.–Fri. 4 p.m.–midnight, Sat. noon–midnight, Sun. 1 p.m.–midnight
Four hundred tons of trucked-in sand, spectacular views of midtown, and swimsuit-clad boys and girls—these are the rewards for finding your way to the Water Taxi Beach in Long Island City. A rotating cast of D.J.'s and frozen cocktails ($7.50) simulate a Cancún vacation—sans swimming, which is forbidden. At night, the beach often gets packed, resulting in buzz-negating lines at the bar and portable toilets.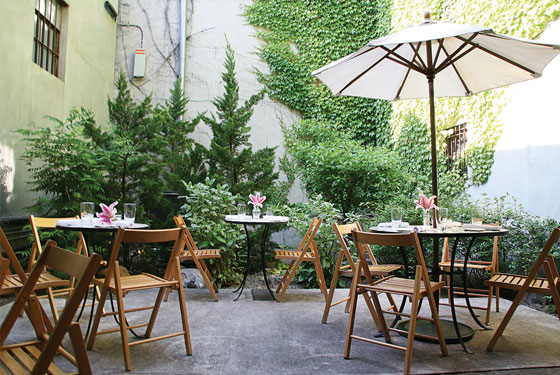 STONEHOME WINE BAR
87 Lafayette Ave., nr. S. Portland Ave., Fort Greene, Brooklyn; 718-624-9443
Outdoor hours: Mon.–Thurs. 5 p.m.–12:30 a.m., Fri.–Sat. 5 p.m.–1:30 a.m., Sun. 5 p.m.–midnight
Fort Greene residents without a garden of their own find the tasteful ivy-draped backyard at Stonehome a perfect stand-in. For a wine-and-cheese (and fancy bottled beer) establishment, it draws an edgy crowd, including collage art star Wangechi Mutu. On weekend evenings, couples have a shot at getting a seat on the romantic patio; larger drinking parties should shop elsewhere.

4th AVENUE PUB
76 Fourth Ave., at Bergen St., Park Slope, Brooklyn; 718-643-2273
Outdoor hours: Daily 3 p.m.–4 a.m.
Brick apartment buildings rise up around the pub's walled-in garden patio, their windows overlooking drinkers below. Loyalists come to appreciate a rotation of 25 reasonably priced exotic draft beers. The popcorn is always free, as is the Friday-through-Sunday hot-dog-and-hamburger barbecue, and there always seem to be a few empty tables and chairs both inside and out.
THE BOWERY HOTEL
335 Bowery, at 3rd St.; 212-505-9100
Outdoor hours: 7 a.m.–midnight
The new Bowery Hotel's lobby bar has a lovely, small patio that's officially the domain of hotel guests—and, to keep it that way, reserved placards are placed on most of the low, candlelit tables and couches. During the day, the spot is quiet enough for you to attempt entry by smooth-talking the maître d'. Eight-dollar Heinekens buy you the pleasant atmosphere and an attractive wait staff that stay friendly even as the crowd outside grows to capacity around midnight.
BOHEMIAN HALL & BEER GARDEN
29-19 24th Ave., nr. 29th St., Astoria; 718-274-4925
Outdoor hours: Weekdays 5 p.m.–3 a.m., weekends noon–3 a.m.
New York's last true beer garden is worth a visit to Astoria. Amid an unpretentious parklike atmosphere with row upon row of wooden picnic tables, wash down kielbasa and sauerkraut ($8) with $14 pitchers of frothy Czech beers like the smooth pale lager Staropramen. Those with groups of twenty or more should arrive closer to noon than 5 p.m. on weekends to get a prime table under a shady tree.
THE CROW'S NEST AT THE WATER CLUB
500 E. 30th St., at the East River; 212-683-3333
Outdoor hours: Mon.–Thurs. 4 p.m.–midnight (or earlier), Fri.–Sun. 2 p.m.–midnight (or later)
Perched atop the crusty Water Club restaurant, the Crow's Nest has a front-row view of the East River, making it feel like the upper deck of a cruise ship. (The hardwood floors, white railings strung with lightbulbs, and porthole windows contribute to the effect.) Whether on a weeknight, when a youngish, after-work khakis crowd dominates, or weekends, when a mix of locals and tourists man the deck, the Crow's Nest rarely overflows. Even small groups won't have trouble finding a table in the sun or under an awning.
HUDSON RIVER CAFÉ
697 W. 133rd St., nr. Riverside Dr.; 212-491-9111
Outdoor hours: 5 p.m.–2 a.m.
The brand-new Hudson River Café joins Dinosaur Barbecue and Fairway market on a gritty stretch of West Harlem. There are two large, sparkling outdoor patios—a ground-level deck with views of the Hudson and a two-level dining terrace. The expensive drinks (a mojito costs $10) and attractive staff make the place feel like a poolside restaurant in Miami. For now, the bar is busy but not overrun; groups arriving at peak hours (7 to 9 p.m.) on the weekend shouldn't wait long for an outdoor table.

Video: The Fab Life
Fabiola Beracasa tours the Gramercy Park Hotel private rooftop club.
Reporting by Amy Braunschweiger, Nicole Davis, Nicole Hunt, Carol Vinzant.