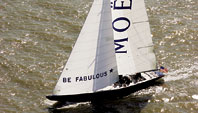 1. Manhattan Sailing Club, west of the World Financial Center bet. Liberty and Vesey Sts.; 212-786-1200.America II was used in the America's Cup in 1987. Now it can be yours for three hours, with a six-crew staff taking you around the Statue of Liberty or up the East River to the United Nations. Free magnum of Moët after the sail; $5,000 for groups up to six.
2. Gowanus Dredgers Canoe Club, 2nd St. at Bond St., Brooklyn; 718-243-0849. Red Hook Boaters, Louis Valentino Jr. Pier Park at Coffey St., Red Hook, Brooklyn; 917-676-6458.Environmental groups bankroll free canoe trips on the Gowanus Canal and within the Valentino Park in Red Hook. Short exploratory trips on the industrial waterways are open to the public throughout the summer.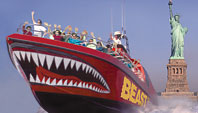 3. Circle Line's The Beast, Pier 83 at 42nd St.; 212-563-3200. Let Captain Mad Dog take you on The Beast, a rollicking 45-mph trip from 42nd Street to the Statue of Liberty and back; $17 per person.
4. The schooner Adirondack, Chelsea Piers at 18th St.; 212-209-3370. Bottoms up! Two-hour beverages-included cruises aboard the 80-foot boat are offered during the day, at sunset, and at night. From $40.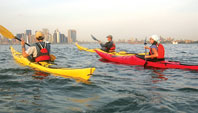 5. Hudson River Park Trust, Pier 40 at Houston St., Pier 96 at 56th St., and at 72 St. Daily update line: 646-613-0740; general-information line: 646-613-0375. The Hudson River Park Trust foots the bill for self-bailing kayaks, paddles, and life jackets available for public use. Paddle the protected area near one of the trust's boathouses or sign up for a three-hour trip to Governors Island or other harbor destinations. Free.
6. Swimming, Manhattan Island Foundation; 888-692-7946. The rivers and harbor have been declared safe for human immersion (except when heavy rain overwhelms the sewer system). Take open-water swim clinics or compete in a race around Governors Island or under the Brooklyn Bridge. Cost varies according to event.