1. The Pier i Café
Pier I, W. 70th St. at Hudson River; 212-362-4450
This tiny bar, located on a stretch of Riverside Park South directly under the West Side Highway, offers an idyllic summer experience: burgers, smoothies, and deck chairs, with the calming view of the Hudson's seaborne traffic front and center.
2. Hudson River Café
697 W. 133rd St., nr. Riverside Dr.; 212-491-9111
Set between the steel arches of the Riverside Drive viaduct and an elevated Amtrak line, Hudson River Café boasts a two-level dining terrace and an outdoor patio and bar. A bonus: after a few rounds of their signature fruity cocktails, the river is just a short walk away.
3. Johnny's Famous Reef Restaurant
2 City Island Ave., nr. Belden St., City Island, The Bronx; 718-885-2086
Drinks at Johnny's—at the very southern tip of the island, overlooking the Long Island Sound—are a perfect initiation to this tiny patch of land off the eastern coast of the Bronx. Grab a basket of fried clams and watch the boats sail by.
4. Rockaway Lobster House
375 Beach 92nd St., nr. Beach Channel Dr., Rockaway Park; 718-634-2500
This just-about-authentic surf bar tucked away on the Queens peninsula features a docklike back deck just steps away from the Jamaica Bay shore, where steel-drum bands and rock-and-roll cover acts rule. Watch out for the nearly guaranteed rendition of "Rockaway Beach," by the Ramones.
5. Il Fornetto
2902 Emmons Ave., nr. 29th St., Sheepshead Bay, Brooklyn; 718-332-8494
This jolly, old-school Italian restaurant just about hangs over Sheepshead Bay's marina, so you can catch views of reclining swans in between glasses of red wine.
6. Ruby's Old Time Bar and Grill
1213 Riegelmann Boardwalk, nr. 12th St., Coney Island, Brooklyn; 718-372-9079
Sure, it's been around since 1975, but with condos encroaching upon Coney Island's sacred ground, Ruby's might not be long for this world. Take advantage while you can by plopping down on the plastic chairs overlooking Raritan Bay, wolfing down Coney dogs, and guzzling cheap brews in plastic cups.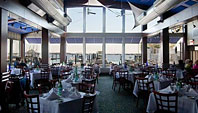 7. Marina Cafe
154 Mansion Ave., at Hillside Terr., Great Kills, Staten Island; 718-967-3077
A bar that fully embraces its theme, Marina Cafe has walls decked out in ocean blue with seashell lighting fixtures. The view, overlooking Great Kills Harbor, elicits a lazy-summer-day-in-Nantucket vibe.
8. Cargo Café
120 Bay St., nr. Central Ave., Tompkinsville, Staten Island; 718-876-0539
The Cargo Café, just a short walk from the Staten Island Ferry landing, isn't smack-dab on the water, but its open-air back room has the grandest view of the Verrazano Bridge—and the ships that pass under it—this side of the Narrows.