Rehabilitating decrepit, rusty el tracks seemed like an out-there idea. But now that the High Line is here—all native grasses and civilized boardwalk—we never knew how much we wanted it. Or realized how it would change the way we wander the meatpacking–West Chelsea corridor. One way to pass an afternoon: reading a book, catching the breeze, coming down only for bathroom breaks (Chelsea Market's are the nicest) and emergency sunblock (get it at Jeffrey). Or you can augment your sunbathing-and-view-admiring by recognizing the fact that you are in prime eating and shopping territory. If you commit to walking up and down the park's stairs enough (entrances on Gansevoort, 18th Street, and 20th Street have stairways, with an elevator at 16th Street and one to come in July at 14th Street), you can justify a rich and buttery pretzel croissant from Birdbath, the green-bakery offshoot of Maury Rubin's City Bakery, which runs the park's two concessions. Build up an appetite investigating the neighborhood shops, then make a picnic from the offerings at Chelsea Market, or book dinner at the newly opened Standard Grill, with its three very different spaces on the ground floor of André Balazs's Standard Hotel. The park above our heads makes an excellent axis for a day's worth of strolling on a beautiful summer weekend. For a map of the environs, click ahead.
The Ideal Amble
From south to north.
1. Auto
805 Washington St., nr. Horatio St.; 212-229-2292
Pick up a good read (World Unfurled, by Matteo Pericoli, is $26), button dolls for the kids ($48), and a sturdy canvas tote to carry it in ($76).
2. Birdbath cart
Nr. Gansevoort St. entrance
Fuel up with a large chocolate-chip cookie ($3) or a "green" pizza with leeks, scallions, and mint ($4).
3. Los Dados
73 Gansevoort St., at Washington St.; 646-810-7290
Stop for a refreshingly subtle cucumber-agave margarita ($14).
4. Fig & Olive
420 W. 13th St., nr. Washington St.; 212-924-1200
Sit at the bar, and order the tasting menu.
5. The Standard
848 Washington St., nr. W. 13th St.; 212-645-4646
Try the newly opened Grill, or BYO to the yellow picnic tables in front of the hotel's lounge.
6. Good Graffiti
13th St. at Washington St., northwest corner
Interesting building art: Albert Einstein, Joe Louis, and a cowboy.
7. Paige Premium Denim
869 Washington St., nr. W. 13th St.; 212-807-1400
To buy: O.P.I. nail colors like pink, blue, and green ($8.50), and denim shorts ($139) or pants ($149) to match.
8. Edris
430 W. 14th St., nr. Washington St.; 212-989-6800
Swing by this chic, under-the-radar salon for a cut (from $125) or manicure (from $30).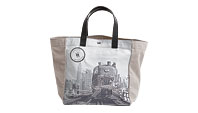 9. Jeffrey
449 W. 14th St., nr. Ninth Ave.; 212-206-1272
Sunblock emergency? Lancaster's oil-free SPF-15 spray ($25) is expensive, but at least it's nearby. Part of the proceeds of Anya Hindmarch's silk-screened bag ($150) benefit Friends of the High Line.
10. Halfsteak at Craftsteak
85 Tenth Ave., at 15th St.; 212-400-6699
Summer dishes ($15 and under) like a softshell-crab po' boy with green-tomato marmalade and bacon, have been created for High Line visitors.
11.
The famous lounge chairs on wheels are here. If you score one, don't move.
12.
Splash around in the (questionably sanitary) sundeck water feature.
13. Milk Studios & Gallery
450 W. 15th St., nr. Washington St.; 212-645-2797
The free ground-floor gallery has portraits (Lance Armstrong, Ludacris) by hip-hop photographer and video director Jonathan Mannion starting June 25.
14.
The Chelsea Market Passage has cool blue neon lights overhead, a stained-glass-window installation by artist Spencer Finch, and the second Birdbath concession.
15. Chelsea Market
75 Ninth Ave., at 15th St.
Build a picnic: bread from Amy's, with meats, cheeses, and condiments from Buon Italia, or a lobster roll from the Lobster Place, and brownies from Fat Witch ($2.75). Take advantage of clean public restrooms.
16.
The Tenth Avenue Overlook is a mini-amphitheater with a glass-walled view of traffic below.
17. The Park
118 Tenth Ave., at 18th St.; 212-352-3313
The enormity of the space makes it great for walk-ins. There's free Internet, and a rooftop lounge Friday and Saturday nights from midnight to 4 a.m.
18. Appellation Wineshop
156 Tenth Ave., nr. 20th St.; 212-741-9474
Time your High Line stroll to coincide with one of the organic-and-biodynamic wine shop's frequent complimentary tastings.
19. Cookshop
156 Tenth Ave., at 20th St.; 212-924-4440
Slurp oysters and pair summer wines with grass-fed meats and organic vegetables on the restaurant's patio.