Forty years after the uprising at the Village's Stonewall gay bar thatsparked the modern gay-rights movement, New York's LGBT nightlife isfairly robust — still anchored in downtown Manhattan, but with animpressive array of options in the other boroughs. There are venues for Chelsea muscle boys, Billyburg alterna-queers, hyperlipsticked lesbians — and a good handful of spots where those types and more crawl all over each other. Even Staten Island's getting its first gay bar in years!
Manhattan
Financial District and Lower East Side
Baña Pool Party
thebanapoolparty.com
Wildly popular monthly late-night party at a financial-district spa with pool, sauna, steam room, open bar, D.J.'s, performances. Very nouveau-Continental Baths. Next party: Friday, June 26, at Wall Street Bath & Spa, 88 Fulton St., nr. Gold St.; starts at midnight.
Club Gorilla: The Big Banana
The Knitting Factory, 74 Leonard St. nr. Broadway; 212-219-3006
Gays Gone Wild–style new Saturday-night party co-hosted by Josh Wood and longtime bad boy Jonny McGovern. Could be the party of the summer.
The Ruff Club
The Annex; thehotpink.com/nyc.html
Polysexual skinny-hipster party Fridays at the Annex, 152 Orchard St. nr. Rivington St. Legendary drag queen Sophia Lamar hosts; pictures taken (in the MisShapes tradition) and posted online weekly.
The F Word
Saturdays at Santos Party House; 96 Lafayette St. nr. Canal St.; 212-613-6255.
"A little bit old-school, like the Roxy grew up," says Brian Moylan, editor of Next, a weekly gay party rag. "House music, fairly diverse, twinks and muscle boys."
Queers, Beers & Rears
Cake Shop; 152 Ludlow nr. Rivington; myspace.com/qxbxrx
Monthly queerboy punk-rock party at Lower East Side hipster shrine Cake Shop, maintaining the boys-and-girls-together tradition of defunct nineties party Squeezebox. "Hipster gays come in from Brooklyn," says Moylan. "Skinny scarves, V-neck T-shirts, tight jeans." Typically first Saturday of the month. www.qxbxrx.typepad.com
Snapshot
The Delancey; 168 Delancey nr. Clinton St.; snapshotnyc.com
Well-established Tuesday-night lesbian party draws crowd with "a rocker edge," says one regular. "There's definitely a higher tattoo quotient than at a lot of places."
East Village
The Cock
29 Second Ave. nr. 2nd St.; thecockbar.com
Late-night dive with great D.J.'s, trashy go-go boys, and ample debauchery moved here after a notorious seven-year run (1998-2005) on Avenue A and 12th St. "Lives up to its legend," says Peter Hemmel of gay party guide HX. "The place to take out-of-town guests, where you never know what's gonna happen." "Don't go before 2 a.m.," says Moylan, "because it's not worth it." (On same block as the glossier gay bars DTox and the Urge, making this the closest the E.V. has to a gay strip.)
The Hose
225 Ave B nr. 13th St.; thehosenyc.com
Spiritual heir to the Cock—boys and men on the bearded, art-y, bear-y side—with a newish, instantly infamous Wednesday-night party, Le Raunch. Swooning speculation continues over the sexual orientation of Geoff, the friendly, shirtless, mustachioed bartender/apparition from a seventies-porn fever dream.
The Phoenix
447 East 13th St. at Ave A; 212-477-9979
Flaming-red-brick exterior encases popular, down-to-earth gay pub with cheap draft beer, pool table, and a juke that, on any given night, will spout early Madonna, MGMT, Morrissey, and the Supremes. Wednesday nights packed with a young, arty, brainy lit-type crowd. Where fashion-y bears meet working stiffs.
Beige at B Bar
40 East 4th St. at Bowery; 212-254-7536
Fourteen years in, the Tuesday-night B Bar bash is still the weekly court gathering of gay New York's pose-y, under-40 fashion/media/finance axis. Always sprinkled with major and minor stars, recently including (and according to its promoter Erich Conrad) Rupert Everett, Calvin Klein, Steven Klein, Katy Perry, and Lady GaGa.
Boiler Room
86 E. 4th St., nr. Second Ave.
Nineties grunge redoubt of Hole fanatics enjoying renaissance thanks to cheap, strong drinks and eclectic killer jukebox. Painfully edgy Butt magazine has thrown parties here.
Nowhere
322 E. 14th nr. Second Ave; 212-477-4744
No-frills subterranean pub popular with boys and girls.
West Village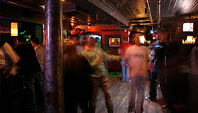 The Stonewall Inn
53 Christopher St. at Seventh Ave. S.; 212-488-2705
After closing three months after the 1969 Stonewall uprising, this site housed various businesses until it was reopened in the nineties as a gay bar under its old name, then closed and reopened again in recent years. Hosts the popular "Stonewall Sensation" singing competition on Wednesdays. The last Thursday of the month features Jell-O shots and women's Jell-O wrestling, and Fridays is another girl party, Lesbo-A-Go-Go.
Eden
Wednesdays at Country Club, 248 W. 14th St. nr. Eighth Ave.
Super-hot high-femme weekly lesbian party, two years running. The Top Chef girls, like Josie Smith-Malave, hang out here. Won lesbian mag GO's "Sexiest Vibe" award in '08. "It's sweaty in all the right ways," says editor and publisher Amy Lesser. "A babefest."
The Cubby Hole
281 W. 12th St. at W. 4th St; 212-243-9041; cubbyholebar.com
Super-friendly corner lesbian bar with digital (read: anything you want!) jukebox and tons of weird toys and stuff hanging from the ceiling. "You'll see every type of dyke," says a regular, "from mullet-wearing, fanny-pack Birkenstockers to the ultrachic to the rockers." Also loved by gayboys and straight folks; recent sightings include James Gandolfini and his wife, says a bartender.
Henrietta Hudson
438 Hudson St., at Morton St.; 212-924-3347; henriettahudson.com
Longtime lady-bar offers "Lesbian Stimulus Package" happy hour every weeknight 4 to 7 p.m., weekends 2 to 5 p.m. "It's dyke central," says GO's Lesser. But another lady-about-town calls it "cheesy, bridge-and-tunnel. You can be a dyke and have cute style. Why haven't you bothered to change your mom pants and why are you wearing your keys on your belt?"
The Monster
80 Grove St., at Sheridan Sq.; 212-924-3558; manhattan-monster.com
Slightly bordello-ish piano bar upstairs, dance bar downstairs. Tourist-y and B&T-ish but still fun, with "strong drinks," notes HX's Hemmel. "Go-Go Idol" competition very popular.
Chelsea
Splash
50 West 17th St., nr. Sixth Ave; 212-691-0073; splashbar.com
The glossy megabar that signaled the hood's early-nineties gay-mecca boom is still going strong, complete with go-go gods under the showers and throngs of tourists, B&T types, and locals, who cram in to sing along to vintage showtune clips on Musical Mondays. "It's the biggest gay-every-night dance floor in the city," notes Next's Moylan.
The Eagle
554 West 28th St. nr. 11th Ave; 646-473-1866; eaglenyc.com
This two-story leather bar, relocated here in the early aughts from its longtime home on 21st St., is the lone holdout in an area once thick with dark-vibe gay dives. Now it's surrounded by bridge-and-tunnel megaclubs (it's right near a Scores bar!) but still draws old and young guys in beards, jeans, and old T-shirts. "Probably the only place I would want to go to in Chelsea," says Butt's Michael Bullock. In summer, the rooftop Sunday night Beer Blast (with cook-out!) is a boozy, cruisey ritual.
Barracuda
275 West 22nd St., nr. Eighth Ave.; 212-645-8613
Opened in 1995, it's the only bar in Chelsea that even approaches East Village black-box minimalism and live-act subversion. "Still the best and longest-running drag shows in New York," saysHX's Hemmel. "And a great place for a late-night pick-up." Drag shows are Sunday through Thursday.
Hell's Kitchen
The Lounge Circuit
Most of the gay venues in Hell's Kitchen are of the glossy, fancy-martini lounge variety, some with food, some without, all with standard gay thump-thump music. They include Bamboo 52 (344 W. 52nd St. nr. Eighth Ave.; 212-315-2777), Barrage (401 W. 47th, nr. Ninth Ave.; 212-586-9390), H.K. Lounge (523 Ninth Ave., nr. 39th St.; 800-781-0466), the Ritz (369 W. 46th St., at Ninth Ave.; 212-222-4177), Therapy (348 W. 52nd St., nr. Ninth Ave; 212-397-1700), and Vlada Lounge (331 W. 51st., nr. Eighth Ave.; 212.974.8030).
Ninth Avenue Saloon
656 Ninth Ave., nr. 46th St.; 212-703-1503
A reprieve from the hood's glossy lounge circuit, so down-to-earth and, well, saloon-y, you might not know it's gay but for the rainbow flag and the blue-and-black-striped leather-pride flag hanging behind the bar. (The manager brought them along from his old gig at the long-defunct meatpacking-area leather bar the Lure.)
Lovergirl
221 W. 46th St.; Midnight Saturdays at Club Cache
The party for young hot lesbians of color. Hip-hop and R&B. "It's one of the few parties I go to," says GO's Lesser. "And I'm white."
Uptown (East and West Sides)
The Townhouse
236 E. 58th St. nr. 2nd Ave.; 212-754-4949
Ritzy piano bar, 20 years old this June. "For the older gentleman," says Next's Moylan. "We're Upper East Side elegant," says Michael, a Townhouse assistant manager. "Kind of like a country home." No drag shows here–ever. There's also a dress code. "Casual dressy," says Michael. "No cut-off shorts or tank tops." What, no Daisy Dukes? "Khaki walking shorts are fine."
Evolve
221 E. 58th St., at Third Ave.; 212-355-3395
Formerly a gay bar called Oscar Wilde, now with "a sophisticated lounge vibe," says Moylan. That doesn't stop the wet-boxers contest from happening every second and fourth Wednesday of the month, though.
The Web
40 E. 58th St. at Madison Ave.; 212-308-1546
For Asian men and their admirers.
Brandy's Piano Bar
235 E. 84th St., nr. Second Ave.; 212-744-4949
Victorian-saloon-type piano bar, dating back to the seventies, with about fifty-fifty gay-straight clientele and a mostly gay staff. Nightly belters include some Broadway vets.
The Tool Box
1742 Second Ave., nr. 91st St.; 212-348-1288
Small but stalwart hangout attracts lots of Bronx guys.
Candle Bar
309 Amsterdam Ave., at 74th St.
Legend has it that this no-frills pub—pool table, jukebox, Pac-Man and pinball machines, $4 beers and $6 cocktails—dates back to the thirties as a lesbian bar, but "nobody really knows the history for sure," says manager Amonte DeMarco. When the bar's gay owner died some 30 years ago, he willed it to his sister and her husband on orders that they keep it a gay bar, and they have, catering to neighborhood guys in their forties and up.
Suite
992 Amsterdam Ave., at 109th St.; 212-222-4600
Hard by Columbia, Suite, opened in 2004 out of the old gay haunt called Saint, is the only gay bar in the area and has a come-one-come-all multiethnic, multigender vibe, chockablock with home-style drag shows and karaoke nights.
Farther Uptown
Orbit East Harlem
2257 First Ave., at 116th St.; 212-348-7818
Owner Dee Hengstler bought out her three lesbian co-owners, but all their friends still come, giving this Italian corner boîte and late-night cocktail joint a "Cheers for everyone" feel, says Hengstler. "You'll have nuns next to the gay women next to the hairdressers. And everybody ends up talking to each other." Live rock on Wednesdays and live Latin music on Fridays, plus two big TV screens for game-watching.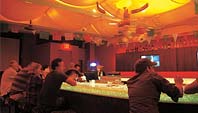 No Parking
4168 Broadway, at 177th St.; 212.923.8700
Unless you're part of Washington Heights's growing gay community, it's quite the hike to the hood's only gay bar, but it's worth it, especially on a weekend night. The space, arranged like a rotary around the bar, is jam-packed with hot men (and some women) of all colors bumping to pumped-up pop and R&B remixes; bodily friction is inevitable, and part of the gestalt, as are the flirty sidewalk scene out front and the fleeting majestic views of the GWB and the Hudson to and from the club. Even the joint's logo—a stick figure making a "no parking" sign—looks like he's Voguing With Serious Attitude.
Fabuloso Airways
Skyline Cafe, 3835 Tenth Ave., at 206th St.
New Wednesday-night party, decorated to look like the inside of an airplane, for gay guys and women alike. Latino crowd with big muscle-y Latino go-go gods, according to the pics online at myspace.com/lpeventsnyc.
Brooklyn
Williamsburg
Metropolitan
559 Lorimer St., nr. Metropolitan Ave.; 718-599-4444
Center of Billyburg's gay universe, with a big, cozy front room with pool table and sofas in front of a brick fireplace and a spacious backyard that, in summer, features a free Sunday afternoon cookout, a staple stop on the weary circuit of the bearded gay twentysomething hipster.
Sugarland
221 N. 9th St., nr. Roebling St.; 718-599-4044; myspace.com/sugarland
Caters to "the Williamsburg twink" scene, says Butt's Michael Bullock, plus a fair number of girls. "It's a big open space with a nice little patio to smoke in and lots of nooks and crannies to go hide in," says Moylan.
Park Slope
Ginger's Bar
363 Fifth Ave., nr. 5th St.; 718-788-0924
Neighborhood lesbian bar (that's boy-friendly) with great pool table, juke, outside area. Softball vibe. "It's a bit like if the Cubby Hole came to Brooklyn," says a regular goer.
Excelsior
390 Fifth Ave., nr. 6th St.; 718-832-1599; excelsiorbrooklyn.com
Super-down-to-earth local bar with a juke spanning eighties punk to Kelly Clarkson and a cozy smoking patio and garden. "It's Park Slope residents mixed with kids from Bensonhurst and Williamsburg," says Ben Ryan, a bartender there the past seven of the joint's nine years. Owned by a gay male couple.
249 Bar Lounge
249 Fourth Ave., nr. Carroll St.; 718-622-5183; 249barlounge.com
New mostly lesbian joint where old mostly lesbian joint Cattyshack used to be. Dance club with two bars on two floors, outdoor smoking patio.
Elsewhere in Brooklyn
Club Langston
1073 Atlantic Ave., nr. Franklin Ave.; 718-622-5183; clublangston.com
"At Brooklyn's downlow choice, DJs spin the best in hip-hop, house, R&B and Top 40," says HX magazine. "I really like it," says Butt's Bullock. "If I go with friends, we end up being the only white people there. Saturday is the big night, it's totally packed. The aesthetic is hip-hop and a bit thuggy. You'll hear reggaeton, Ludacris, Top 40 hip-hop."
Outpost
1014 Fulton St., nr. Grand Ave.; 718-636-1260; outpostlounge.com
Since two twentysomething gay men opened this café-by-day, bar-by-night (with back garden) two years ago, it's become a hub for Clinton Hill's polyracial, polysexual boho set, with many teens in the mix, especially during the day. They even serve up a kettle of mulled wine and roast S'mores out back on Sunday nights!
Starlite Lounge
1084 Bergen St., at Nostrand Ave.; 718-771-3340
Comfy old Bed-Stuy dive that's not only gay, but also, legendarily, the city's oldest black-owned "non-discriminating" bar. Plays lots of great old soul and R&B. "There was a makeshift dressing room in the front where you could see a drag queen getting ready," says Next's Moylan, "and it looked like a weird good time."
The Lab Banquet Hall
1428 Fulton St., nr. Brooklyn Ave.; 718-773-1760
Every Sunday night in Bed-Stuy, this all-purpose wedding-disco-function hall welcomes a virtually all-black crowd for a booty-bumping "Alternative Lifestyle Night" of hip-hop, reggae, and dance-hall. The night's officially 18-and-over but, in the vogue-ball parlance of one frequenter, Clarence, an old man at 21, the crowd is heavily "child point."
Fondle Mondays at South Brooklyn Pizza
451 Court St., at Fourth Pl.; 718-852-6018
Newish Monday-night gay and lesbian party, complete with go-go dancers, at a pizzeria.
Queens
Jackson Heights
Club Atlantis
76-19 Roosevelt Ave., nr. 76th St.; 718-457-3939
Latin megaclub is the eye of Jax Height's gathering gay storm, with a crowd that's about half Latino and half not. There's a bar and dance floor in the front and a room made up like a Latin American cantina in the back with tables and chairs. "It's the king of the bars" in the hood, says Butt's Bullock. Sunday night is Mexican night!
Friend's Tavern
78-11 Roosevelt Ave., nr. 78th St.; 718-397-7256
The oldest gay bar in Queens, this mixed Latin-white joint is "the basic watering hole," says Krumholz. There's always a bouquet of festive balloons hung up outside.
Bar Los Recuerdos
79-15 Roosevelt Ave., nr. 79th St.; 718-672-7505
Meaning "memories" in English, this year-old bar has a dance floor hosted on Friday nights by legendary drag reina Laritza Dumont. Saturday nights is Sabor Latino (Latin Flavor)—more so than usual, apparently. Right next door is the super-gay-friendly Colombian restaurant Cosita Rica.
Astoria
Lavish Lounge
34-01 36th Ave., at 34th St.; 718-361-0022; lavishloungeny.com
A little bit of Chelsea right here in Astoria, with buff, hairless bartenders, go-go boys, and patrons galore. Wednesdays, RuPaul's Drag Race star Rebecca Glasscock hosts Sing for Your Life Karaoke; fuller-figured drag persona Mimi Imfurst hosts Drink 'Til You Drop Thursdays.
Albatross
36-19 24th Ave. nr. 36th St.
Comfy, couch-y rec-room-feel neighborhood bar with a great jukebox and cheap drinks.
Elsewhere in Queens

Bum Bum Bar
63-14 Roosevelt Ave., nr. 63rd St.; 718-651-4145; myspace.com/bumbumbar
Mostly lesbian bar-club in Woodside spins merengue, house, reggaeton, Top 40. Full of "stunning, sinewy, hot sexy Latin girls and their equally stunning butch counterparts," says GO's Lesser, who's a fan.
Bronx
Mi Gente Café
1306 Unionport Rd., at Westchester Ave. 718-822-9274
Its name meaning "my people" in Spanish, this heavily Dominican, two-floor club hosts a raucous gay night on Tuesdays, complete with Latin-inflected house tracks like "Cha Cha Heels" and drag shows once or twice a month that feature local talent like Lopez and her colleagues Jazmine International and Tyra Allure. "When we work together, we do Pussycat Dolls," Lopez explains. "Some of us don't wear anything but pasties." And the crowd? "Mostly flamboyant gayboys, but you'll see a lot of D.L. thugs and hip-hop thugs."
Kokonuts
1332 Blondell Ave., nr. Tremont and Westchester Square
Gay on Fridays, mixed on Saturdays, a bit younger than the Mi Gente crowd. Here you'll hear Latin tracks along with the usual divas: Beyoncé, Ciara, Pussycat Dolls, and Jazmine Sullivan, who sings the fierce track "Lions, Tigers & Bears." Fridays are hosted by Princess Janae. "She's a tall black woman," explains Lopez.