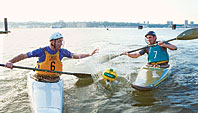 Kayak Polo
Enthusiast: Margaret Mann, founding member, New York Kayak Polo.
So, water polo in kayaks: Please explain.
You play in ten-foot-long kayaks with bumpers on the ends. Strategically, it's like basketball. But really, it turns into bumper boats.
Is there a lot of falling into the water?
When I first started, I was upside down more than right side up. But I enjoyed it.
What sort of people play?
Very independent, opinionated people. Let's just say kayakers generally don't play well with others.
Convenes: Wednesdays and Fridays at 6 p.m. and Sundays at 10 a.m.; Hudson River Park, Pier 66; nykayakpolo@gmail.com
Street Hockey
Enthusiast: Adriano Bratta, league manager, Black Top Street Hockey.
What are the league's players like?
We have a few screws loose—in a good way. But if you look at our rules, the first is "Don't be a dick."
So it's not just about winning?
The thing I tell people is, whenever you find yourself getting a little too heated, realize you're chasing a little orange ball.
Convenes: Sundays at 1 p.m.; Tompkins Square Park, Ave. A nr. 10th St.; btsh.org.
Flag Football
Enthusiast: Matt Archambault, marketing manager, NYC Social Sports Club.
How is this different from regular football?
Same rules are in effect, but it's co-ed. And of course, we take the tackling out of it.
What's the point of football without tackling?
If you say that, you probably shouldn't play in our league. You need to go to a serious place to compete. But it's not like we're tie-dyeing shirts in between plays.
So it's safe to say this isn't as competitive as the NFL? It's not even the XFL.
Convenes: Tuesdays through Thursdays at 8:30 p.m.; Chelsea Ballfields, Ninth Ave. nr. 28th St.; info@nycsocialsportsclub.com.
Bike Polo
Enthusiast: Doug Dalrymple, former world champion, hard-court bike polo.
What does it take to be a good bike-poloer?
You've got to learn to be a good bike rider with one hand. You basically swing a mallet with one hand and steer your bike with the other.
Sounds dangerous.
Honestly, the bike lane on Grand Street is more dangerous than this. The only thing that makes it look dangerous is people are swinging mallets.
Convenes: Sundays at 2 p.m. and Thursdays at 5 p.m.; "the Pit," Chrystie St. nr. Broome St.; nycbikepolo.com.
Disco-Skating
Enthusiast: Bob Nichols, vice-president, Central Park Dance Skaters Association.
What's it take to disco-skate?
Get your hands on a pair of skates. We prefer people to have some skills, so you're not Frankensteining around. If you are trying to build up your skills, come early. And be a pretty girl. You'll get lots of help.
What's with the skating while balancing bottles on your head?
That started with "Three Bottle Bob." He was a professor of Asian studies at Columbia. His protégé is another man named Bob. He went up to four bottles.
Convenes: weekends at 2:30 p.m.; Central Park, east of Sheep Meadow; cpdsa@earthlink.net
Kickball

Enthusiast: Maggie Harrison, senior customer-service representative, WAKA Kickball.
What makes a good kickballer?
The most important thing is being enthusiastic. You see everything from complete nonathletes to people who are trying to perfect their game.
Seriously, who's trying to perfect their kickball game?
Well, me! But when I moved to New York, I had a kickball team before I had an apartment.
Convenes: Sunday afternoons, Monday, Thursday, Friday evenings; various locations; info@kickball.com.