Best for Actual Swimming
Sol Goldman Pool at Red Hook Recreation Center
155 Bay St., nr. Victory Blvd., Brooklyn NY, 11232; 718-722-3211
Cost: Free
Hours: Daily (11 a.m.–3 p.m. and 4 p.m.–7 p.m.); opens June 28
Sunbathers beware of the Olympic-sized lap pool in Red Hook. With little seating—the pool deck is a concrete slab—Sol Goldman Pool is meant for serious swimmers. There's extra adult lap time before and after the official daily hours, making the pool less crowded than most during peak times.
Vanderbilt YMCA
224 E. 47th St., nr. Third Ave.; 212-912-2500
Cost: $30/day; $100/month
Hours: 7 a.m.–11 p.m.
Open until midnight on weekdays, the midtown Y attracts the working swimmer. A newer six-lane lap pool and the original 1931 three-lane pool divide visitors so there's rarely a long wait to get your workout in.
Stuyvesant High School
345 Chambers St., nr. North End Ave.; 646-210-4292
Cost: $12/day; $325/year
Hours: M–F (7 p.m.–9:45 p.m.); S (1 p.m.–8:45 p.m.), Su (1:30 p.m.–8:45 p.m.)
The six-lane pool usually filled with high-school students is open to the public on weeknights and weekends. The cool water and even cooler views of the Hudson River make for serene swimming sessions.
West End Sports Club
75 West End Ave., nr. 63rd St.; 212-265-8200
Cost: $24/day
Hours: Changes weekly
Those who make the trek to this out-of-the-way locale enjoy a near-empty lap pool. Separate swimming lessons keep kids away, while a steam room and sauna are available for relaxing post-workout.
Manhattan Plaza Health Club
482 W. 43rd St., nr. Tenth Ave.; 212-563-7001
Cost: $350/summer membership
Hours: M–F (7:30 a.m.–10 p.m.)
The 75-foot pool is surrounded by greenery, and the retractable glass roof lets members enjoy the pool in crummy weather. If swimming laps isn't your thing, the Health Club offers a club swim team and group aquatic classes.
Asphalt Green AquaCenter
1750 York Ave., at 91st St.; 212-369-8890
Cost: $35/day
Hours: Changes weekly
Management keeps lap swimmers away from splish-splashing kids' lessons, so the only distraction from toning your summer body should be the sunny rooftop terrace and juice bar.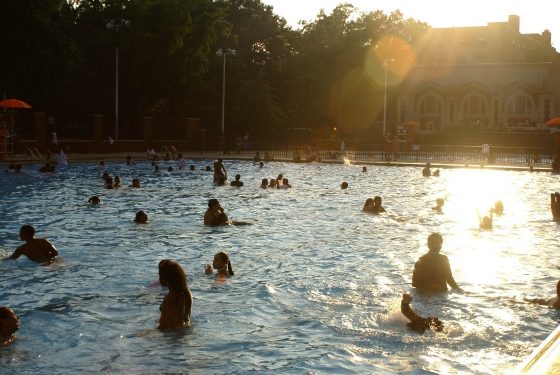 Best for Families
Sunset Park
44th St. at 7th Ave., Brooklyn; 718-965-6578
Cost: Free
Hours: Daily (11 a.m.–3 p.m. and 4–7 p.m.); opens June 28
A line of all-ages visitors wraps around the block to get into this WPA-era pool. But with a wading pool fit for toddlers and an Olympic-plus main pool, Sunset Park is big enough for everybody to enjoy. Plus, there are great views of the waterfront and New Jersey.
Tony Dapolito Recreation Center
1 Clarkson St., at Seventh Ave. South; 212-242-5228
Cost: Free
Hours: Daily (11 a.m.–3 p.m. and 4–7 p.m.); opens June 28
This outdoor pool can get pretty crowded, so many try to beat the crowds during afternoon family swim hours. Though the facilities are modest and there are few sun chairs to be found, the rec center has been a West Village staple since it was founded as a bathhouse in 1908.
Hamilton Fish
128 Pitt St., at Houston St.; 212-387-7687
Cost: Free
Hours: Daily (11 a.m.–3 p.m. and 4–7 p.m.); opens June 28
The Loisaida neighborhood favorite is packed with throngs of summer campers and counselors. Even with two pools, the water is usually filled to capacity. Swimmers come prepared: New York public pool rules are strictly enforced here, and visitors can only wear a plain white T-shirt and flip-flops.
Riverbank State Park
679 Riverside Dr. at 145th St.; 212-694-3600
Cost: $2, $1 for children 5 to15, free for children under 4; lap swimming pass $30 per month
Hours: 9 a.m.–5:30 p.m.; opens June 28
The wading pool and six-lane outdoor pool aren't open until the Fourth of July, but uptown residents can enjoy the enormous indoor pool year-round. Added bonus for rowdy kids: a designated splashing area surrounded by picnic tables.
Le Parker Meridian
118 W. 57th St.; 212-245-5000
Cost: $75/day, $50/day for children
Hours: Daily (6 a.m.–10:45 p.m.)
Visitors pay the price to have unbeatable views of Central Park and poolside deliveries from Norma's at this upscale midtown hotel. For those looking for a family staycation away from the masses, the rooftop pool provides a calm oasis.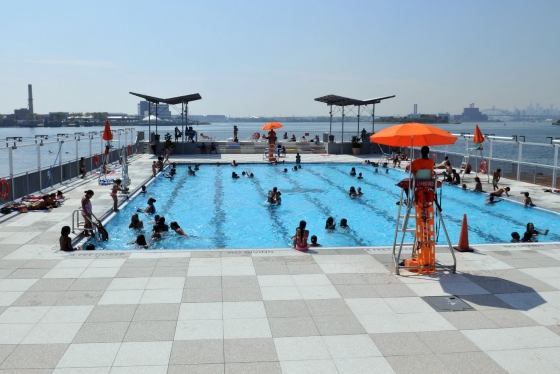 Best for a Casual Pool Day
Kosciuszko Pool
670 Marcy Ave., nr. Dekalb Ave., Brooklyn; 718-622-5271
Cost: Free
Hours: Daily (11 a.m.–3 p.m. and 4–7 p.m.); opens June 28
With a wading pool, an Olympic-size pool, a baby pool, a spray pool, bleachers, and a bathhouse, this Bed-Stuy complex has a little something for everyone. But even on cooler days, there's no shade in sight, so sunblock is a must.
The Floating Pool
Viele Ave. at Tiffany St., the Bronx; 718-430-4601
Cost: Free
Hours: Daily (11 a.m.–7 p.m.); opens June 28
The seven-lane freshwater pool on a barge parks itself right off Barretto Point Park and stays through the summer. Known as the "Floating Pool Lady," it has all the amenities of a standard public one, but guests get a surprise walk on the gangplank from land to water.
Astoria Park Pool
23rd Dr. and 19th St., Queens; 718-626-8620
Cost: Free
Hours: Daily (11 a.m.–3 p.m. and 4–7 p.m.); opens June 28
As one of the largest pools in the city&$0151;its capacity is 2,178 swimmer— this Art Deco pool appeals to locals and those looking for a sunny pre-party before venturing to one of Astoria's beer gardens. Plenty of sunbathing space makes everyone happy.
Thomas Greene Playground
3rd Ave. and Nevins St., Brooklyn; 718-625-3268
Cost: Free
Hours: Daily (11 a.m.–3 p.m. and 4–7 p.m.); opens June 28
Nicknamed "Double D," this Gowanus pool is lesser known than its Brooklyn counterparts, so there's often room to splash around without worrying about interfering with others' good times. The low-key vibe attracts hip sunbathers, old-timers, families looking for a kiddie pool, and even hardcore swimmers who come when the Olympic-size pool sections off lap lanes.
Best for Joining the Pool Party
Grace Bar
Grace Hotel; 125 W. 45th St., nr. Sixth Ave.; 212-380-2711
Cost: $35
Hours: M–Th (5 p.m.–midnight), F and S (5 p.m.–2 a.m.)
Known for raucous pool parties, the Grace understands that its patrons don't want to go far for their poolside beverages. Solution: swim-up bar. Even out of the water, three full bars are just steps away from the illuminated pool, while D.J.'s keep the music going.
Hotel Gansevoort
18 Ninth Ave.; nr. 13th St.; 212-206-6700
Cost: $275/day
Hours: M–Th (9 a.m.–6 p.m.)
The hefty price tag hasn't deterred patrons from this meatpacking district rooftop. Wealthy professionals and model types splurge on the "renewal day package," which includes a massage, a facial, lip balm, sunscreen, and one poolside cocktail. Even with the unconventional hours, the small deck fills up quickly. Those who arrive even a few hours past opening shouldn't expect seats.
Gansevoort Park Avenue
420 Park Ave., at 29th St.; 212-317-2900
Cost: Free
Hours: Su (3 p.m.)
Party people who don't want to drop cash on the Hotel Gansevoort's day passes can check out the Gansevoort Park Avenue's second summer series. Usually, the Park Avenue rooftop pool is closed to the public, but every Sunday, the doors open up and D.J.'s spin house and trance sets. Entrance is free, but RSVP is suggested.
Soho House
29 Ninth Ave., nr. 14th St.; 212-627-9800
Cost: Membership starts at $1,800
Hours: For children: M–W (9 a.m.–5 p.m., Th–F (9 a.m.–2 p.m.), S–Su (8 a.m.–11:30 a.m.); for adults: M–Tu (9 a.m.–1 a.m.), W–F (9 a.m.–2 a.m.), S–Su (8 a.m.–12 a.m.)
With sky-high membership prices, the Soho House has extraordinary privileges that include the private rooftop pool and members-only club. Amenities at the small heated pool include a full waitstaff and views of the West Village and the Hudson River. If the swank doesn't seem worth the price, you can always hope to get an invite from a member and attend as a guest.
King & Grove Williamsburg
160 N. 12th St., nr. Bedford Ave., Brooklyn; 718-218-7500
Cost: $45/day, table reservations available here*
Hours: Daily (11 a.m.–9 p.m.)
Once only open to guests, the saltwater pool at the former Hotel Williamsburg now welcomes the public to swim. Stadium-step seating, wooden lounge chairs, and a cabana greet patrons who must limbo under a small bar in order to enter the pool area. Local beers and drink pitchers made to order are just a bonus to the great Williamsburg views—scenery and people.
The Palms
26-01 Jackson Ave., at 44th Dr., Queens; no phone
Cost and Hours: Varies. Check thepalmsnyc.com for details.
Bushwick's 3rd Ward and warehouse-party promoters the Danger, MacroSea, and Chashama teamed up to make a pool party unlike any other summer playpen. Partygoers can bop between three dumpster pools, a dance floor with live bands and D.J.'s,, and food-truck snacks. Super Soakers and Porta-Johns keep pretension out the door, even though the parties aren't announced until a few days before. Mystery is all part of the fun.
*This article has been corrected to show that King & Grove now charges $45 admission for non-hotel guests.