Hammock Heaven:
Governors Island Park
Governors Island will unveil 30 fresh acres over Memorial Day weekend. Gone are Coast Guard apartments; in are winding Alice in Wonderland shrubs and a lawn that slopes down to two baseball diamonds, plus vegan ice cream from Alchemy Creamery; grab a cone and kick back in one of the 50 new cherry-red hammocks set off by 1,500 baby trees. For the first time, the island will now be open seven days a week, with free ferry service from lower Manhattan and on weekends from Brooklyn Bridge Park.
Picnics on Hudson:
Fort Washington Park
Between 158th and 168th Sts.
In December, after five decades of neglect, the city cut the ribbon on a 160-acre stretch of this narrow park (in the shadow of the Henry Hudson Parkway). Tote your picnic gear across the highway and down a traffic-echoing stairwell to find, in place of weeds and busted water fountains, three souped-up fields for soccer and baseball, five volleyball courts, a tree-house-bedecked playground, and grills and picnic tables overlooking the water.
Sports and Sand:
Brooklyn Bridge Park, Pier 2 and Pier 4 Beach
Old Fulton St. at Furman St., Fulton Ferry Landing.
The end of May brings two additions to the ever-expanding Brooklyn waterfront: a $30 million Pier 2 renovation, including a walk-on sports arena, and, to the south, a tiny real-sand beach in place of the old Pier 4. On Pier 2, a partial roof made of recycled shipping warehouses covers handball and basketball courts, glossy workout equipment, and a roller rink. There are open-air basketball courts, too, and an extra-cushy play turf (for free Zumba and CrossFit classes starting in July). Swimming off the nearby beach is prohibited, but the new boat ramp is perfect for kayaks, and a hilly sound barrier blocks out the BQE entirely: All you can hear is lapping waves.
Pastoral Pit Stop:
Washington Square Park, Southwest Corner
Washington Sq. S. at Washington Sq. W.
Last month, after seven years and $30 million, this Village landmark unveiled its final renovations. Some of the changes have been controversial—the park's defining (but also somewhat dangerous) concrete mounds have been replaced with cushy turf hills, which sit under a rope-play structure—but it's safe to say that the old toilet-paper-on-a-rusted-chain restrooms, rebuilt within a cedar-trellised park house, won't be missed.
Dual-Purpose Rink:
LeFrak Center at Lakeside
Entrance near Parkside and Ocean Aves., Lefferts Gardens.
What debuted as an ice-skating rink in the winter has been melted down to a roller-skating rink for the summer, complete with beginner classes (weekend mornings at 9:30) and DJ dance parties come July. (Yet another roller rink, a pop-up co-hosted by Five Stride Skate Shop, will run at the Brooklyn Flea the second Sundays of June, July, and August.) Prospect Park will also unveil an ankle-deep, sprinkler-lined pool, standing in for the open-air ice, as well as a boathouse stocked with paddleboats.
Urban Country Club:
Van Cortlandt Park Golf Course
115 Van Cortlandt Park S., nr. Major Deegan Expy., Riverdale.
In 2007, when hip-hop producer–cum–golf pro William Larkin took over as manager of America's first-ever public golf course, he was met with burnt-out holes and a dilapidated clubhouse. After a seven-year, $5 million renovation, the course reopened in March with a rehydrated course, novice-friendly front tees, and a loftlike clubhouse with a restaurant and live jazz Saturdays on the lakeside deck.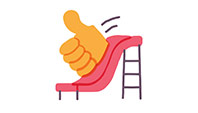 Illustration by Tim Lahan

Kid-Approved Attractions at Three New Playgrounds
By Raven Snook

"The teepees made of branches. I block the openings with sticks so my brother can't get in." —Kasey, 6 (Donald and Barbara Zucker Natural Exploration Area, Prospect Park)

"The tire swings. I whirl around and get really dizzy and then fall off on purpose." —Miles, 8 (East 110th Street Playground, Central Park)

"The sprinklers. I fill up cups with water and throw it on everybody." —Aislinn, 4 (Hunter's Point South Waterfront Park)