Tanglewood
June 24–September 4
• 297 West St., Lenox, Massachusetts, 888-266-1200, tanglewood.org
Revered Tanglewood, nestled in the bucolic Berkshire Hills, hosts the Boston Symphony Orchestra, star soloists, famed conductors, staged opera, and much more all summer long, day and night, culminating in a jazz festival.
Where to Stay: Fashionable with the Gilded Age gentry, Lenox has an array of turn-of-the-century summer homes turned inns, including Hampton Terrace, (413-637-1773), the Kemble Inn, (413-637-4113), and the Gables Inn (413-637-3416), a former Wharton family residence.
Highlights: Jacob's Pillow (413-243-0745), the fabled dance retreat, kicks off its summer festival on June 21, and runs through August 28. Get a glimpse of the area's grand past at the Mount (413-637-1899), Edith Wharton's breathtaking estate and gardens. —CARLA SPARTOS
Glimmerglass Opera
June 30–August 23
• The Alice Busch Opera Theater, Cooperstown, NY, 607-547-2255, glimmerglass.org
Set along the picturesque shores of placid Lake Otsego, this opera festival has opted to celebrate its 30th anniversary with five productions based on a surefire crowd-pleaser: the art of love. First up is Mozart's comedic take on female inconstancy, Cosi Fan Tutte, followed by Donizetti's Lucie de Lammermoor; a duo of French one-act operas presenting opposing views on love; and Benjamin Britten's Death in Venice, co-produced by the New York City Opera.
Where to Stay: The Otesaga Resort Hotel (800-348- 6222), a commanding 1909 Federal-style grand dame complete with a thirty-foot entry portico, a cupola and lake views, delivers plush accommodations and perks like its scenic 18-hole Leatherstocking Golf Course. A smaller-scale alternative, the Cooper Inn's fifteen rooms (800-348-6222) manage both modern amenities and old-time coziness—a holdover from its early 19th century incarnation as a manor house.
Highlights: Its Baseball Hall of Fame gets the most attention, but diminutive, easy-going Cooperstown resonates with other slices of Americana, too. The Fenimore Art Museum—named for the local novelist (The Last of the Mohicans) who dubbed the lake 'Glimmerglass'—houses American Indian and folk art; costumed interpreters reenact rural life in the 1800s at the Farmers' Museum. —KATE APPLETON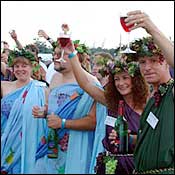 Finger Lakes Wine Festival
July 15-17
• Watkins Glen International, Watkins Glen, New York, 607-535-2481, flwinefest.com
The Finger Lakes region specializes in white wines, including excellent-value chardonnays, rieslings, and cayugas (a local varietal), but you'll be shocked at the number of quality reds, from pinot noirs with creme brulee nose to cabernet francs with tobacco bite. More than 70 local wineries are offering tastings at this year's festival, so save room in the trunk for all those inevitable cases.
Where To Stay: Weekend camping passes allow safe and easy tippling; for posher lodging try Taughannock Farms Inn (607-387-7711) overlooking Cayuga Lake, or Cornell University's Statler Hotel (800-541-2501) in nearby Ithaca.
Highlights: Funky, liberal Ithaca (800-28-ITHACA) has plentiful shopping and dining, including the famed vegetarian Moosewood Restaurant (607-273-9610), not to mention spectacular waterfalls at Buttermilk Falls and Taughannock Falls State Parks. —C.S.
Yarmouth Clam Festival
July 15-17
• Yarmouth, Maine, 207-846-3984, clamfestival.com
Yarmouth is a charming New England fishing village that celebrates its seafaring ways with this annual ode to the clam in all its incarnations, including raw clams, fried clams, clam cakes, clam chowders, and, of course, a state clam-shucking contest. If it all sounds a little too, umm, clammy, well there's crafts, rides, music, and more.
Where To Stay: For luxury accomodations, book the four-diamond Harraseeket Inn (207-865-9377) in Freeport, which offers pet-friendly rooms.
Highlights: Cosmopolitan Portland, Maine's largest city, manages a small-town demeanor, with modern seafood spins and kitschy tourist shops touting the "World's Only Life-Size Chocolate Moose." Shopaholics will want to drop by Freeport, home of L.L. Bean and tons of outlets. —C.S.
Newport Folk Festival
August 4-7; Jazz Festival, August 11-14
• Newport Casino, Fort Adams State Park, and Jane Pickens Theater, Newport, R.I., newportfolk.com
On the heels of his wildly successful Jazz Festival, founder George Wein took on folk in 1959 and sought out artists like James Taylor, Joni Mitchell, and Bob Dylan, who made his infamous switch to electric guitar here. This year's lineup unites a new guard (Pixies, Bright Eyes) with established icons (Elvis Costello, Emmylou Harris, Arlo Guthrie) for a host of indoor and outdoor shows that temporarily transform the upscale resort town.
Where to Stay: Plum digs for a price can be found at the restored Victorian era Castle Hill Inn and Resort, which lies along a secluded, spectacular 40-acre peninsula at the mouth of Narragansett Bay. Numerous mid-range and budget alternatives, such as the prim Spring St. B&B, can be found at gonewport.com.
Highlights: Cornelius Vanderbilt II's The Breakers, a seventy-room Italian Renaissance palazzo with 40-foot ceilings and Rosecliff, a mere forty roomer inspired by a garden sanctuary at Versailles, are among the eleven extravagant Gilded Age mansions lining Cliff Walk. For a healthy dose of perspective, try the natural wonders at Sachuest Wildlife Refuge in nearby Middletown, whose 242-acres of salt marshes and coastline support 200 bird species. —K.A.
Seafood Festival
August 27-28
• Long Island Maritime Museum, 86 West Ave., West Sayville, New York, 631-HIS-TORY, limaritime.org
The fine folks at the Long Island Maritime Museum have been throwing this wonderfully quaint festival for some years now, and it continues to grow each year. The main draw, of course, is food, from lobster, shrimp, and roast corn to the ubiquitous hotdogs, hamburgers, and ice cream, but there's also folksy entertainment, crafts, and classic antique boats, too.
Where To Stay: Local budget accomodations include the EconoLodge in Bay Shore (631-666-6000) and the Sayville Motor Lodge (631-589-7000), which features mirrored rooms and waterbeds for those seeking a Poconos-style getaway. Plusher rooms and an 18-hole golf course can be had at the Hyatt Regency Wind Watch Hotel (631-232-9800).
Highlights: Nearby Blue Point is the namesake of the oyster, not to mention the Blue Point Brewing Company (631-475-6944) in Patchogue, which offers weekend tastings and tours. You can also catch the ferry to Fire Island from both Sayville and Patchogue. —C.S.
See also: The Four Best Places to Rent a Car

An Art-Themed Summer Roadtrip

The Perfect Summer Roadtrip Playlist