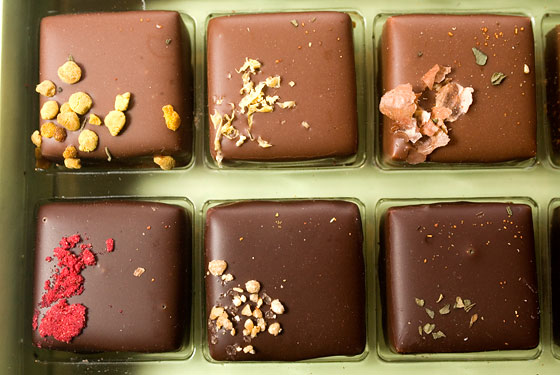 Jacques Torres
Multiple locations
Chocoholics from near and far make pilgrimages to sample Torres's line of dark- and milk-chocolate bonbons in flavors like pistachio marzipan and chocolate peanut brittle. For more adult tastes, go with the passion-fruit hearts or cork-shaped Taittinger truffles.
La Maison du Chocolat
Multiple locations
Long worshipped as one of the premier Paris chocolatiers thanks to its combination of luxe ingredients and decadent chocolate, La Maison du Chocolat boasts highlights like tennis-ball-size Rocher pralines.
MarieBelle New York
484 Broome St., nr. Wooster St.; 212-925-6999
The signature chocolates are topped with quirky designs, like jade-green swirls and blue-and-white checks. But don't let the whimsy stop you from taking this chocolate seriously. Some of the best are flavored with spices, like cardamom and cinnamon.
Bouchon Bakery
Time Warner Center, 10 Columbus Cir., 3rd fl., nr. 58th St.; 212-823-9366
At seven-Michelin-star superchef Thomas Keller's Bouchon Bakery, choose from twelve varieties of hand-made chocolates, as well as the signature line of pastry concoctions.
Nunu Chocolates
529 Atlantic Ave., Brooklyn, nr. Third Ave.; 917-776-7102
The cocoa trifles at this rustic South African shop had humble beginnings as concessions when Justine Pringle sold them at her husband's concerts. Now she has a Brooklyn storefront where her own groupies enjoy her creamy salted caramels and absinthe-and-mescal-chili truffles at a long farm table.
MORE TOP 5 LISTS:
• Florists
• Sex Shops
• Lingerie Stores
• Dessert Spots
• Pick-up Joints
• Jewelers
• Wine Shops
• Make-out Spots