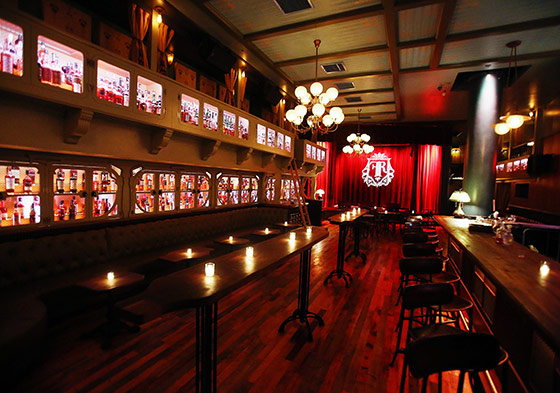 The General
199 Bowery, at Spring St., 212-271-7101
Party animals can get lost in each other's eyes metaphorically, or, in this sprawling complex, literally. Start off with dinner at the General, serving "modern Asian cuisine" by Top Chef winner Hung Huyng. Then be and see and be seen, either at the 6,000-square-foot, bass-pumpin', padded-blue-velvet Finale, or downstairs at the more intimate Bow, conceived by nightlife innovator Travis Bass. But beware: Even though they're all connected (and in some cases even share a bathroom), each spot has its own entrance and doorman, and reservations are recommended for all three. Plan accordingly. And wear something tight.
The Stand NYC
239 Third Ave., at 20th St.; 212-677-2600
They say the couple that laughs together stays together, so show your beloved how much you care with a night out at NYC's newest stand-up comedy club. On February 14, they're offering a "Let's Get Together" package for couples, with ticket options for just the show (starring Yannis Pappas and Jay Oakerson), a prix fixe dinner from Hell's Kitchen alum Seth Levine, or both dinner and a show. If you're not so lucky in love, not to worry: Later in the evening, Nikki Glaser and Joe DeRosa are the performers at "We Should Break Up," with ticket options including an open bar. Booze can only help, right?
Passenger Bar
229 Roebling St., nr. 3rd St., Williamsburg; 718-218-7869
Rock 'n rollers will feel at home at this railroad-themed haunt, which regularly invites musicians from around the city to take part in boozy jam sessions. For Valentine's Day they're doing it up "for the already in love and the beautiful ones looking for some lovin'" with a photo kissing booth, drink specials, make-your-own Valentine's Day card crafts area, flirty games, and a D.J. spinning the hits of the heart.
Two Bit's Retro Arcade
153 Essex St., nr. Stanton St., 212-477-8161
Trying to woo a gamer? Head to this LES spot, where, by the light of a movie projected on the wall, boys and girls can nerd out with games like Frogger, Ms. Pac Man, Atari's Super Sprint, Street Fighter, Sega's Out Run, Donkey Kong, and our personal favorite, Tetris, all for a quarter each. In the spirit of the arcade, you can get hot dogs from a grill and pizza from a heat lamp. And in the spirit of being adults, there's a full bar (with dirty pictures of gaming characters on it).
Cocktail Bodega
205 Chrystie St., at Stanton St.; 212-673-2400
Be both nice and naughty at Cocktail Bodega, where in the bright, totally-not-intimidating cafeteria upstairs you can get to know your date while sipping on liquor-infused juices and smoothies. When the conversation fizzles, head underground to the thumping and gritty subway-themed nightclub decorated with graffiti splattering the walls and fixtures purchased directly from the MTA.
Flatiron Room
37 West 26th St., nr. Sixth Ave.; 212-725-3860
Whiskey and music enthusiasts alike will appreciate the speakeasy ambiance at the Flatiron Room, with hand-painted ceilings, vintage wallpaper, nightly Prohibition-style jazz performances, and about 600 varieties of whiskey to sip on. Indulge in a flight or use the expertise of the staff. Bonus: There's a fireplace, for those looking for an extra reason to snuggle.
Library at the Public
425 Lafayette St., nr. Astor Pl., 212-539-8777
Not exactly a "one-stop shop," but a candlelit date-night spot in the same building that houses the Public theater. First dates (which, good for you!) can catch a show and grab seats in the deliciously sumptuous bar for drinks like the lemon-and–Laird's Applejack Jersey Lightning Sling or the rum, falernum, and egg Ode to Loggerhead. More comfortable duos can cozy up in the leather banquettes and enjoy a meal by chef Andrew Carmellini, with dishes like pulled pork, short rib goulash, seafood gumbo, and of course, fries. Because, not only is the malt vinegar mayo tasty, but they're perfect for feeding each other.