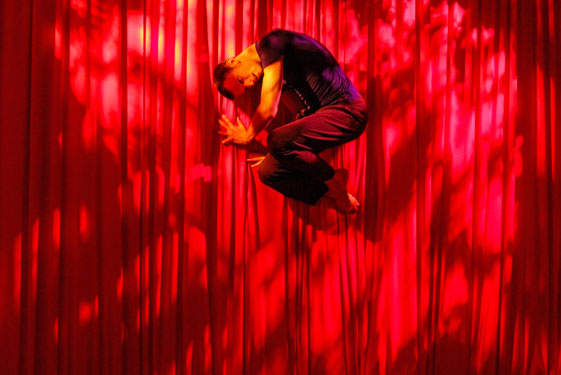 4Chambers
Arts@Renaissance, 2 Kingsland Ave., at Maspeth Ave., Greenpoint, Brooklyn; jodyoberfelder.com; Thu. at 6:30 p.m. and 8 p.m.; Fri. and Sat. at 7 p.m. and 8:30 p.m., through 3/22
If you're not in love when you enter this heart-themed dance immersion choreographed by the inventive Jody Oberfelder, you may very well be when you leave. Dancer "docents" guide participants through the intimate performance, and through movement and video you'll explore yourself, your docent, and possibly admit aloud to truths you weren't aware of (that's all we'll reveal about that). Know before you go: Participation is a great deal of the experience, but no two experiences are alike.
Kings of Leon
Madison Square Garden, 4 Penn Plz., nr. 31st St., 212-465-6741; thegarden.com; 8 p.m.
With song titles like "Sex on Fire" and "Use Somebody," these Southern boys know a thing or two about desire (and its failures) and will provide a better-than-adequate date for the evening. Plus, no one will hear you sing along in the cavernous space of Madison Square Garden. (They can see you crying though, so try to keep it together.)
Unloveable: A Smiths and Morrissey Valentine's Day
The Bell House, 149 7th St., nr. Second Ave., Gowanus, Brooklyn; 718-643-6510; bellhouseny.com; 8 p.m.
Every Brit-rock lover at this event will have their "please love me" badge on their sleeves, so if you're looking to pick up a fellow lonely heart, this is the spot. Comedian Dave Hill, Rolling Stone writer Rob Sheffield, and DJ Ceremony will be on hand too.
Queen of the Night
Diamond Horseshoe at the the Paramount Hotel, 235 W. 46th St., nr. Eighth Ave.; 212-764-5500; queenofthenightnyc.com; ongoing
New York's hottest nightlife event is also perfect for singles. You're encouraged to participate solo, boys and girls wear very little clothing, and there's delicious food. Even if you come with friends you're seated with strangers and encouraged to mix it up. After they ply you with alcohol, of course.
Gotham Burlesque
Stage 72, 158 W. 72nd St., nr. Amsterdam Ave.; 212-362-2590; gothamburlesque.com; 10 p.m.
You might not be getting a regular dose of shimmying half-naked ladies and men at home, but who cares? You can pay for that. This Valentine's Day night of visual treats features burlesque star Nasty Canasta, Hula-Hooping sensation Miss Saturn, tap-dancer extraordinaire Gin Minsky, and much more.
Harlem Globetrotters
Barclays Center, 620 Atlantic Ave., nr. Flatbush Ave., Ft. Greene, Brooklyn; 917-618-6700; barclayscenter.com; 7 p.m.
A sports game is the perfect place to blend into a crowd as a single. But what if you can't tell your tickie from your toe pick (thanks, Cutting Edge!)? Never fear, the magical basketball spins of the Harlem Globetrotters are all you need to be familiar with at this show. This one is particularly good for families, with a meet-and-greet beforehand.
Rejection Show
Littlefield, 622 Degraw St., nr. Fourth Ave., Gowanus, Brooklyn; 718-855-3388; littlefieldnyc.com; 7:30 p.m.
Rejection is painful, but a lot less so if you have funny folks to commiserate with. Join host Jon Friedman (who literally wrote the book) and performers including Eliot Glazer, Ophira Eisenberg, and Elna Baker as they recount their best breakup, heartbreak, and love-related stories. Plus the tag line is "Find Someone to French," if you're so inclined …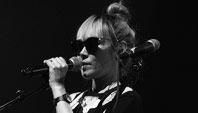 Cibo Matto
Le Poisson Rouge, 158 Bleecker St., nr. Thompson St., 212-505-3474; lepoissonrouge.com; 6:30 p.m.
The adorable pop duo's first album in fifteen years is called nothing less than Hotel Valentine. Check in and stay a while for this show, which doubles as a CD-release party with a happy hour beforehand.
Dark Dining
Camaje Bistro, 85 MacDougal St., nr. Bleecker St.; 212-673-8184; darkdiningprojects.com; 6 p.m. and 9 p.m.
It's an event tailored for the solo soul: With two seatings on Valentine's Day, where no one will be able to see that you're alone, and with plenty of food to drown your sorrows in. It's also an event for the optimist looking to mingle. What better place than the dark, where you can "accidentally" bump into strangers? And the blindfold could come in handy later, should you meet someone who strikes your fancy.
Amanda Seales Presents "It's Complicated"
The Stand NYC, 239 Third Ave., at 20th St.; 212-677-2600; thestand.com; 7:30 p.m.
It's right there in the title: A show all about how darn complicated relationships are. Yeah! Who needs 'em? That's what MTV host and comedienne Amanda Seales is preaching in this show, the price of admission includes a glass of champagne because, yeah, you're single but you're not dead.
BFF Valentine's Day
The Empire Hotel, 44 W 63rd St., at Columbus Ave.; 212-677-2600; empirehotelnyc.com; 6 p.m.
Your job's a joke, you're broke, your love life's DOA. Where else do you turn but to your friends? Celebrate your besties at this party, hosted by Courtney Kerr (star of Bravo's Courtney Loves Dallas), and featuring astrology readings by the lovely and renowned Susan Miller, who will discuss how the stars line up for your future romantic prospects. If the news isn't good, not to worry: The $85 fee covers a three-hour open bar.