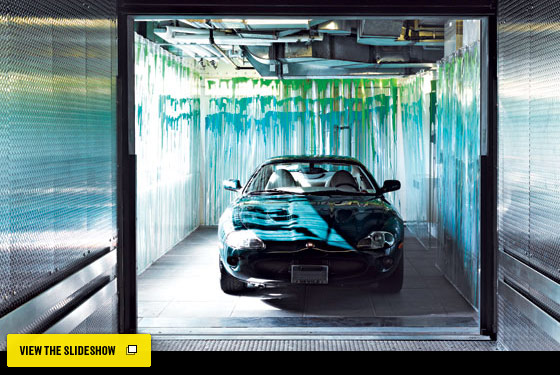 Photographs by Douglas Friedman

I am a conceptual artist," says interior designer Doug Meyer—a fitting description given his latest project, a two-bedroom art-filled duplex at 200 Eleventh Avenue that Meyer was asked to remake almost exclusively with color. Located in the heart of Chelsea's gallery district, the nineteen-story tower was designed by architect Annabelle Selldorf, best known for her gallery and museum spaces, including the Gladstone Galleries on nearby 21st and 24th Streets. The building has received much notice for its car elevator, which lifts residents' vehicles to each floor—the owners of this apartment park their Jaguar XK just outside their door in their 350-square-foot garage.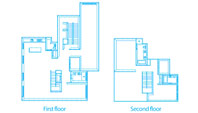 Meyer and his firm, Doug & Gene Meyer, chose the largely red, white, and blue scheme to complement the owner's art collection, which includes works by Andy Warhol, Robert Mapplethorpe, Diane Arbus, and Mitch Epstein. Each art-filled room in the apartment has a dominant hue. The master bedroom, which houses Katy Grannan's Untitled, is a sea of blue. The living room is a white-walled space with an island of red furnishings at its center; Epstein's Flag 2000 and two Warhol Polaroids, of the American flag created out of beans, are among the pieces hanging on the walls. The dining room is a subtler pink space with amethyst accents that features only black-and-white photographs, including two major works by Mapplethorpe, Lisa Lyon and American Flag. The guest bedroom is an emerald jewel box that showcases five silhouette portraits by photographer Katherine Wolkoff.
The furnishings are a mix of old and new and custom and found pieces. The final design shows off the art without overpowering it. Meyer suspects it may even do more than flatter the art. "With clients who have never really lived with color, it changes their outlook on how they see things," says Meyer. "For me, it always makes me happy."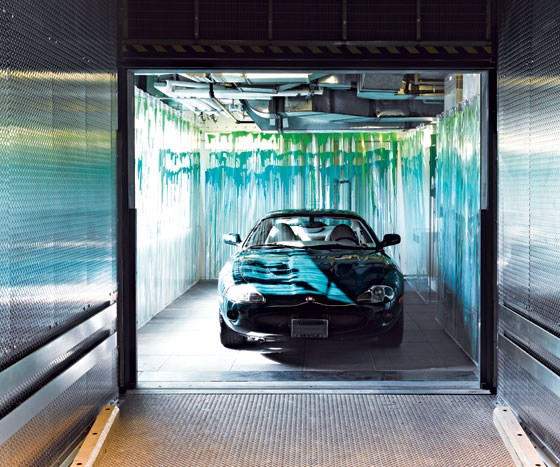 The signature feature of this Annabelle Selldorf"designed tower is the car elevator to the private garages just outside the apartments. Beckenstein Fabrics & Interiors created the vinyl wall coverings, which interior designer Doug Meyer then painted. Photo: Douglas Friedman
The silhouette photographs in the green guest room are by Katherine Wolkoff. The dresser is by Raymond Loewy, and the headboard and bedspread were custom-designed by Doug & Gene Meyer. Photo: Douglas Friedman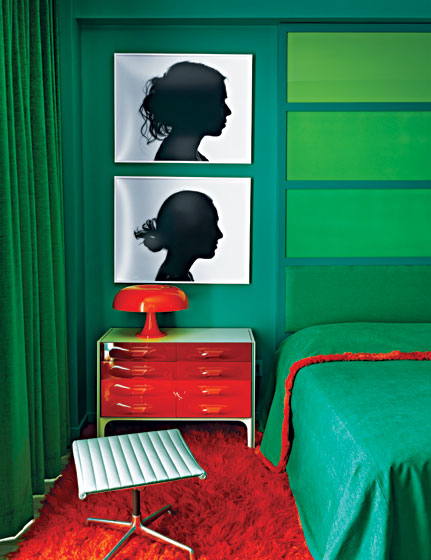 The kitchen is masked by folding wooden doors; the original island is covered in back-painted glass, custom-designed by Doug & Gene Meyer. Photo: Douglas Friedman
Verner Panton lamps hang from the 24-foot ceilings in the living room. The chairs near the windows are vintage Warren Platner, and the coffee table is Maison Jansen. The light fixture in the corner is by Tom Dixon. The carpet is custom-designed by Doug & Gene Meyer; the red-flannel side chairs are vintage Dunbar; the glass-topped side table is by Joe D'Urso; and the sofa is designed by Jens Risom. Photo: Douglas Friedman