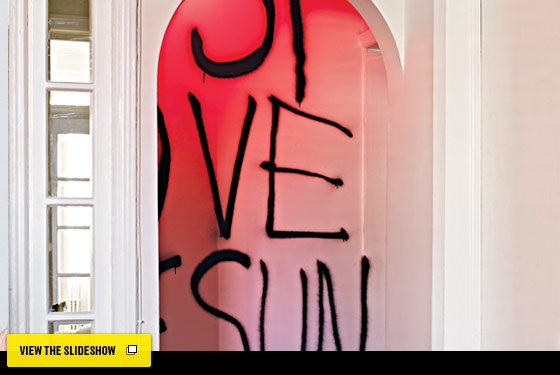 No one was surprised when Alex P. White and Strauss Bourque-LaFrance, an artist couple brimming with creative ideas, struggled to finalize the design of their first shared apartment, in Carroll Gardens. "We were constantly moving things around and getting stuck, but we wanted to finish," says White. Fortunately, they knew just who to call—White's boss, interior designer Kelly Behun.
"Every day, they had a fresh new idea," recalls Behun. "So my role was to be an editor, sounding board, mom, and arbitrator" who could drive the project to completion. The end result is an apartment furnished with an equal mix of pieces the artists had previously collected on their own and new objects they acquired or designed together, like their showy gold platform bed. For vintage pieces, they raided Bourque-LaFrance's father's store, Chinchilla's Antiques, in Maine. And for many items—from a branching chandelier in the master bedroom to a mural in the bathroom—they simply made the things themselves.
"It's going to be an evolving exhibition, depending on where they are artistically," says Behun. "Every month or two, it's going to look different."
Illustration by Bernd Schifferdecker.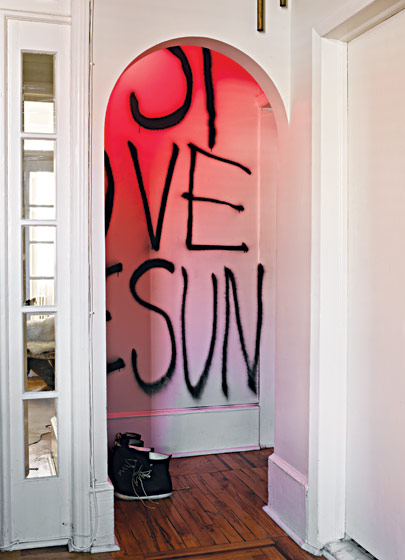 White and Bourque-LaFrance added their own spray-painted art to the entryway, lit by pink lightbulbs. It reads: BIG MASSIVE LOVE THE SUN. Photo: Douglas Friedman
Behun framed the graphic pill lamps, designed by Cesare Casati and C."Emanuele Ponzio in 1968, with a black wall. Photo: Douglas Friedman
The bust comes from Chinchilla's Antiques, a Maine antiques shop owned by Bourque-LaFrance's father. "When we were kids, we used to be inappropriate with it," Bourque-LaFrance says. Photo: Douglas Friedman
"This project suffered from a surfeit of great ideas," says Behun. This iconic Richard Etts lamp was certain to make the cut. Photo: Douglas Friedman