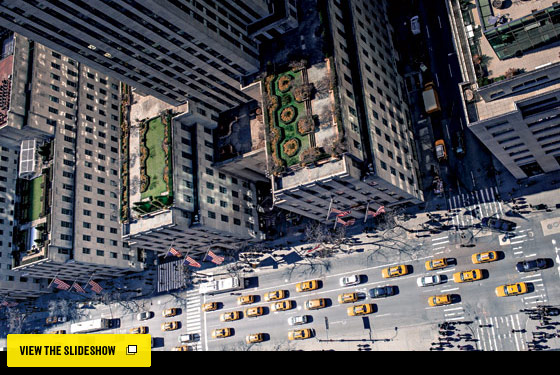 Photographs by Francois Dischinger

Six years ago my partner Franklin Getchell and I sold our loft north of Madison Square Park, where we had lived for eighteen years. We found ourselves contemplating what it truly meant for a home to act as a refuge and how that translates to living in New York City. Often New Yorkers desperately attempt to block Manhattan's ever-present intrusion on one's private space. We were guilty of it, having built our loft like a fortress, with an eight-foot-long impermeable steel door at the entrance. But this time we would not only yield to the city's 24/7 encroachment on our lives, we'd embrace it. We would finally find a way to live in New York City.
We purchased a corner apartment in a 1975 Skidmore, Owings & Merrill skyscraper named the Olympic Tower. It stands in the epicenter of midtown on Fifth Avenue, right next door to St. Patrick's Cathedral and facing Rockefeller Center. Touristy, yes, but also wildly iconic. Our floor-to-ceiling windows provide CinemaScope panoramas of the city's greatest architecture, including my favorite building, 666 Fifth Avenue, with its shimmering aluminum armor. At night, the surrounding office towers loom, lit from within, absent of any life inside, turning each of our windows into a Candida Höfer photograph (which we began to collect after we moved in). The constant play of light, the voyeurism, the cacophony, even the monumental, clichéd landmarks—it's like living across from the Eiffel Tower or Big Ben. I always know exactly where I am. I'm finally living in New York.
Rockefeller Center and Fifth Avenue, as seen from Moss's Olympic Tower apartment. Photo: Francois Dischinger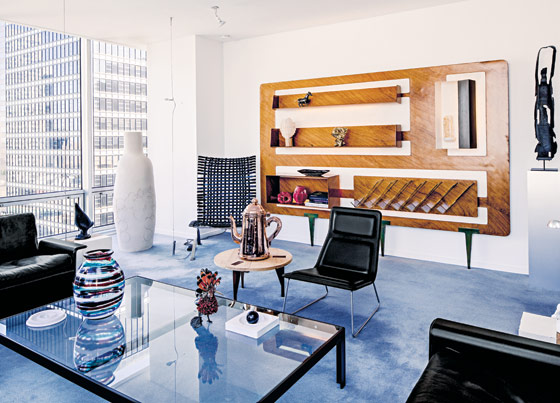 Tower sculpture from the collection "Homework," by Studio Job (cast bronze, pedestal in wenge wood; Belgium, 2006). Drawings by Erich Mendelsohn and Le Corbusier. Wooden architectural models, designed by Italian architect Michele de Lucchi. The tall, articulated wooden Totem sculpture is by artist Leo Amino (1952). Photo: Francois Dischinger
Moss at home in front of Candida Höfer's Schloss St. Emmeram Regensburg, XXIV (2003). Photo: Francois Dischinger
"I once saw a photograph of a beautiful apartment in Paris in the twenties and there was, of course, a zebra skin layered on top of wall-to-wall dove-gray velvet carpeting," says Moss. "It was a silky, vast sea of textile. I yearned for it. It instantly transforms into a warm bath." Borsani P40 Lounge, designed in 1954 for Tecno. Photo: Francois Dischinger