When the owners of this 1867 Greenwich Village townhouse decided to remodel its storefront, the property's designation as a National Landmark meant its original seven-by-eight-foot street-level windows could not be eliminated. No matter what they did, passersby would be able to peek in. When the space was occupied by a beauty salon, as it had been when the family moved in, that wasn't a problem. But now, as the couple looked to expand their living space, they faced a challenge. For a solution, the avid art collectors, along with their architect, Galia Solomonoff, founder of Solomonoff Architecture Studio, approached an artist they all admired, Rirkrit Tiravanija.
Tiravanija's site-specific installation now fills that area. Closest to the windows is his inspired take on an enclosed front porch: an oversize swing and bench set made from shiny stainless steel. Mirrored sliding doors on the back side of the room allow the entire area to be cut off, offering privacy in the rear.
The idea that art serves to enhance a family's life is a theme throughout the four-story home. "The owners insisted on no boundaries between their art collection and their kids," said Solomonoff, who worked with interior designer Tom Delavan on the project. On one wall of the living room, she retrofitted the bookcases to house everything from dog-eared novels to the go-go dot boots Manolo Blahnik created in 2002 for his collaboration with Damien Hirst, titled Boots. Fixed to the shelves are 22 custom lamps designed by Hervé Descottes, the man responsible for lighting the High Line and Columbus Circle. Their coffee table is a Plexiglas box with pure-blue pigment inside, a piece called Bleue by Yves Klein.
A staircase in the middle of the house has colored aircraft cables strung between its banisters and stairs, for pizzazz and something for the kids to tug on. Nearby, a door opens to the designated art room, where the British artist Rebecca Warren's sculpture Europa shares space with homemade finger paintings. In one of the girls' bedrooms hangs a silk screen by Andy Warhol of Greta Garbo in Mata Hari from "The Myth" series—just above tiny six-inch-by-six-inch windows that allow the sisters to whisper through the walls.
Still, sometimes art does get the upper hand. The visual artist Jim Lambie's brightly colored entrance stairs are so impressive that Solomonoff recessed the handrail and chose the smallest hardware for the front door so nothing could detract from them. Even so, the family tramples them daily.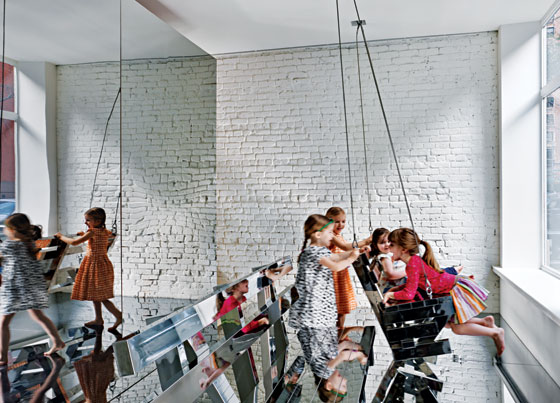 The storefront serves as a de facto front porch, even though the stainless-steel swing is part of an installation by the artist Rirkrit Tiravanija. Photo: David Joseph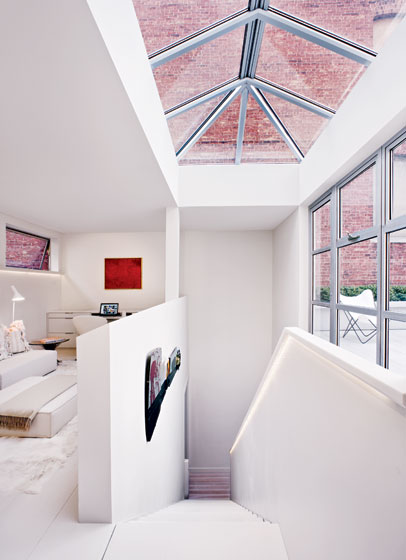 A dazzling view from the top of Scottish visual artist Jim Lambie's Zobop Stairs. Photo: Alex Guerrero
Paul Thek's painting Pompei World (1975) hangs on the bookshelves. The hanging lights above the dining table were designed by Hervé Descottes. "We wanted the lighting to be a central part of the dining room," says Solomonoff. Franz West chairs are made from multicolored industrial-plastic strapping. Photo: Alex Guerrero
The quartzite-marble terrace floor was imported from China and purchased at Stone Source. The Butterfly chairs are by Antonio Bonet, Juan Kurchan, and Jorge Ferrari Hardoy, from 1938. The paper lamp is by Isamu Noguchi. Photo: David Joseph
A Regency bull's-eye mirror dominates the master bedroom. The lush velvet bed was designed by Tom Delavan. Photo: David Joseph