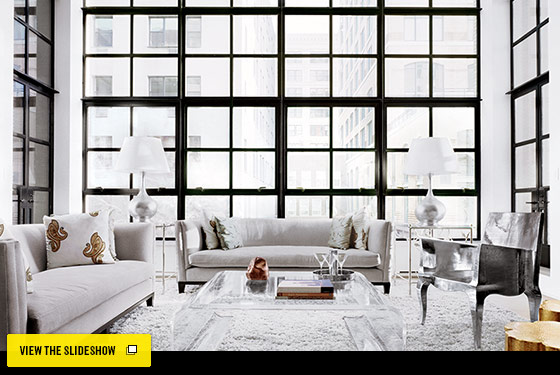 When Nadeem Walji and Urvi Dalal purchased a 5,000-square-foot shell of an apartment in a new building in the far West Village, they wanted to create a home for themselves and their two children that would reflect their laid-back lifestyle, love of entertaining, and shared Indian heritage. They also craved the bold colors associated with India. After a stay at a Deborah Berke–designed home on Shelter Island, they knew they had found their architect—even though Berke is known for her understated, minimalist, and typically white-on-white spaces. What sounds like an ill-made match became a compelling partnership.
"The experience of the house should be one of discovery—everything isn't given away all at once," says Berke. Visitors enter into a rosewood-paneled jewel box of an entryway, but around the corner, they are thrust into a vast 62-foot-long living space with a two-story center room and floor-to-ceiling windows.
While Berke made dramatic architectural use of the space, she also crafted an intimate family-friendly environment. The two-story living room is bookended between two single-height spaces: A sitting area with a television and a dining room—both of which are designed to feel intimate. The dining room opens directly onto the kitchen and can be hidden by doors that slide on hardware that looks like it comes from a barn door.
The clients' desire for color is mixed into the serene white space in small and often surprising doses. Beneath the staircase, a door opens to reveal a bar cabinet with an almost shocking saffron interior. The all-white kitchen is punctuated with a backsplash of peacock-blue Bisazza tiles. A wall of rosewood built-ins adds warmth and texture to the central living space.
Throughout the apartment Berke's team wove in art and objects that the couple picked up on their travels. Textiles, in particular allude to the East: Throw pillows are made from vibrant saris, a nook in the master bedroom is upholstered in a delicate, mirrored textile, and rugs given to the couple as wedding gifts are scattered throughout the home. The results are cumulative in their effect. "It's very subtle," says Berke. "It's about materials. It's not explicitly Indian, but it has that richness, and pays a nodding acknowledgement to the culture."
Illustration by Chidy Wayne.
The apartment was a raw space when it was purchased by the owners. "It was an absolute shell," says Berke. "It was not dissimilar to an industrial loft space, but it lacked the patina of a previous use." A custom Lucite coffee table by Plexi-Craft and airy side tables by Casamidy let light flow through the living room uninterrupted. The quiet palette of the living area gets a shot of sparkle with a silver-hued side chair and golden footstools, both by Odegard. "This is a very New York space," says Berke noting the windows and the urban view. Photo: Catherine Tighe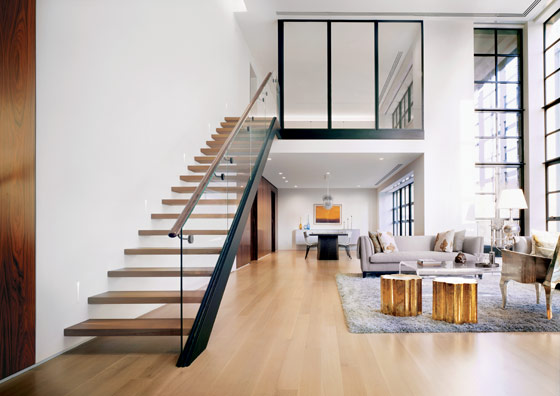 The master bedroom is a study in texture: The walls are covered in Maya Romanoff's Abacadazzle Galactic pattern, a custom headboard is upholstered in saffron-orange silk, and throw pillows are made from fabric bought on a trip to India. Photo: Catherine Tighe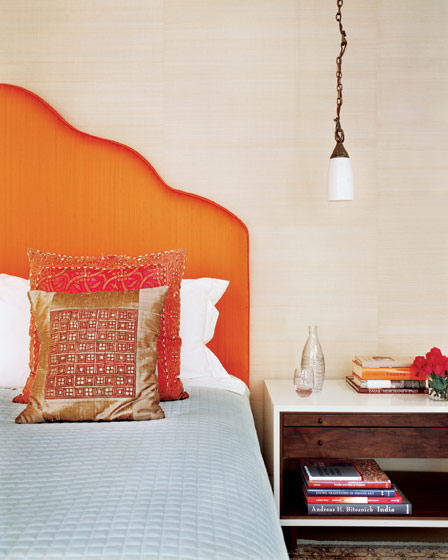 Glass Urchin pendants by Helen Gifford hang overhead. The black-walnut Live Edge Slab table was customized by Brothers Dressler in Toronto. The klismos chairs are by Donghia. Photo: Catherine Tighe
In the library nook adjoining the living room, the couple's existing slipper chairs and sofa were reupholstered in a peacock-blue fabric by Knoll. The built-in shelves hold the television, art books, and objects from the couple's travels. A wall of rosewood paneling visually connects the sitting area to the dining room. Photo: Catherine Tighe