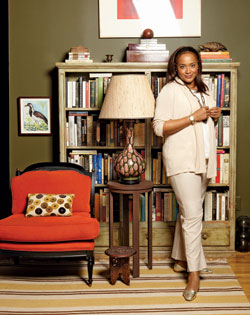 What's the secret to decorating small apartments?
Never let walls go to waste. When you can't go horizontal, go vertical. Next, vary the shape and scale of furniture in the space by mixing large—but not oversize—and small pieces.
And that will make the space feel bigger?
If it's small, it's always going to be small, but you can make it better proportioned. Nothing does the trick like floor-to-ceiling mirrors. And the paler the floor, the larger your home will look, so opt for the whitest floor possible. I like the new faux-pine finishes from Pergo's XP line.
What are tips for breaking up studios or open lofts?
You'll want to divide your room into zones. Specifically one zone per function. Floor-to-ceiling bookshelves are essential and allow for storage. Screens and see-through panels are great for delineating space without blocking light.
How can you brighten up darker areas?
Rooms should have lamps in at least three out of four corners. If you're a white-wall fanatic, bring in the colors of the sun with yellow, apricot, and red via upholstery and accessories, like throw pillows. If you own your apartment, have a professional install a thin sheet of mirror around the interior of each window's recess.
What's the best way to tackle storage?
The trick to hiding things in plain sight is to do so stylishly. Get matched sets of boxes, baskets, and bins. Trunks as bedside tables can stash things, too. Just be sure to match the style of the trunk to your décor.
How can you minimize a terrible view, such as a window facing a brick wall?
Shutters, because they don't obliterate incoming light. Floor-to-ceiling sheers also obfuscate visual misery. Pair them with curtains, since they can look silly on their own. I'm not opposed to hanging dramatic art or a mirror within a window frame if it doesn't look too contrived.
Rugs are so pricey—what's your go-to source?
Check out overstock.com and homedecorators.com. HomeGoods stores are good, too, and I'm addicted to One Kings Lane. You can also have broadloom carpet cut-to-measure and bound for a custom-size rug that marvelously fits any space.
How can you spiff up a room without doing a total renovation?
Change the baseboards, doors, or mouldings. You'll feel like you're in a new apartment. Chic Georgian-style doorknobs are cheap and sold at most big hardware stores, so consider changing all your knobs, too.
Is it possible to go overboard on accessories?
The last ten percent of a room's décor—the art, the objet d'art—is what gives it 90 percent of its personality. To paraphrase Diana Vreeland:"It's not bad taste I mind—it's no taste."
How will you know when you've nailed it?
Once you have a stylish, well-appointed space, you'll want to have friends over to enjoy it. That's when you know you've created a real home.
Trick of the Trade
"The line of multifunctional furniture from Milano Smart Living is nothing short of brilliant. Coffee tables become full-size dining tables and desks double as drop-down Murphy beds."