Cathy Lerebours can recite the precise inventory of her Hell's Kitchen apartment, a continental fantasia in miniature a few blocks off Times Square. "Cerused oak doors, French, late-eighteenth century," she begins. "American mirror, 1950s, with an ebonized and gilded wood frame, flanked by nineteenth-century gilded sconces." This is partly professional habit (Lerebours owns an antiques shop on East 60th Street), but it's also circumstantial: She has lived here for twenty years, more than enough time to memorize every one of its 375 square feet.
When Lerebours signed the lease in 1994, the apartment had linoleum floors and Formica cabinets, and she had two roommates who slept on a futon. "I spent my young adulthood here," she says. And she grew up here, too, taking over the space on her own in 2000, around the time that she became an antiques dealer. Over the next decade, the apartment developed alongside her career, slowly filling up with castaways from her store, relics from frequent European trips, and custom flourishes.
Reminders of those travels across the Atlantic can be found at every turn. ("I am a complete and absolute Europhile," she admits.) In a striped guard tent at Drottningholm Palace, Sweden's Versailles, she found the motif for her blue-and-white bathroom. The color theme recurs in a clean-lined, mid-century French daybed, which Lerebours had upholstered with grosgrain banding, and in the checkerboard floor that she painted herself. A fifties brass palm tree from France adds to the crisp Mediterranean scene. Trips to Paris, the Turkish city Ephesus, and Venice are commemorated in Lerebours's own photographs, which are unfussily framed for a casual feel.
But not too casual. Even if you squint past the Maison Jansen armchairs, it's difficult to picture the futon and milk-crate shelves of a young woman's cramped first apartment. "In retrospect," Lerebours says, "how in the heck did we all live here?"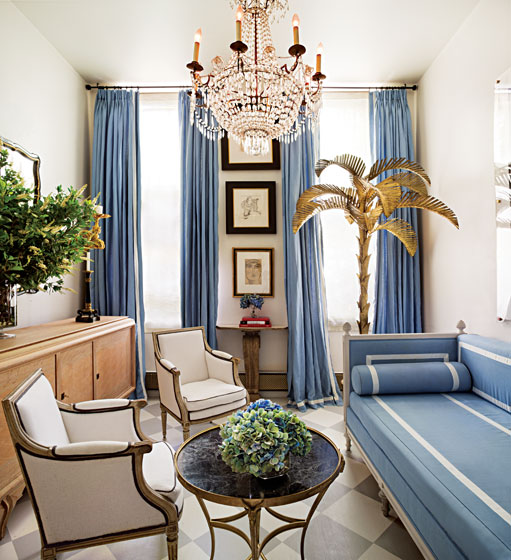 Lerebours found the gilt palm tree at auction. "I originally intended to sell it, but I fell in love," she says. Its provenance is unclear; the piece is believed to be Maison Jansen, the firm that designed the living room's bergères. The checkerboard floor was inspired by Stockholm's city hall. The wood is painted to simulate marble. Photo: David Allee
Working with interior designer Julie Yenicag, a good friend, Lerebours created a loft bedroom that feels like a master suite. They ran out of the creamy yellow Schumacher wallpaper while installing, and had to match the rest with paint. The hand-carved wicker headboard is French, from the twenties. Photo: David Allee
A curtain hides the loft bedroom. Like the grosgrain-trimmed coverlet and the floor-to-ceiling curtains in the living room, it's the handiwork of Lerebours's trusted seamstress. The door (which leads to a much-needed walk-in closet) is inset with mirrors to make the space feel more open. Photo: David Allee