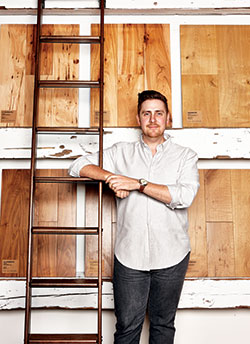 Are there any rooms where wood floors aren't a good idea?
I'm often asked if it's okay to put wood flooring in the kitchen, and the answer is always yes. People are concerned about food and wine and other things that can stain the surface, but with the finishes we use today, it typically doesn't happen at all.
What flooring trend bugs you the most?
Exotic woods, like Brazilian rosewood, ebony, or mahogany. They're essentially rainforest woods, and I'm proud to say that we don't use them anymore.
Then let's talk reclaimed wood. Do clients ask about its history?
Absolutely. We do our best to get photos of where the wood came from. We once used incredibly large oak beams from an old church in Virginia for a wide-plank floor, and we were lucky enough to get pictures of the church to share with the client.
What's the first thing you discuss with clients?
Color. It often deter-mines the species of wood. Then we'll move on to the cut and the grain.
What color is most popular now?
Gray. I have it in every hue, tint, and temperature in the spectrum. We're also seeing a trend toward wider planks—seven inches or more.
Are there advantages to using a wide plank?
The wider you go, the fewer breaks you'll have in the floor's overall appearance, so it's a cleaner look. I'm of the mind that it makes a small space appear larger. For me, a wide-plank bespoke floor is the top of the line.
Sounds pricey. What if you're on a tight budget?
If, for instance, you want a ten-inch-wide walnut plank, we'll work with you to find a thinner plank in a simpler finish that has a similar look. But if you want to go with the more expensive floor, I'd suggest installing it in all of the public areas on the first floor and then using a less expensive version upstairs. Just be sure to use the same species and color stain throughout.
Should all the wood in a home match?
Wood floors should either match exactly or completely contrast with other woods like cabinets and trims. You don't want to have a walnut floor and a walnut cabinet that are a few shades off. It will look like you tried to match and didn't get it right.
What is the Rolls-Royce of hardwood floors?
A parquet pattern, like chevron or herringbone, made from a historical reclaimed hardwood with a custom finish. That's the home run of high end.
Trick of the Trade
"Buff out scratches on naturally colored, oil-finished floors by rubbing the area with a walnut kernel. For water-based polyurethane finishes, try Mohawk's Match-All stain markers. They come in a range of colors."