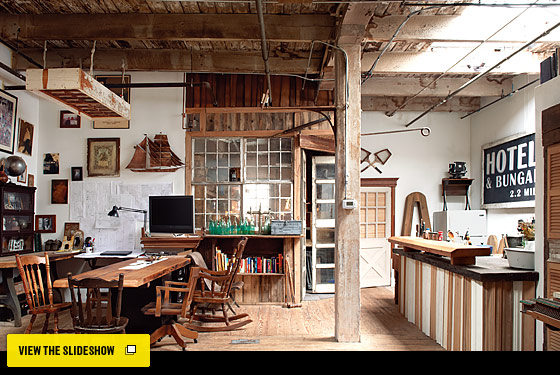 Evan Haslegrave flicks a switch and frowns. The lighting fixture currently attached to the wall of his Greenpoint loft is made of industrial bread tins that he had spent the better part of the day carefully sanding in hopes of achieving the precise rust-to-shiny-metal ratio that would make them seem charmingly antique. But with the lightbulbs turned on, the tins look too shiny. Almost new. "You can't see that really nice patina," he says, wrinkling his nose and looking to Oliver, his older brother, roommate, and design partner.
Oliver shrugs. "It still looks pretty good." At this point, it has to. The fixture is intended for Goat Town, a restaurant they're designing that's set to open in a few weeks on East 5th Street, and since the brothers are building almost everything from scratch—from the tables to the copper-topped oyster bar—in their Greenpoint apartment, they don't have a lot of time.
It's been this way—busy—for the past two years, since the brothers, self-described "third-generation builders" who grew up helping their father construct houses in Connecticut, were hired to design Elsa, the East Village speakeasy. Evan had been working as a handyman, and Oliver as a literary-fiction editor, but the success of the project enabled them both to quit their day jobs and start their own company, hOmE. The name is an anagram of their initials and those of their younger sisters, Hadley and Morgan. "We discovered all of our initials spelled home, which is just totally absurd," says Evan, pulling back his sleeve to reveal the word in Courier font. "We all got it tattooed. Even our mom got it tattooed. And she's, like, old. She's in her fifties."
Working and living together has caused the Haslegraves to develop a kind of mind meld. "Aesthetically, we pretty much agree on everything," says Evan, who swears that their matching beards are not an affectation but were grown out of necessity—first to keep warm during a winter project, now to guard against flying woodchips. Their specialty is creating a kind of prefab coziness that has become ubiquitous in recent years, using old objects and salvaged materials to make a place feel comfortably vintage. It's an old trick, but they're good at it, as evidenced by their commercial projects—including the Manhattan Inn and Paulie Gee's in Greenpoint, and duckduck in Bushwick—and their own apartment. Though the place looks well worn, they've actually lived here only a year.
The 1,200-square-foot loft includes a work space (behind a wall made from casement windows) that is equipped with an industrial fan to keep sawdust and fumes from getting into the rest of the apartment. "We're together building things all day, in our goggles and masks," says Evan. "We're like two alien people."

Photo: Jason Schmidt
In the main room, family antiques and flea-market knickknacks surround a chalkboard listing current hOmE projects.

Photo: Jason Schmidt
"It's a work-in-progress," Evan, right, says about the loft. Their bedrooms are separated by a space containing bookshelves and an upright piano found by a friend. "That's the piano nook," he says with a grin. "What, doesn't everyone have one of those?"

Photo: Jason Schmidt
The brothers moved the kitchen from the front of the apartment to the back, installed a cast-iron sink from Build It Green in Astoria, and substituted a shovel for a faucet. "We like using ordinary objects in unexpected ways," says Oliver.

Photo: Jason Schmidt
Facing a surplus of sheets, Evan draped his bed with fabric and lofted it high, "because I liked the romance of it." There was also a practical reason: "I didn't want Jake, my dog, to jump in bed. I love him, but he's a big dog, and not clean all the time." He built Jake his own bed, on the right.

Photo: Jason Schmidt