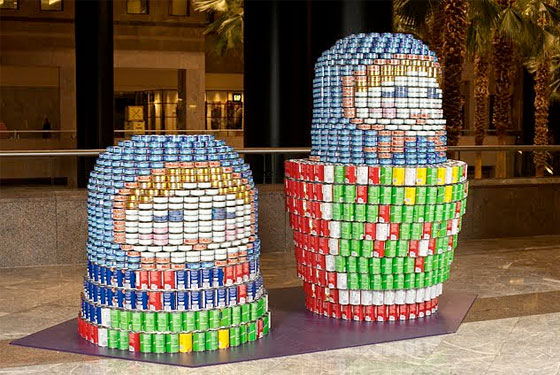 The Can-Do Spirit
Over one night, 26 top architecture firms will turn 100,000 cans of food into marvelously engineered structures that will help feed more than 70,000 hungry New Yorkers this holiday season. Canstruction, sponsored by City Harvest and presented by Arts World Financial Center," is in its nineteenth year, and in that time it has gathered more than 13 million pounds of food from competitions in over 100 cities around the world.* This year's competition features the work of Arup, Skidmore Owings and Merrill, Dattner Architects, MKG, and the students of Eleanor Roosevelt High School, in consultation with architect Sandra Forman. Each team has spent months on designing and planning, but will get only one night to execute its creation. This year's designs are under strict lockdown until the unveiling on Thursday, but last year's competition featured sculptures of Super Mario, a pair of Russian dolls, and a replica of the Standard Hotel, complete with the High Line running underneath (220 Vesey St., at West St.; 11/10–11/21; 10 a.m.–6 p.m. daily; free, canned food donations welcome; artsworldfinancialcenter.com).
Designer Drugs
When penicillin hit the mass market in the forties, suddenly pharmaceuticals became an industry—one that needed to promote itself. Cooper Union's new exhibit, "Pharma," surveys the history of graphic design in the pharmaceutical industry starting in the mid-twentieth century, when giants of the field like Herb Lubalin and Paul Rand designed ads for drugs, and following it into the present, when the ubiquity of medical advertising has become an inspiration for art (41 Cooper Gallery; 41 Cooper Sq., nr. 6th St.; 11/1–12/3; M-Th 10 a.m.-6 p.m.; Sa-Su noon-5 p.m.; closed Fri; cooper.edu).
Why the Bronx Isn't Burning Anymore
The Center for Architecture's latest exhibit, "Building Back," begins in 1981 with New York City in decay, choked off from federal funding and facing housing shortages and soaring crime. What happened next, according to the Center for Architecture, was a triumph of local infrastructure, with city agencies and citizen groups applying creativity to their limited resources and pulling the city back from the brink of disaster. The exhibit presents this story as a narrative of the way concerned citizens can make a difference, and an illustration of New York moxie (536 La Guardia Pl., nr. 3rd St.; 11/2–11/30; M-F 9 a.m.–8 p.m.; Sa 11 a.m.–5 p.m.; closed Su; aiany.org).
Burger, Side of Art
The Brooklyn Shake Shack won't open for another two months, but stop by in the meantime to see artist Candy Chang's "Before I Die," currently gracing the burger joint's construction fencing. The piece asks passersby to fill in the simple statement: "Before I die, I want to …" using colorful pieces of chalk available on-site. As of last week, responses included "live life the crazy way," "go skydiving," and "find true love." "Eat a tasty burger" was probably just too obvious (409 Fulton St., at Boerum Pl.).
*This story has been corrected to show that this will be Canstruction's nineteenth annual event, not its twentieth.