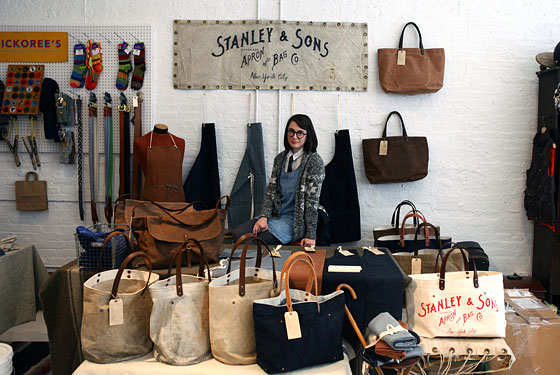 There Will Be Plaid
The Pop-Up Flea, a joint venture between A Continuous Lean blogger Michael Williams and UrbanDaddy's Randy Goldberg, pops up in Manhattan for the fourth time this weekend. The flea traffics in new and vintage American-made menswear, with a focus on heritage brands, materials, and techniques. Last year's fair featured retail giants like Gant and L.L. Bean Signature, as well as smaller local craftsmen such as Smith + Butler and the Hill-Side. This year's lineup hasn't been announced, but the West Village venue is almost double the size of last year's (159 Bleecker St., nr. Thompson St.; 12/2–12/4; Friday 3–9 p.m., Saturday 11 a.m.–7 p.m., Sunday 11 a.m.–6 p.m.; popupflea.com)
The Matriarch of Mecanoo
Cooper Union's annual Eleanore Pettersen Lecture honoring women in architecture this year features Francine Houben of the Dutch firm Mecanoo, whose work includes the grass-covered Delft Library in the Netherlands and the cantilevering stone La Llotja theater and conference center in Spain. A discussion about her life and work will be moderated by Annabelle Selldorf, founder and creative director of Selldorf Architects (12/1; 7 E. 7th St., nr. Fourth Ave.; 7–8:30 p.m.; free to Cooper Union alumni, students, and staff and Architectural League members; $15 all others; cooper.edu).
Modular or Bust
Combining the prefab with the personal, Brooklyn Heights design source Module R stocks only housewares and art that are customizable and modular.* The store debuted last year as a pop-up by Brooklyn design firm A.R.T., but this marks its first permanent location, just down the street from the original. Inventory ranges from high-end shelving and storage from firms like Kartell and Cappellini to lower-priced goods from rising Brooklyn-based designers such as David Weeks and byAMT. The store will offer a 10 percent discount on all purchases made at the grand opening this Thursday evening (141 Atlantic Ave., nr. Henry St.; grand-opening event 6–8 p.m.; module-r.com).
This Little Light of Mine
The Center for Architecture hosts its annual family-focused workshop on lighting in architecture this weekend. The two-hour class will discuss the ways different cultures celebrate light and present significant works of lighting design from all around the world. Each attendee will get the chance to create an original lighting fixture as a souvenir (536 La Guardia Pl., nr. 3rd St.; either 11 a.m.–1 p.m. or 2–4 p.m.; $20 for up to four people; $10 for four people with Foundation Family membership; ages 5 and up, register at cfa.aiany.org).
A French Slasher
Ligne Roset will host a sample sale at its Park Avenue showroom this weekend, with floor samples, overstock, and discontinued items sharply discounted. The crisscrossing Yo-Yo table, for instance, will be available for $1,329, down from $2,670, and the low-backed Pam bar stools will each be marked down to $199 from $600 (250 Park Ave. S., at 20th St.; 12/2–12/4; F-Sa, 10 a.m.–6 p.m.; Su, noon–5 p.m.; ligne-roset-usa.com).
*This story has been corrected to show that Module R is located in Brooklyn Heights, not Boerum Hill.