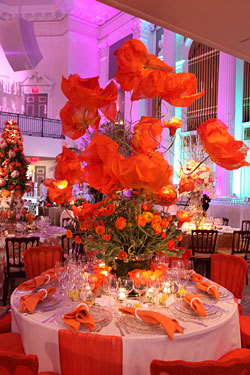 Centerpieces on Steroids
The Horticultural Society of New York is letting the public preview its annual New York Flower Show Dinner Dance this year, parading its famously ornate floral arrangements before anyone who buys a $10 admission. Among the twenty-odd table displays are an eight-foot design by Nancy Swiezy adorned with three feet of feathers and a nearly ten-foot-tall interpretation of Diana Vreeland's living room by Janet Simon and Jerry Rose (583 Park, nr. 63rd St.; 212-757-0915; 4/12. 3–5 p.m.; $10).
James Beard Goes Pop-Up
JBF Ltd stands for the James Beard Foundation Limited, a pop-up restaurant coming to Chelsea Market this week. In stark contrast to the original warm brick-and-wood space, the restaurant has been designed by Biber Architects with minimalist, black and white furniture and more than 1,200 strung lightbulbs. (A budget of only $5 per square foot was allotted.) Several big-name chefs (David Chang, David Kinch, Laurent Gras) will be serving four-course prix-fixe meals on 25-foot-long communal tables for a total of 27 days. And just to stoke your sense of urgency, a giant countdown calendar of three-foot-high numbers will be perched atop the dining tables, with red spray-painted X's marking off the end of each day (75 Ninth Ave., nr 15th St.; popup@jamesbeard.org; dinner Tues.–Sat., 4/12–5/14; $75).
Not a Figment of Your Imagination
Figment Project Fund-Raiser: GroundbreakingNonprofit arts organization Figment is throwing a fund-raiser this week in support of its annual festivities on Governors Island, which includes three days of art, installations, and live performances, sans corporate funding. The party goes down in a Hell's Kitchen loft on Wednesday and promises previews of this year's sculpture garden and surrealist mini-golf course, as well as meet-and-greets with the artists. There's also plenty to take home, including silent auction loot and live portraiture by Barnaby Ruhe (320 Studios, 320 37th St., near Ninth Ave.; 4/6; 6–9 p.m.; $85)