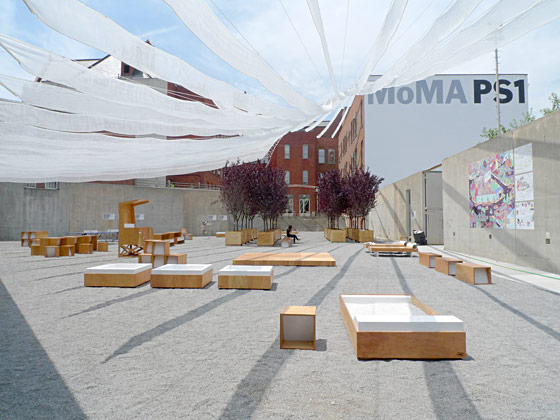 It's About to Get Very Warm at P.S.1
On June 19, MoMA's P.S. 1 unveiled Holding Pattern, an outdoor installation designed by Brooklyn's Interboro Partners, the winner of the museum's twelfth annual Young Architects Program. But given that the challenge was to design an outdoor environment for P.S. 1's annual Warm Up concert series (Interboro's incorporates ping pong tables, flood lights, and a dramatic canopy), the installation won't really come to life until this Saturday, when Chicago-based D.J. Pierre takes the stage to kick off this year's run. Joining him will be New Jersey's Delicate Steve and Brooklyn's Zoovox, among others; look for appearances from Four Tet, Das Racist, and DFA's Justin Miller later this summer (22-25 Jackson Ave., at 46th Ave., Long Island City; 718-784-2084; Saturdays 7/2–9/3, 2–9 p.m.; $15)
Cooper-Hewitt's Going Away Party
Independence Day is your last chance to visit the Cooper-Hewitt National Design Museum before it closes for two years of renovation and expansion (though its terrace, garden, and shop will remain open with free admission for the rest of the summer). The museum is offering free admission and extended hours Monday for its current exhibit, "Set in Style: The Jewelry of Van Cleef & Arpels." In October Cooper-Hewitt will present an exhibition on the complexities of urban design in developing countries, to be held within temporary quarters at the U.N. visitors lobby on First Avenue (2 E. 91st St., at Fifth Ave.; 212-849-8400; 10 a.m.–6 p.m.).
Auctioning Off the Ivories
Sing for Hope's second annual Pop-Up Piano project ends this Saturday, when most of the 88 hand-painted pianos will be donated to school and hospital music programs. Ten of them, however, designed by the likes of Isaac Mizrahi and Diane Von Furstenberg, are being auctioned off on Charitybuzz to raise money for Sing for Hope's year-round outreach programs. Current bids are coming in well below the pieces' estimated value ($8,000–$10,000), but the auction will continue until July 14, leaving you plenty of time to drive up prices in the name of charity (charitybuzz.com)
See Also: A Sneak Peek at the Pianos Before They Were Dispersed
The View From Queens
Long Island City's Z Hotel, opening Friday, has a lot of design going on: interiors by Montreal-based designer Andrés Escobar; lobby installation by Brooklyn's Serett Metal Works; "steampunk" bedroom sconces by another Brooklyn firm, Ecostruct; and a mural in every room. But the biggest statement of all is the city itself, framed in the rooms' floor-to-ceiling windows and on full, spectacular display in the view from the rooftop bar, Z Roof (11-01 43rd Ave., at 11th St., Long Island City; 212-319-7000; rooms from $169 a night).