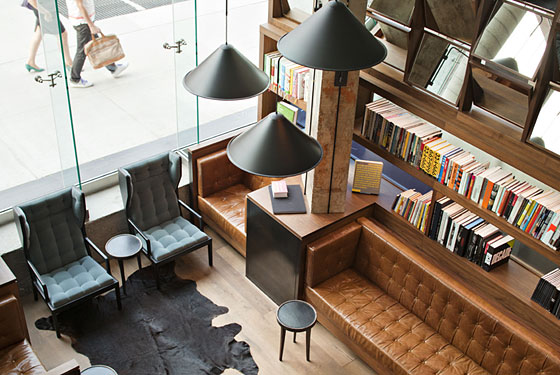 Send the In-Laws to Nolita
Architects Grzywinski+Pons left no detail unaccounted for at the Nolitan Hotel, opening Monday at the corner of Elizabeth and Kenmare Streets. Tables and chairs in the hotel's restaurant, ellabess, are custom-made, as are the deep leather banquettes in the lounge. The lobby is slightly sunken to achieve a double-height effect, and even the play of light has been carefully orchestrated by exterior terra-cotta shingles, low-iron glass, and mirrors embedded in the lobby bookshelves (with titles selected by Phaidon). The airy motif continues in the guest rooms, some of which feature floor-to-ceiling windows, and on the roof, with a wide-open view of the city (30 Kenmare St., at Elizabeth St.; 212-925-2555; rooms from $259 per night in August, $359 following).
Manhattan's Only Roller Rink
A nontraditional park deserves a nontraditional skating rink, so starting this Thursday, visitors to the High Line can take a spin on the park's new 8,000-square-foot roller-skating rink, open for your retro amusement until September 26. Designed by Diller Scofidio + Renfro, the rink is the second project to take over the Lot, the street-level public plaza that previously hosted Miami-based arts collective FriendsWithYou's Rainbow City. A square grid covers the Lot's asphalt surface, which breaks and twists inside the glowing construction barriers that delineate the rink.
Going to the (Popup) Chapel
Online design newspaper Architizer recently got together with wedding guide The Knot to put on Pop Up Chapel, a contest to design a temporary chapel in Central Park, a "gift to the City of New York celebrating marriage equality." This Saturday, for one day only, 24 pre-registered couples will be marrying in one of the two winning designs, which will be erected at the Merchants' Gate, near Columbus Circle. The first is a bud-shaped structure by Z-A Studio titled "KISS," with two arcing walls made of recycled honeycomb cardboard. The second is a metallic canopy hung with ribbons in rainbow hues designed by ICRAVE, some of which will be handed out as keepsakes to the newlyweds (T59th St. at Broadway; Saturday, July 30; 10 a.m.-8 p.m.; popupchapel.com).
Last Call at Sentimento
Sentimento Antiques closes next month after more than 30 years on the Upper East Side, and as a valedictory gesture, the normally trade-only showroom will open its doors and offer its remaining inventory to the public. Owner and founder Toby Landey, who passed away last year, was known for her impeccable taste across stylistic periods and genres, and her showroom is a treasure trove of one-of-a-kind pieces, particularly desks and lighting fixtures. Everything is currently discounted 30 percent, but that increases to 40 percent August 1 and 50 percent August 8 through 12, when it will close for good (306 E. 61st St., nr. Second Ave.; 212-750-3111).