(1.) The Media Center
For the time-starved news junkie, a design from MESH Architectures. There's a TV and projection clock, a Duravit toilet, and Bisazza tile.












(2.) The Zero Gravity
This Duravit toilet has a hidden flushing system. Floor-to-ceiling Ghost Mirror sheets lend an underwater effect. Room designed by Ronald Bricke & Associates.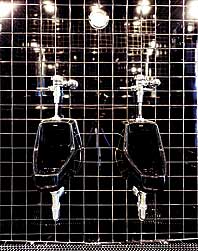 (3.) The Nightclub Effect
Urinals are the new bidets, popping up in forward-thinking homes from Brooklyn to the Upper East Side. These are by Kohler.