Profile dishwasher by GE, $849
You can load this model's SmartDispense system with up to 45 ounces of cleaning soap, and it will automatically release the correct amount depending on wash size, cycle, temperature, and grime level. Upper and lower racks are adjustable or removable too. (At the Home Depot, 980 Third Ave., at 59th St.; 212-888-1512.)












Plastic dishwasher basket, $7.99
(At the Container Store.)






Loading the Dishwasher
Expert: Alfred Portale, chef and owner, Gotham Bar and Grill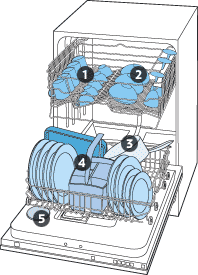 1. For real foodies, a dishwasher with a flexible rack design (pieces that flip up or down, or can be removed) lets you clip in hard-to-fit, usually jammed-in items like demitasse cups or condiment dishes.
2. Stack plates and bowls in the order in which they'll be stored to make unloading quicker. Glasses should go short to tall. If the upper rack is deep enough, use it for smaller bowls instead of crowding the lower rack.
3. Never put pots and knives in the dishwasher. High heat can temper knife blades and dull them over time.
4. Take out the flatware caddy on the bottom and get one for the top tier; it saves space. Inexpensive versions are available at hardware and home stores.
5. Most dishwasher soaps on the market these days, even run-of-the-mill Cascade, are super-concentrated, so it's necessary to fill only about half the soap compartment.