Phillip Rossini and Joe Ponciano live in what was once the local Polish community center's dance hall; the wood floors were polished smooth by decades of Saturday-night socials. Since buying it in a fortuitous insider deal two years ago (they heard the downstairs neighbor was selling, and they pounced), they've kept up the festive atmosphere both in décor (with a very disco-appropriate circular couch accented by fuzzy pillows) and in events (throwing fairly massive parties complete with disco ball and smoke machine).
What doesn't come from vintage stores, Ikea, and Bowery kitchen-supply shops was found on the street or made by Ponciano, an artist, photographer, and lighting designer (the hall lamps seen here have since been replaced by pieces he's crafted from cable ties).
"We've had some huge parties," says Ponciano; his 38th-birthday party clocked in at about 150. "Insanity!" he says. "We actually decided we have to try to put a bit of a cap on it because word gets out fast." In fact, they developed a very analog way to let guests into the building when they're throwing big bashes.
"Rather than having to run down the stairs, we throw the key out on a string," Ponciano explains. "Otherwise, you'd be going up and down all night.
"Occasionally, strangers walking by will look up and say, 'Can we come, too?'" Ponciano says, laughing. "And I will kind of size them up. I have let a few people up from the street, and they have had the best night of their lives, at a party they didn't even know they were going to!"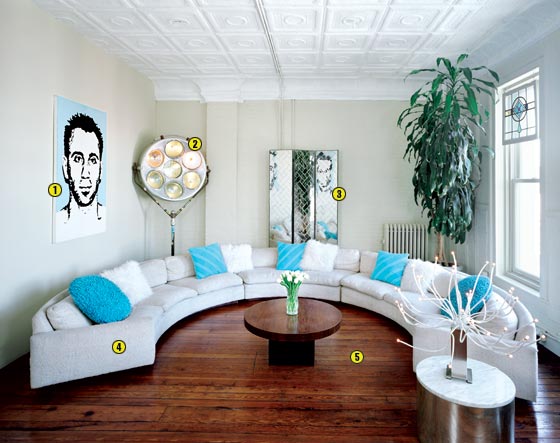 The Living Room

1. The portrait of Rossiniin the living room is based on an old passport photo.
2. The morgue lamp,as Ponciano and Rossini like to call it, was a sidewalk find in 2002. Since they found it outside a funeral home, they speculate it was used as an undertakers' lamp. It takes standard 25-watt bulbs.
3. The mirror screenwas another street find.
4. The white circular couchwas first sold by Bloomingdale's in 1969 (Rossini has the original delivery slip). The marble-topped table came from a store called Motherload in Williamsburg.
5. The wood floors throughout are original. A disco ball hangs just out of the picture frame.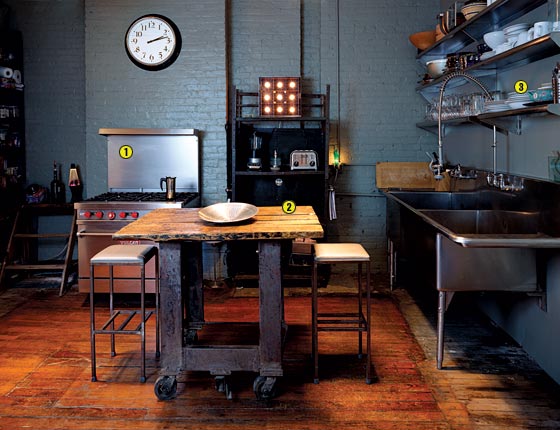 The Kitchen

1. The Vulcan stovecame from the Bowery and was about $1,200. "It was so much cheaper to buy old industrial stuff than a brand-new stove," says Rossini.
2. The kitchen island and dining table were salvaged from the Old Dutch Mustard building. They were stripped and refinished.
3. The stainless- steel shelvingwas custom-made and cost about $700.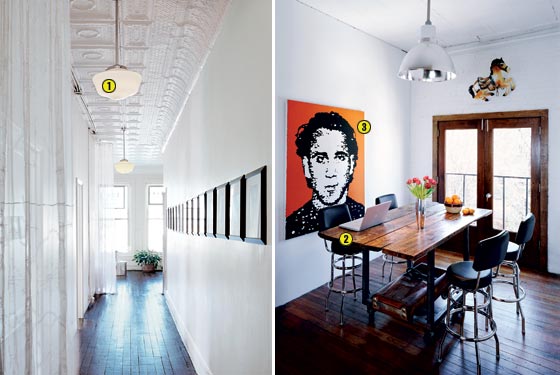 The Dining Room

1. The hallwaystill has its original pressed-tin ceiling; the school lights pictured here have since been replaced by Ponciano's newest designs.
2. The kitchen island and dining table were salvaged from the Old Dutch Mustard building. They were stripped and refinished.
3. Another Rossini portraithangs in the dining area.
The Bedrooms

1. The duck photo is one of the first professional pictures taken by Ponciano.
2. The photo racknext to the bed contains a collection of travel shots.
3. The guest-room furniture is an Art Deco bedroom set given to the couple by a friend who was moving back to Australia.
4. The master bedroom's ceiling lampswere made by Ponciano from cable ties; they can be ordered at joe@luzupdesign.com.
5. The table lampis from Ikea.