First it was the Skate Key in the Bronx. Then the Roxy. Now the birthplace of roller disco, the Empire Roller Skating Center in Crown Heights, Brooklyn, is closing down; it will host its final skate on April 23. The 30,000-square-foot space was built in the early years of the twentieth century as a stable for nearby Ebbets Field and the local police department; it became the Brooklyn Roller Rink in 1935. By the late seventies, the Empire had become the go-to spot for skate-world renegades to perfect their moves.
D.J. "Big Bob" has owned Tuesday and Thursday nights at the center for as long as anyone can remember. On Tuesdays, as many as 500 people go round the floor to his mix of R&B, house, jazz, and disco classics. "I'll play Ludacris, Stevie Wonder, 'Bounce, Rock, Skate, Roll' by Vaughan Mason," says Big Bob. "I even got Yiddish music if I need it." There have been plenty of celebrity sightings at the Empire (Lil' Kim did a video there), and two of Empire's "skate guards"—pros in referee shirts who keep the traffic flowing—were cast as stunt skaters in 2005's "Roll Bounce" with Bow Wow. But the main function of the rink has little to do with skating—it's a de facto community center where teenagers congregate after school and families spend the weekend. Loyalists have scheduled a March 24 demonstration to protest the closing, but Michael Feiger, who owns the skating business but not the building that houses it, says it's a done deal; Empire will become a storage facility. Feiger's already met with Brooklyn borough president Marty Markowitz to talk about "returning skating to Brooklyn" someday soon. And Big Bob will be on hand when it does. "Whoever opens a rink in the city is going to be rich in four or five years," says Bob. "I think skating's on its way back up. It's a spiritual expression of who you are."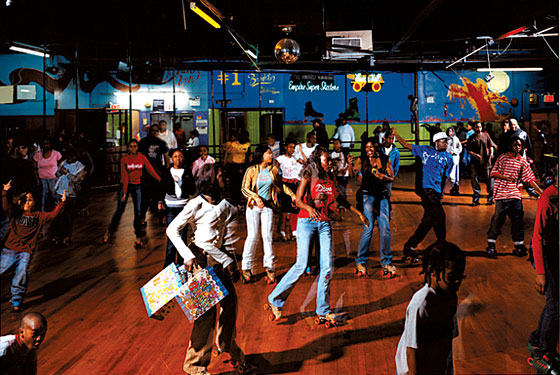 The Themes
Saturday (the night these photos were taken) is family night until 10 p.m., followed by adult skate from 11 p.m. until 4 a.m. On Zodiac Night, guests born under the chosen signs get in free.
The Floors
The maple wood floors are sanded and coated with Roll-On floor finish for better traction. Twice a week they're mopped with water to keep the Roll-On intact, then dry-mopped before every skate session.
The Skates
Most will end up in the trash bin. A few may get a second life at Feiger's other rink, Branch Brook Park roller-skate center in Newark.
The Murals
Feiger drove around the neighborhood examining the work of local muralists, then commissioned his favorite to paint space vehicles, solar systems, and skaters, plus a massive you-are-here map of Brooklyn.
The Modifications
In 1954, one section (not visible) was turned over to bingo games; it later became the beginners' rink.