The idea seemed simple enough: Knock down a wall to combine two apartments, a studio and a one-bedroom, in a graceful prewar building on the Upper East Side. But the would-be occupants, photographer Annie Schlechter and bookbinder Russell Maret, and their architect friend Joe Serrins, had a surprise waiting: The two units were born in separate buildings that had been combined in the forties, leaving mismatching ceiling heights and a huge parapet wall between them. The budget setback turned into an aesthetic score when Schlechter and Serrins realized the opened-up space would require a small supporting wall, which, with a little imagination, could become the apartment's visual centerpiece. All they needed was six liters of KT color 03.001 ultramarin blau paint, bought at Aronson's. "The Yves Klein blue is totally Annie," says Serrins of the color choice. "She had recently seen all the bright Le Corbusier colors at the Villa Savoye outside Paris and wanted to use them." Schlechter's peripatetic design tastes also made their way into the glossy Formica-matted kitchen—one friend said it looks like a "Lichtenstein without the bubble text"—and the Surrealist-inspired bedroom.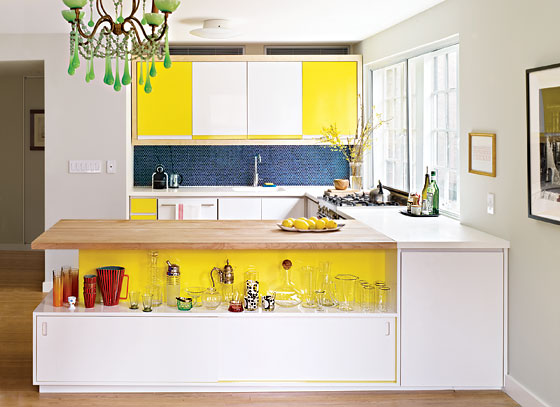 1. The Kitchen Cabinetry
"We didn't have the budget to do a fancy lacquered job," Serrins says. The cabinets and countertops were done on the cheap with plywood and Formica, but that's a plus, he adds. "The surfaces have a patina that I think feels very New York."
2. The Backsplash
"The blue penny tile lends a little bit of craftiness to the plastic cabinets, which I think is sort of sweet," says Serrins. He had originally wanted to use a white Corian backsplash, but Schlechter objected. "It was too clean for me," she says.
The Bedroom
"We decided on the gray tree wallpaper, because it's able to handle spots of color well," says Schlechter. The tangerine lampshade, blue Michael Ruh light, and patterned Chiarastella Cattana bedspread all work together to create the desired Surrealist effect.
1. The Wall
The fifteen-foot-square floating wall (which conceals a pair of sliding walnut doors) is both a structural support for the ceiling and a space-defining barrier between the living room and dining area. Plus it satisfies Schlechter's hunger for a certain iconic blue: "Who doesn't want their own Yves Klein?" she asks.
2. The Sofa
Most of the furniture was gathered at flea markets; however, the sofa is an heirloom. "It was my grandmother's and traveled here all the way from Alabama," says Schlechter. "It used to be white. Yves Klein also had an obsession with hot pink; he thought it was one of the elemental colors one needs to see all the time."