Photographs by Dean Kaufman

OBSESSION: Geometry
Fashion designer Sylvia Heisel has worked with Matthew Barney on his "Cremaster" cycle and created a Kevlar evening gown in "bulletproof yellow polymer." So she's not averse to over-the-top anything. But when it came to a Chelsea rental, she and her husband, Scott Taylor, had gone "round and around with all the usual decorating stuff," not getting much of anywhere. The idea of doing something really different décor-wise was not in Heisel's blood; she grew up in a "pretty conventional house in Princeton. No one did madcap decorating. They had restrained, elegant taste."
Things only took a more radical turn when a contractor's crew had an accident—producing a very large crack in the very large kitchen window. "We thought, well, let's just follow the lines of that," says Heisel. But it was a rental; they weren't about to start making artistic cracks and fissures everywhere. So with their friend Doug Meyer, an interior designer, the couple experimented for a couple of days with artists' tape, trying to ascertain what would have the most impact. "It sort of became like an 'ABC Afterschool Special' art project," Meyer says. The tape room—their kitchen and dining area—took about three weeks. The mesmerizing result is comparable to entering a walk-in spiderweb.
The bedroom followed. "It had to be more abstract, and we had to be able to sleep in it," says Heisel. Here, after coating the room in fabric, they continued with the motif but switched to paint (à la Jackson Pollock, except they did it with squirt bottles).
"Everything we did had to go back to the same white space it was when we moved in," says Heisel. The tape doesn't damage walls, the fabric can be whisked away, the duvet is portable. So new tenants will have no idea, when they gaze upon their freshly anodyne surroundings, that such a thing ever existed.
Photo: Dean Kaufman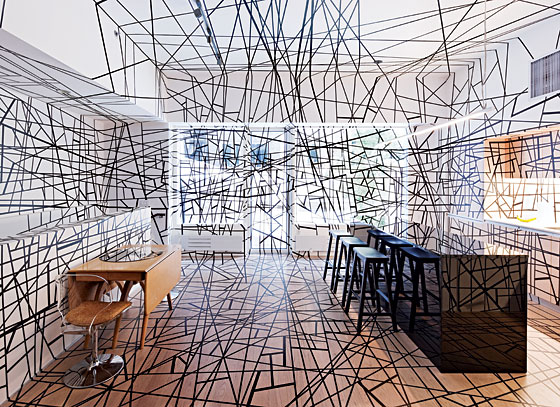 Photo: Dean Kaufman
THEY DRIZZLED THE BEDROOM… During the day, the bed is made up with a formal roll pillow with canvas wrapped around it and a giant paint-spattered bedspread. At night, Heisel and Taylor curl up in plain white sheets and rest their heads on plain soft pillows. Even the most extreme decorators have their limits. Photo: Dean Kaufman
… AND THEY COVERED THE STUDYHeisel used her collection of fashion-magazine tear sheets, saved over the decades, to completely cover the walls and ceiling of the second bedroom, which is used as the study. The chairs are Artemide, and the sideboard is Knoll. "I bought the Charles James mannequin at Sotheby's years ago," she says. Photo: Dean Kaufman