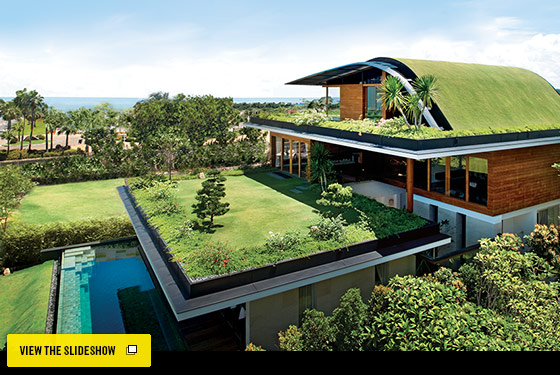 Photographs by Patrick Bingham Hall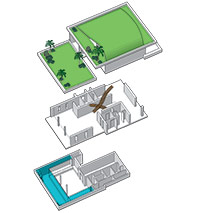 "Sentosa is a relatively dense housing area," explains architect Guz Wilkinson, "so we wanted to introduce some greenery into the neighborhood." In this residential zone—on an island right off Singapore—where bigger-is-better houses tend to be favored over verdant spaces, the firm Guz Architects managed to have it both ways. The four-story home, commissioned by an Indian couple who relocated here, provides a connection to nature for its inhabitants and those who live around them. Vegetation covers nearly 40 percent of the 9,000-square-foot building, estimates Wilkinson. The slow-growing, easy-to-maintain grass carpets atop the house and terraces provide much-needed relief from the island's typically steamy temperature—"As the grass sucks moisture up, the moisture evaporates; that's what keeps it cool," says Wilkinson. "The wife was very into the house being green. She was the pusher."
Throughout the house the architects used "passive design principles," including as much cross-ventilation as possible. A lot of houses in Singapore are built like "greenhouses—big glass boxes," says Wilkinson. They are "not designed for the climate; the sun is so hot here." It results in "massive wasted energy" with all the air-conditioning use.
As for the aesthetics of the cooling gardens, they're outfitted with various shrubs and trees for "depth and perception," creating a layered effect that makes the upper floors feel like individual single-story homes.
They also make the house a better neighbor. In an area in which buildings are tightly packed together, with less-than-breathtaking views, the house itself is a landscape.
The Sky Garden House, which looks like several houses stacked atop one another, each with its own front yard. Photo: Patrick Bingham Hall
The Swimming Pool, as seen from the basement. Acrylic windows separate the two spaces. Photo: Patrick Bingham Hall
The Overhang
The hole in the roof waters the trees during rain showers, while the canopy protects the house from water damage. Photo: Patrick Bingham Hall