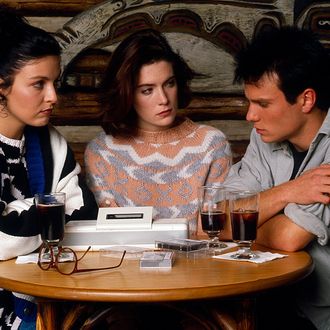 Photo: ABC Photo Archives / Getty Images
David Lynch's Twin Peaks is just as much creepy fun to look at as Blue Velvet, and more interesting to think about.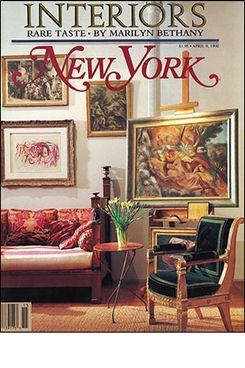 *From the April 9, 1990 issue of New York Magazine.
For what it's worth, I didn't like Blue Velvet (1986), in which David Lynch looked at the fifties as if they were a Rorschach test and saw nothing but corrupt sexuality. I'm sure there was a lot running through that low suburban decade, and some of it rubbed off on all of us, but Blue Velvet's walling in voyeurism and castration anxiety seemed excessive, even unprincipled. We were stuck in a jukebox mind, full of Roy Orbison and severed ears and a kind of alchemical torturing of the body of Isabella Rossellini.
Twin Peaks (Sunday, April 8, 9, to 11 P.M.; weekly thereafter on Thursdays, 9 to 10 P.M.; ABC) is just as much creepy fun to look at—mountains, bridges, sawmills, and a stag's head—and much more interesting to think about.  As in Blue Velvet's suburbia, there is a violent/erotic underworld beneath the prosperous surface of this Pacific Northwest township where, ostensibly, "health and industry go hand in hand."  But Lynch and his "co-creator," Mark Frost (from Hill Street Blues), have also larded in corrupt politics, corrupt capitalism, and corrupt psychiatry, not to mention bikers, Norwegians, porn, cocaine, videotape, and the FBI.
We will spend the next two months in Twin Peaks solving the murder of the high-school homecoming queen, as well as the torture-rape of one of her classmates.  We'll be assisted in the sorting out of the suspects by FBI agent Dale Cooper (Kyle MacLachlan) and Sheriff Harry S. Truman (Michael Ontkean).  We'll spend time in gas stations, hospitals, diners, and grand hotels, where we'll meet Piper Laurie, Richard Beymer, Joan Chen, Russ Tamblyn, and many young actors I had never heard of, all of them nifty, including the star-crossed lovers James Marshall (a James Dean-loner type) and Lara Flynn Boyle (everybody's best friend).
All of these people—furtive, lugubrious, sidelong, blankly enigmatic, a bunch of wombats—will lie to us, and that's all right because the FBI knows they're lying.  Not only is Cooper/MacLachlan in love with Douglas firs, snowshoe rabbits, and cherry pies, but he's also a sort of vatic visionary, a Dick Tracy on acid.  He reads auras and reports directly into a Dictaphone (like a familiar) every minute of his busy days and nights.  Harry S. Truman actually likes him.  Indeed, their parody of Tequila Sunrise buddy-bonding is the most meaningful relationship in what I've seen so far of Twin Peaks, which isn't as much as I want to of Pipe Laurie.
Imagine Mary Hartman, Mary Hartman written by Louis-Ferdinand Celine.  Or Dark Shadows meets Falcon Crest.  Or Peyton Place meets Naked Lunch.  Maybe a film noir Simpsons.  Only, sort of Noh or Brechtian: an Alienation Affectlessness.  And yet, somehow, novelistic.  No wonder Mailer is reported to have been blown away by the Twin Peaks pilot.  It's the television equivalent of An American Dream—but wittier, like Pynchon.
While they're at it, the slaphappy folks at ABC are also introducing another new heavyweight series, Capital News (Monday, April 9; 9 to 11 P.M.; Mondays thereafter, 10 to 11 P.M.; ABC).  I'm not to be trusted on the subject of newspapers turned into TV series—I like all of them—but this one seems fine to me.  If Cooper/MacLachlan is Dick Tracy on acid, Capital News is Lou Grant on amphetamines.  Everything—deadlines, love affairs, ethics, is sped up.  I like Lloyd Bridges, as the Ben Bradlee/Jason Robaards boss of a Washington, D.C., daily; and Helen Slater, as the new kid on the front page, with her copy of I Ching; and especially Kurt Fuller, as Miles Plato, the high-camp gossip columnist.  Even Michael Woods is more likable as the metro editor than he ever was in Private Eye.  And I've always been in love, through bad movies and failed series, with Kathryn Harrold, who plays a star reported sexually compromised in the middle of a big story on a weapons-system scandal.
In addition, the two-hour Capital News pilot looks at bank robbery, arson, slumlords, and a drug-ridden ghetto housing project.  Of these stories, only the behavior of the reporters in the housing project is preposterous.  Far more interesting is the newsroom politics at the paper itself, the turn fights between the metro and national desks, and the leftover sixties commune where most of the young reporters seem to live, as if they'd never gotten out of college.  Because Capital News is television, this newspaper actually has a conscience.
Crossing to Freedom (Sunday, April 8; 9 to 11 P.M.; CBS) comes across like The Sound of Music without the Rodgers and Hammerstein music.  An elderly Englishman on a fishing vacation in France in June 1940, embittered by the death of his aviator son, ends up leading seven little children through thousands of Nazis to the sea, where a boat will take them to England.  He's ably abetted by a young Frenchwoman who turns out to have been his son's lover.  The children are variously English, French, Dutch, Jewish from Poland, even German (though not entirely Aryan).  Some of you may want to watch this because there isn't any music, nor Von Trapps.  Others will tune in for Peter O'Toole, who is, of course, true-blue as a sort of pound-sterling Henry Fonda; and for Mare Winningham, who's delightfully French even though achieving the accent causes her to screw up her face like a lemur.  Nicely adapted, from Nevil Shute's novel Pied Piper, by Jerome Kass, and directed, by Norman Stone.
Uncommon Women and Others (Great Performances, Friday, April 6; 9 to 11 P.M.; Channel 13) is an encore—from 1978—performance of the Wendy Wasserstein play about Mount Holyoke graduates meeting for lunch seven years later, with Meryl Streep, Jill Eikenberry, and an absolutely amazing Swoosie Kurtz: Mary McCarthy's The Group, with a saving sense of humor.  Not only could we have predicted from this early effort something like The Heidi Chronicles, but from this early effort we might have hoped for something better.  In a half-hour coda videotaped last November, Kurtz and Eikenberry and some others look back to see how far they've come, and how come not far enough.
In brief: The Days and Nights of Molly Dodd returns with the first of thirteen brand-new episodes (Friday, April 6; 10:30 to 11: P.M.; thereafter, on Fridays, 10 to 10:30 P.M.; Lifetime).  In the obligatory dream sequence, Blair Brown shoots up a pharmacy to steal a home-pregnancy test.  (Yes, she's pink.)  Is the father her ex-boss Moss Goodman or the black police detective Nathaniel Hawthorne?  Meanwhile, her apartment house is going co-op.  Brown's brave and baffled Molly is my favorite baby-boomer.  (My favorite young woman on television is Pamela Reed in Grand.)…
Voices of Leningrad (Wednesday, April 4; 8 to 9 P.M.; Channel 13), narrated by Theodore Bikel, is a friendly look at the Soviet Union's Window on the West, with many pretty pictures, respectful of Lenin himself, hopeful about glasnost, mentioned Pushkin and Dostoevski, talking to workers, priests, rock stars, ballerinas, and TV newsmen….
Laker Girls (Tuesday, April 3, 9 to 11 P.M.; CBS), all about the basketball cheerleading squad and their sex lives, is Perfect in Spandex, Flashdance in sweatpants, dreadful in toto, in spite of Jean Simmons as a grandmother.