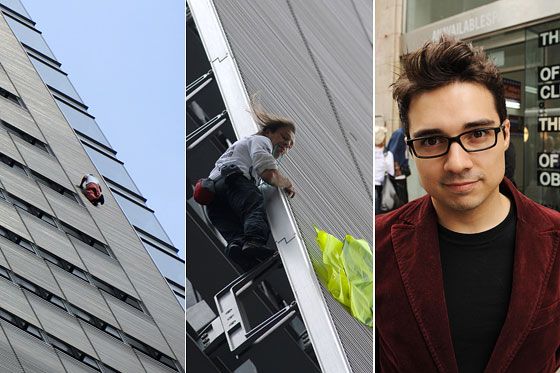 This week, three stuntmen rode into our city and commanded our attention with acts of great hubris. What does this mean for our summer, and for New York?
The first came on Wednesday. Yazmany Arboleda, a 27-year-old artist, was questioned by police after setting up an art exhibit titled "The Assassination of Hillary Clinton / The Assassination of Barack Obama" in an empty midtown storefront.* "It's about the media," he said.
The second came on Thursday. Alain Robert, a French stuntman, was discovered climbing the Times' building in the name of global warming. He too was arrested, once he reached the top. "This was a political act, an act of free speech," his lawyer said. Shortly after the climb, Arboleda revealed to the media that his exhibition, as well as his online portfolio, was a hoax.