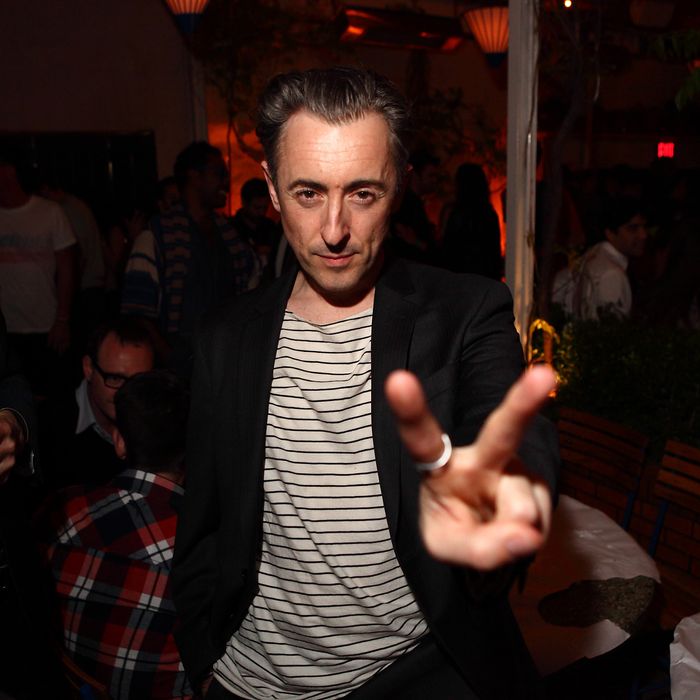 The very first piece of advice I got from a boss in New York City was, "On Tuesdays, you should go to Beige." I was an intern at Out magazine and the then-editor-in-chief Brendan Lemon was a sort of bullet-headed Abercrombie guy who didn't interact with us very much. But when he did, I remember feeling like I was being included in something very cool. "The sort of 'in-the-know' people show up early to have dinner and watch the crowd file in," he said. It was only years later, when I finally did eat a meal at B Bar, that I realized how crappy the food was — the early arrival, it turns out, is all about getting the best seat in the house and watching the night unfold in front of you.
Last night was the final night of Beige, a gay party started by Erich Conrad in 1994 that took place every Tuesday night on the Bowery. It was felled, at last, by noise complaints from neighbors in a new high-rise building, and the venue's desire to focus more on its restaurant business. (This latter rationale makes no sense — see above re: the food.) I really thought it would go on forever. By the time I arrived in the city, it had been going on for nine years and felt like a permanent institution, like Sunday morning brunch or Saturday morning shame.
Hundreds of men — and some women, and some women who used to be men — turned out to mourn the loss of the party. I went along, with photographer Alex Geana, to experience it firsthand. I was sad, after all, and it seemed like I wasn't the only one. Andy Cohen was there, in one of the prime booths. Lance Bass was there, too, at a central table. Rodiney Santiago from the show the A-List was on his arm, which caused whispers because the pair share an ex, Reichen Lehmkuhl. (Something at Beige was always causing whispers.) Alan Cumming turned up to pay his respects, as did fashion designers Marc Bouwer, Prabal Gurung, and Peter Som. I sat down with Village Voice scribe Michael Musto and photographer Patrick McMullan, who had come for dinner, to reminisce over burgers.
"The Bowery Bar has always been a fun place to come. But Beige has always been, when the weather gets nice, the place to come to get a little air," said McMullan, whose celebrity photographs from the bar adorn the walls of the men's bathroom. "Especially if you smoke."
"I've seen a lot of celebrities: Britney Spears, Madonna, Courtney Love…" he reminisced. "But mostly, I just remember I've had a lot of interesting conversations here. It's a fun place to roam."
"I've been trying to impress on people, celebrity drop-ins were pretty infrequent," Musto chimed in. "Although, when they did happen, they were pretty amazing. Like when I saw Kirstie Alley sitting here, or Lucy Lawless."
It was, instead, he said about the crowd that came week after week. "It was the only club that weeded out its own crowd by natural selection," he said. "It was free admission, pretty much anyone who came, got in, and there were no invitations, and yet it got a fantastic crowd because the right people knew about it."
I don't know if I would say that the crowd was "fantastic." It was a sort of same-same group of well-dressed, successful gays in their twenties, thirties, and forties — with the occasional club kid mixed in. The hair was neat and short, and the arms were toned and hairless. It was very predictable. But that's what I always liked about it. If it was your crowd, there was always someone there you wanted to see and talk to. If you had a check for every time a man shrieked "I haven't seen you in FOREVER" on a given night at Beige, you'd probably have enough for a full gingham shirt. Sure, it was cruisey, too, but it was also a Tuesday night — there wasn't pressure to find someone and go have sex. It was simply a happy place.
"I'm sad. It's almost like a relative dying," Musto sighed. "It was like an outlet. It was a place you knew was always there, to catch up and be fawned over. This is not a place for sex, it never was. It was not about hooking up; it was more about showing off."
"I'm the only one who ever got picked up here," he insisted. "I defy you to find one other person. Except for the one I went home with!"