In the day and a half since the Daily Caller revealed Michele Bachmann's history of migraines, the questions surrounding the severity of the condition and how it would impact her ability to perform the duties of the presidency have dogged her campaign. Politico and ABC News dug deeper into the story with the help of a former Bachmann insider, reporting that Bachmann's migraines have forced her to miss votes and left her "unable to function." Karl Rove advised Bachmann to "get her doctors out there, quickly." And Tim Pawlenty implied that if Bachmann is going to be incapacitated by a headache for even one second as president, she should probably just drop out right now, possibly propelling him to a fifth- or sixth-place finish at the Ames straw poll.

"All of the candidates I think are going to have to be able to demonstrate they can do all of the job all of the time," he told reporters after an event in Indianola.

He added: "There's no real time off in that job."
Actually, there's lots of it. That's why presidents can clear brush and play golf and grab ice cream and screw their mistresses, sometimes all at the same time. Nevertheless, planned downtime is different than being unexpectedly incapacitated by a headache during, say, a terrorist attack. Bachmann, clearly, had to do more than simply assure people that her migraines are an easily managed nuisance at worst.
This afternoon, she did, by heeding Rove's advice and releasing a note from the attending physician of the U.S. Congress confirming her assertion that her migraines are completely under control.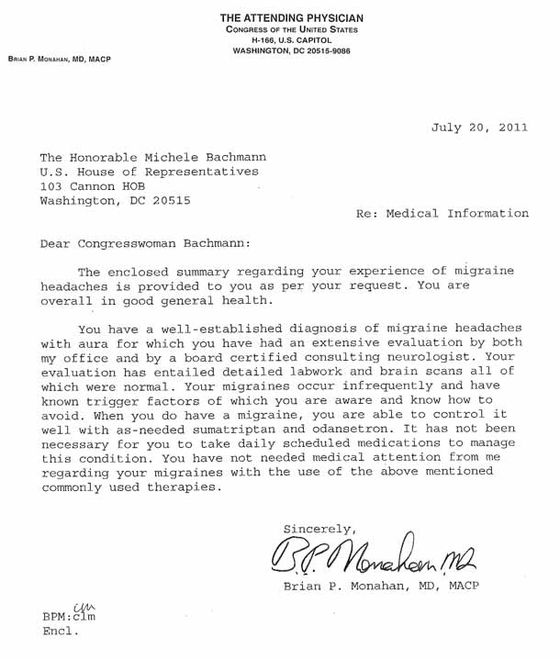 This should help to quell the issue for now, allowing us to return our focus to a myriad of other Bachmann-related controversies, such as her anti-gay bigotry and her laughable grasp of Yiddish. But the next time Bachmann cancels a campaign appearance with any kind of vague or dubious explanation, you can bet reporters will be asking whether she's lying down in a dark room somewhere.
Bachmann Releases Letter from Doctor About Migraines [National Journal]